Father of Cruise Ship Passenger Stranded by Coronavirus Fears Begs Trump for Help, Says She 'Needs Medical Attention'
A cruise ship with no confirmed coronavirus cases has been denied entry to Thailand on Tuesday and reportedly nearly every port since it left Hong Kong earlier this month.
Several of the more than 2,200 passengers aboard, around 600 of whom are reported to be American, have been pleading for help in messages to President Donald Trump on social media. The father of one passenger urged the president to intervene, saying that his daughter required an ultrasound scan.
MS Westerdam, a cruise ship from the Holland America Line (a subsidiary of Carnival Corporation) has been unable to dock in at least four countries since February 1, where it reportedly picked up around 600 new passengers. There have been 49 coronavirus cases reported in Hong Kong so far, according to a dashboard updated by Johns Hopkins University.
But the MS Westerdam has had no reported cases of the coronavirus. "The ship is not in quarantine and we have no reason to believe there are any cases of coronavirus on board despite media reports," Holland America confirmed in a statement on Monday night.
"We have also received a letter from the Dutch National Institute for Public Health and the Environment affirming that they have full confidence in all our medical reporting and the quality of our medical staff and services on Westerdam. This assessment was done in concert with the Ministry of Health of the Netherlands," the statement added.
Yet the ship has been denied entry in Guam, the Philippines and Japan, before its latest entry ban in Thailand after the country's public health minister refused to allow it to dock at the Laem Chabang port in the Chonburi province where it was initially granted permission to dock on Monday and scheduled to do so on February 13, Fox News reported.
Just after midnight on Tuesday, Thailand Public Health Minister Anutin Charnvirakul announced in a post on Facebook that the ship would no longer be permitted to dock at the port.
The MS Westerdam has reportedly been denied entry at nearly every port since it left Hong Kong, according to passenger Steve Muth, Fox News reports.
"We've been denied, essentially, every port, every country since leaving Hong Kong," he said.
Holland America has yet to announce where the ship will be heading next following the latest episode of being denied entry in Thailand. Newsweek has contacted the Holland America Line and Carnival Corporation for a comment and update on the latest situation.
"We are aware of the reports regarding the status of Westerdam's call to Laem Chabang (Bangkok), Thailand. We are actively working this matter & will provide an update when able. We know this is confusing for our guests and their families & we greatly appreciate their patience," Holland America said in a post on Tuesday on its official Twitter account.
"The Feb. 15 cruise currently scheduled to embark in Yokohama has been cancelled. Booked guests and their travel advisors have been notified," the cruise company confirmed in a statement on Monday.
At least one passenger was reported to be in need of medical attention, according to a tweet by passenger @srwillet directed at the official Twitter accounts of President Trump, Vice President Mike Pence and Pence's chief of staff Marc Short.
"@realDonaldTrump @VP @marcshort45 MS Westerdam needs US govt help. 600 Americans stuck at sea including my daughter who needs medical attention," pleaded @srwillett.
The user, who said there 600 Americans aboard, added that his daughter was in need of an ultrasound and confirmed that the medical facilities on board were "not adequate."
Another user, whose daughter was said to be on the MS Westerdam, also confirmed there are around 600 Americans aboard the ship.
"@realDonaldTrumpplease get our daughter and 600 other Americans off the Westerdam," wrote @MatildaJones2.
Several passengers confirmed on social media that no one on board has shown signs of the coronavirus or is "sick in any way."
"@realDonaldTrump Mr President I am on am the #Westerdam ship floating in the China sea. I am an American. No country including Guam will allow us to dock. Noone onboard has signs or symptoms of Coronavirus. We need rescued. Please help us. #sos #prayforus #rescue," wrote @Mountain_AJ.
"Definitely stressful. we have been at sea 14 days as of this Friday. We have no passengers sick in any way. Westerdam is a ship of primarily US, Australian, British cruisers with no contact with mainland China other than to land in Hong Kong and go straight to our ship. #westerdam," the user added.
"There is no one on board suspected of having the coronavirus. The sad thing is, if Guam needed help the US would be the first to step up and help. There are over 600 Americans on that ship, including my mom. Praying you reconsider.
Others criticized the cruise company for not having canceled the cruise after its visit to Hong Kong.
"I was on the Westerdam up to Hong Kong. HAL knew days prior to HK there were problems with coronavirus. We stayed extra days in Vietnam & cancelled HK hotel prior to arriving 1st Feb. The onward cruise should have been cancelled," wrote @bettsie2u.
"You stopped on the 1st at HK. By that time the whole world are aware of the virus. Your common sense would tell to cancel the trip at HK, yet you picked up 600 more people! Hungry for money? I am disgusted. @HALcruises #Westerdam," wrote @sutasin27266699.
"You [Holland America] decided to took 600+ passenger from Hongkong when you'd already known about Corona virus outbreaks for money, now made Thailand to be a bad guy told all passengers and gave them hope when you actually didn't contact Thai government. Pls take more responsibility," wrote @nanofang.
Other users on Twitter also pleaded with the U.S. government to take action to help the passengers aboard MS Westerdam, including one who suggested the ship be directed to California.
"Can you please direct Holland America to head to California so the entire healthy ship can disembark? Our loved ones need to get home and not be forced to travel through Asia to get here by plane. #westerdam #virusfree," wrote @Beachic71
"If America hadn't been taken over by Orange Hitler, and we still had a functioning government, the U.S. would have sent a hospital ship to meet the MS Westerdam by now," wrote @Corgi_dad.
"Update on my mom on Westerdam: They were told they were docking in Thailand in 2 days. Now Thailand is saying nevermind - can't dock here (yet still allowing flights in from China). This is beyond frustrating and @HALcruises owes passengers a lot more than a refund for this hell," wrote @JordanJones33.
"My wife and I are passengers on the Holland America ship Westerdam in Asia that has now been rejected by several ports due to the Corona virus. A similar ship has been quarantined for 14 days in Yokohama, our final port. Not sure how or when but it will be good to get home," wrote @sehansen6263.
"I have to feel sorry for the ppls on the MS Westerdam, being they a victim of coronavirus hysteria- just happened to be on a cruise ship at the same time as the Diamond Princess reports 20 cases, and now no port to go to :-(," wrote @kittycorr.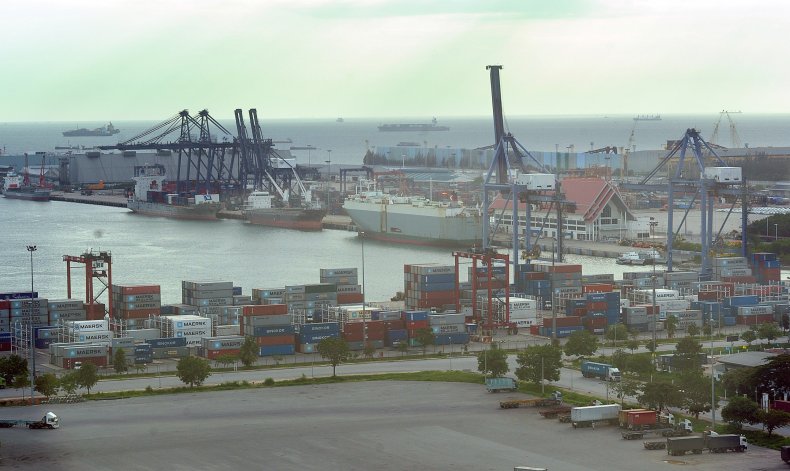 Holland America has confirmed: "No cancellations for cruises with departure dates beyond February 15 have been announced at this time. However, we are assessing the impact of current port restrictions in Asia on cruises departing Feb. 29 or later. We will communicate details as they become finalized in the next few days," in its statement on Monday.
It also confirmed that all guests aboard the ship will receive "a 100% refund for the 14-day sailing, as well as a 100% Future Cruise Credit. Complimentary internet and phone access is available for guests and crew to stay in contact with loved ones."
The latest incident comes as the Diamond Princess cruise ship remains at the Yokohama Port of Japan, with 135 coronavirus cases confirmed among its passengers.
The deadly virus has claimed the lives of 909 people in China, where it was first identified in the city of Wuhan in the Hubei province, according to the latest report on Monday by the World Health Organization. The body declared the virus a global public health emergency last month, with at least 40,554 cases confirmed globally across 25 countries, including at least 319 cases outside China.