Coronavirus is Stressing Americans More Than the Great Recession Did: Poll
More Americans than those who lived during the Great Recession are reporting stress because of the coronavirus pandemic, according to a poll, as mental health groups record a deepening anxiety across the country.
The U.S. is now the global epicenter of the coronavirus pandemic as its rapidly-rising number of cases surpasses that of China, where the outbreak began. The pandemic-stricken economy is entering a deep recession and millions of Americans are filing unemployment claims.
An ABC News/Washington Post survey found that 70 percent of people were experiencing stress as a result of the new coronavirus outbreak. That compares to the March 2009 peak of 61 percent reporting stress during the last recession. Sixty-nine percent of Americans polled said they are worried about infection in their immediate family, higher than in other epidemics. The previous peak was 52 percent for swine flu in October 2009.
Paul Gionfriddo, president and CEO of the charity Mental Health America (MHA), said his organization "has documented increasing levels of anxiety in our online screening population, and deeper anxiety in a number of population subgroups so the poll numbers ring true."
"We have to take this seriously, because as worry transforms to stress, and stress to anxiety, it can lead to serious mental health problems that won't go away without treatment and support," Gionfriddo told Newsweek.
"So we are encouraging people to understand that these symptoms are real, to manage them by taking control of what you can in your life, to practice relaxation techniques, to engage with family and friends virtually as much as possible to get their support, to continue to plan for the future, and to reach out and get help when you need it.
"We have many online resources available to help."
The National Alliance on Mental Illness (NAMI), an advocacy group, has also had anecdotal reports that the pandemic is highly stressful for people.
Dr. Ken Duckworth, chief medical officer of NAMI, told Newsweek "a lot of people" are calling the helpline at the moment. The NAMI helpline, which is staffed by individuals who have lived experience of mental health issues, is 800-950-NAMI (6264).
Duckworth said those with existing mental health problems are now dealing with the added stress related to the coronavirus pandemic and the myriad problems stemming from it.
"There's unknowns about the virus, there's unknowns with people about their own vulnerabilities, we encourage people at NAMI to do whatever their good self-care strategies were before," Duckworth said, pointing to exercise, cognitive behavioral therapy, or whatever else works for the individual.
He said it is appropriate to feel a little anxiety at the moment because people need to take the health advice on things like distancing seriously, but he warned that people should try to maintain perspective about the coronavirus and not consume too much media, which can fuel bad feelings.
Duckworth also advised that people seek help and support if they need it, either from existing groups, such as Alcoholics Anonymous, from NAMI's resources online, or from therapists.
"This has been the best two weeks for teletherapy in the history of American healthcare. Most health plans cover teletherapy and every therapist that I know is now operating over 95 percent to teletherapy, either video of the phone, and people should check their health plan," he said.
"The idea that you can't see your therapist is probably not true."
According to data compiled by Johns Hopkins University, there are 542,788 confirmed cases of the new coronavirus worldwide, 24,863 deaths, and 127,531 recoveries from infection. The U.S. has the largest number of reported cases in the world at 85,996. There are 1,300 deaths in America so far and 753 recoveries.
As the spread continues, there are reports from state and local officials of medical supply shortages and intensifying pressure on health systems, including intensive care units in hospitals, as they struggle to cope with the pandemic.
Lockdowns and quarantines, intended to slow the spread of the infection, have left people stuck at home and unable to see friends and family, which can exacerbate mental health issues.
Many Americans are facing serious financial hardship because of the pandemic's impact on the economy. Last week, the number of unemployment claims hit 3.3 million, the highest on record and an increase from the previous week's 281,000.
A Federal Reserve survey in 2018 asked American adults how they would handle a sudden and unexpected $400 expense. Twenty-seven percent of those surveyed said they would borrow or sell something to pay the expense and 12 percent could not cover the cost at all.
David Wilcox, nonresident senior fellow at the Peterson Institute for International Economics and a former director of the Federal Reserve's Division of Research and Statistics, told Newsweek previously this sudden loss of income is "a financial catastrophe" for households.
According to MHA's latest The State Of Mental Health In America report, more than 10 million adults have an unmet need for mental health treatment and 10.3 million have serious thoughts of suicide.
The ABC News/Washington Post poll was conducted by landline and cellphone March 22-25 in English and Spanish among a random national sample of 1,003 adults. There is a margin of sampling error of 3.5 percentage points.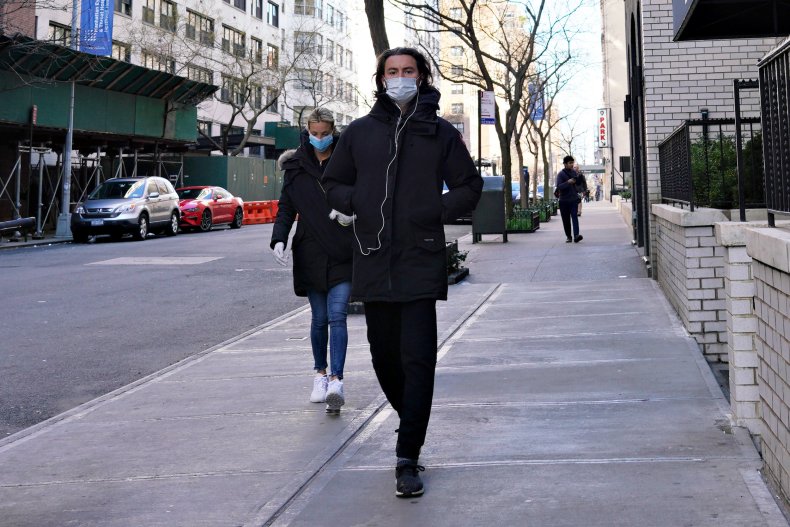 World Health Organization advice for avoiding spread of coronavirus disease (COVID-19)
Hygiene advice
Clean hands frequently with soap and water, or alcohol-based hand rub.
Wash hands after coughing or sneezing; when caring for the sick; before, during and after food preparation; before eating; after using the toilet; when hands are visibly dirty; and after handling animals or waste.
Maintain at least 1 meter (3 feet) distance from anyone who is coughing or sneezing.
Avoid touching your hands, nose and mouth. Do not spit in public.
Cover your mouth and nose with a tissue or bent elbow when coughing or sneezing. Discard the tissue immediately and clean your hands.
Medical advice
Avoid close contact with others if you have any symptoms.
Stay at home if you feel unwell, even with mild symptoms such as headache and runny nose, to avoid potential spread of the disease to medical facilities and other people.
If you develop serious symptoms (fever, cough, difficulty breathing) seek medical care early and contact local health authorities in advance.
Note any recent contact with others and travel details to provide to authorities who can trace and prevent spread of the disease.
Stay up to date on COVID-19 developments issued by health authorities and follow their guidance.
Mask and glove usage
Healthy individuals only need to wear a mask if taking care of a sick person.
Wear a mask if you are coughing or sneezing.
Masks are effective when used in combination with frequent hand cleaning.
Do not touch the mask while wearing it. Clean hands if you touch the mask.
Learn how to properly put on, remove and dispose of masks. Clean hands after disposing of the mask.
Do not reuse single-use masks.
Regularly washing bare hands is more effective against catching COVID-19 than wearing rubber gloves.
The COVID-19 virus can still be picked up on rubber gloves and transmitted by touching your face.
This article was updated with more information about the poll and comments by Dr. Ken Duckworth.