Coronavirus Update, Map As More Than 540,000 Cases Confirmed, Death Toll Hits 24,000, While 124,000 People Have Recovered
The coronavirus has infected more than 542,000 people across 176 countries and regions. Over 124,000 have recovered from infection, while more than 24,300 have died, according to the latest data from Johns Hopkins University.
The U.S. now has the most confirmed cases in the world, while Italy is facing a spike in cases in its southern region. China, which has over 81,800 cases and nearly 74,200 recoveries, is seeing an increase in imported cases, while no new domestic cases have been reported recently.
With more cases reported outside China than within, the country claims the outbreak of the virus, which was first reported in Wuhan, a city in the Hubei province, has now been largely contained.
Earlier this week, the Director-General of the World Health Organization (WHO), Tedros Adhanom Ghebreyesus, outlined "key issues and action steps to effectively combat COVID-19" at a media briefing on Wednesday. WHO's recommended actions include:
Expand, train and deploy your health care and public health workforce;
Implement a system to find every suspected case at a community level;
Ramp up the production, capacity and availability of testing;
Identify, adapt and equip facilities you will use to treat and isolate patients;
Develop a clear plan and process to quarantine contacts;
Refocus the whole of government on suppressing and controlling COVID-19.
"To slow the spread of COVID-19, many countries have introduced unprecedented measures, at significant social and economic cost....we call on all countries who have introduced so-called 'lockdown' measures to use this time to attack the virus," Ghebreyesus urged.
"These measures are the best way to suppress and stop transmission, so that when restrictions are lifted, the virus doesn't resurge.
"Aggressive measures to find, isolate, test, treat and trace are not only the best and fastest way out of extreme social and economic restrictions – they're also the best way to prevent them," he noted.
The graphic below, provided by Statista, illustrates the recovery curve compared to the infection curve of the virus.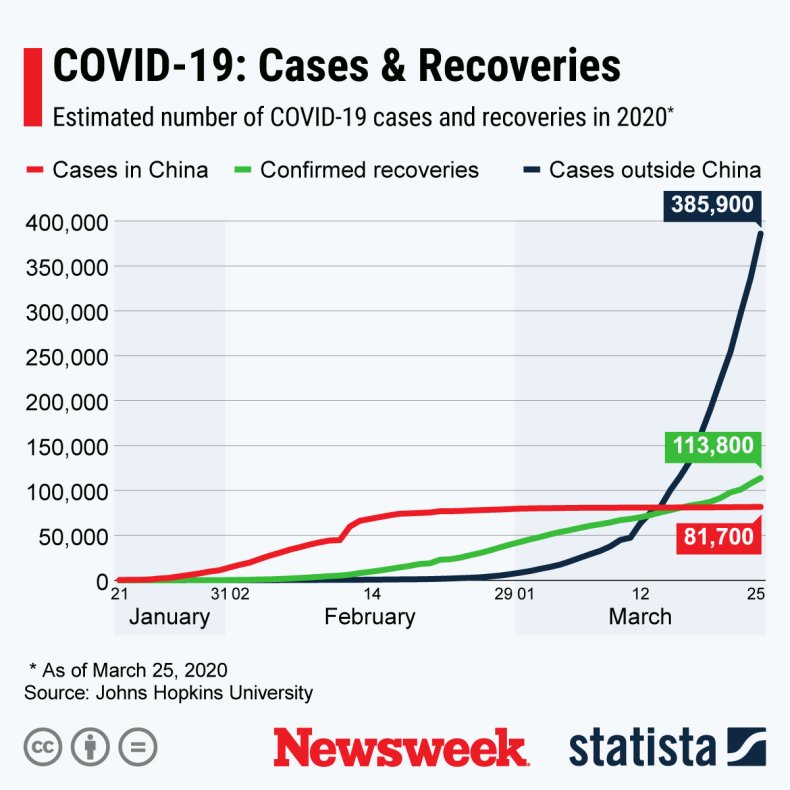 U.S. has most confirmed cases in the world
The number of confirmed cases in the U.S. has overtaken that of both China and Italy. The country reports nearly 86,000 infections, with a death toll of more than 1,300, and is the new epicenter of the outbreak.
There are more than 37,200 cases in New York state and more than 21,300 infections in New York City alone, according to the latest report on Thursday from the office of New York Governor Andrew Cuomo. New York City reported a death count of at least 365 as of Friday.
Washington and California have also been significantly hit, with more than 6,000 cases and 200 deaths in those two states combined.
The outbreak has picked up pace in several southern states including Louisiana, Florida, Georgia and Texas, where the total number of confirmed cases ranges from around 1,300 to over 2,300 across all four states, according to the latest figures from their respective state health departments.
At least 753 patients in the U.S. were reported to have recovered from infection, but the official count has yet to be confirmed. Speaking to Newsweek earlier this week, a spokesperson for the Centers for Disease Control and Prevention said it does not "have the current numbers for recovered patients at this time, and CDC has not included this data in our ongoing case counts as of yet" but the CDC "may put it [the data on recoveries] together in the future."
The graphic below, provided by Statista, shows the number of confirmed COVID-19 cases—the disease caused by the new strain of coronavirus—in a selection of states.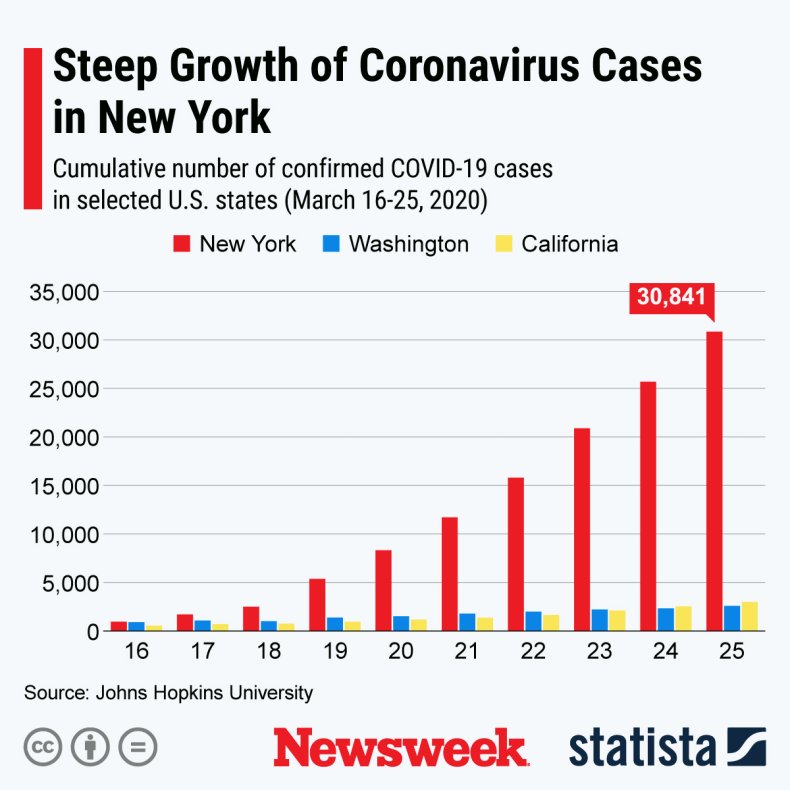 Italy's worst-hit area sees deaths decline, outbreak expands in the south
Italy's worst-hit region, Lombardy in the north of the country, has reported a large decline in daily death numbers. The regional director of the WHO's Europe division also saw "encouraging signs" as the country reported a slightly lower infection rate this week.
However, the number of confirmed cases in Lombardy jumped by nearly 2,500 on Thursday, the president of the region, Attilio Fontana, confirmed. The country is currently reporting more than 80,500 cases, including at least 8,215 deaths.
"Today's numbers are not good, unfortunately. There has been a steeper increase compared with previous days," he told reporters on Thursday.
But Italy's poorer southern region faces the threat of a widespread outbreak, according to a regional official. Concerns have been raised over whether the south's ill-equipped healthcare system can cope with a widespread outbreak.
Vincenzo De Luca, the president of the Campania region in the south, which has reported at least 74 deaths, expressed his concerns in a letter to Italian Prime Minister Giuseppe Conte. He noted that the government has yet to provide the ventilators and other life-saving medical equipment the region was promised.
"At this point there is the real prospect that Lombardy's tragedy is about to become the south's tragedy," he said. "We are on the eve of a major expansion of infections which may not be sustainable."
China bans all foreign visitors
China will temporarily ban all foreigners and restrict local carriers and foreign airlines to one flight per week in a bid to curb its growing number of imported cases.
There are at least 81,894 confirmed cases in China, while at least 3,292 have died.
China's National Health Commission (NHC) reported 55 new imported cases of the virus in a statement on Friday, which is slightly slower than the 67 recorded on Wednesday, but larger than the 47 reported on Wednesday.
Shanghai reported the highest number of new imported cases with 17 infections, followed by 12 in Guangdong and four each in Beijing and Tianjin.
From March 29, China's Foreign Ministry has ordered all local and foreign airlines to offer only one route to any country, with flights being limited to one per week.
From March 28, China will also temporarily suspend the entry of all foreigners, including those with valid visas and residence permits, China's Foreign Ministry confirmed.
Earlier this week, the country lifted outbound travel restrictions in Hubei, home to nearly 60 million people. Restrictions in Wuhan, which has been under a strict two-month lockdown in the wake of the outbreak in late January, are also due to be lifted next month.
The graphic below, provided by Statista, illustrates the spread of the COVID-19 virus across the world.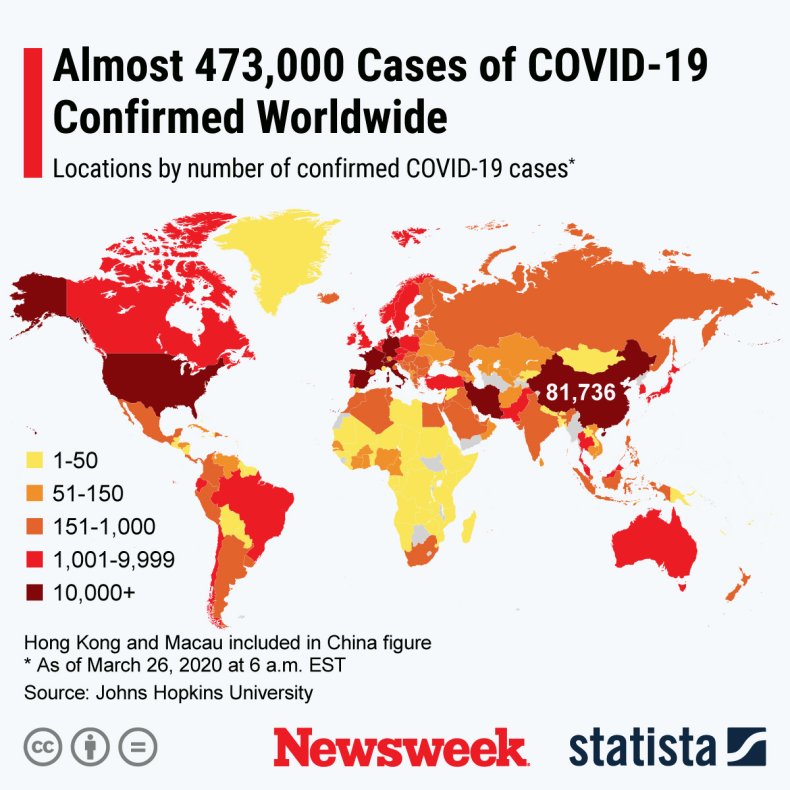 U.K. sees record increase in deaths
The outbreak in the U.K. has taken the lives of more than 100 people in a day, the country's largest daily increase to date. The latest death toll now stands at 578, with at least 11,813 confirmed cases, as of Friday morning.
On Thursday, U.K. Prime Minister Boris Johnson announced the country has pledged £210 million ($252.7 million) towards finding a vaccine following a summit with G20 leaders. The amount was said to be "the largest single contribution by any country to the key international fund to find a coronavirus vaccine," according to a statement from the office of the prime minister.
"Global health experts have identified the weakness of developing countries' healthcare systems as one of the biggest risks to the global spread of the virus. A 'second wave' of the pandemic emanating from the developing world would impact countries who are only just recovering and undermine current efforts to stop the spread of coronavirus and protect vulnerable people.
"Quickly identifying those with coronavirus and having the means to treat those most affected will be pivotal in bringing down the number of people killed by the virus," the statement said.
The U.K. has been in lockdown following stricter measures introduced earlier this week requiring all residents to remain at home while all non-essential businesses have been closed.
"If you don't follow the rules the police will have the powers to enforce them, including through fines and dispersing gatherings," Johnson warned in a statement on Monday.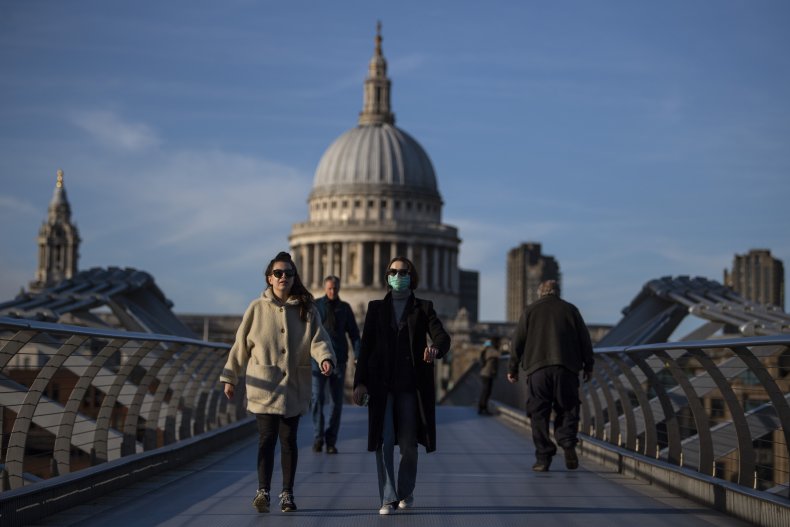 World Health Organization advice for avoiding spread of coronavirus disease (COVID-19)
Hygiene advice
Clean hands frequently with soap and water, or alcohol-based hand rub.
Wash hands after coughing or sneezing; when caring for the sick; before, during and after food preparation; before eating; after using the toilet; when hands are visibly dirty; and after handling animals or waste.
Maintain at least 1 meter (3 feet) distance from anyone who is coughing or sneezing.
Avoid touching your hands, nose and mouth. Do not spit in public.
Cover your mouth and nose with a tissue or bent elbow when coughing or sneezing. Discard the tissue immediately and clean your hands.
Medical advice
Avoid close contact with others if you have any symptoms.
Stay at home if you feel unwell, even with mild symptoms such as headache and runny nose, to avoid potential spread of the disease to medical facilities and other people.
If you develop serious symptoms (fever, cough, difficulty breathing) seek medical care early and contact local health authorities in advance.
Note any recent contact with others and travel details to provide to authorities who can trace and prevent spread of the disease.
Stay up to date on COVID-19 developments issued by health authorities and follow their guidance.
Mask and glove usage
Healthy individuals only need to wear a mask if taking care of a sick person.
Wear a mask if you are coughing or sneezing.
Masks are effective when used in combination with frequent hand cleaning.
Do not touch the mask while wearing it. Clean hands if you touch the mask.
Learn how to properly put on, remove and dispose of masks. Clean hands after disposing of the mask.
Do not reuse single-use masks.
Regularly washing bare hands is more effective against catching COVID-19 than wearing rubber gloves.
The COVID-19 virus can still be picked up on rubber gloves and transmitted by touching your face.