Coronavirus Researchers Told to Stop Working by Arizona Health Department as Gov. Doug Ducey Plans State Reopening
A team of COVID-19 researchers, who had been developing novel coronavirus projection models to advise the state on easing lockdown measures, were told by the Arizona Department of Health Services (ADHS) to stop their research work on Monday.
The department noted it would be working with the Federal Emergency Management Agency (FEMA) to "develop and implement public health interventions" for the COVID-19 pandemic, Arizona's ABC15 reports.
The department's notification was reportedly received via email hours after Arizona Gov. Doug Ducey announced the next steps for the state's reopening plan, which would see restaurants, coffee shops, beauty salons and barber shops resume operations starting from May 8-11.
The chief of the ADHS bureau of public health statistics, Steven "Robert" Bailey, was reported to have sent an email Monday evening to the team of 23 researchers from Arizona State University and the University of Arizona stating: "We've been asked by Department leadership to 'pause' all current work on projections modeling," ABC15 reports.
"The reason that ADHS is pausing the internal modeling is, as we have said before, we are looking at several national models and have determined that FEMA is the most accurate to help us develop and implement public health interventions to respond to the COVID-19 outbreak," Bailey wrote in the email.
The email also announced that the department would "pull back the special data sets which have been shared" with researchers who are no longer helping the department.
Thanking the team for its efforts, Bailey's email stated he wanted the team to be notified of the latest halt in operation as soon as possible so that they "won't expend further time or effort needlessly." He added that the team may possibly be called upon to work again in late summer or early fall ahead of the flu season, ABC15 reports.
"We just asked them [the team of researchers] to take a pause for a little bit," noted the director of the ADHS, Cara Christ, the Arizona Republic reports.
"We are continuing to get updated FEMA models and we think that that is really representative of where we are. But we did tell them to please stay engaged, because we may need to bring them back in the fall to look at modeling during flu season," she added.
In a statement to Newsweek, ADHS said: "We appreciate the work of the talented professionals who assisted our team of public health professionals and experienced epidemiologists in developing a state model. The department established the partnership to provide an additional model for consideration. This model was completed on April 20, 2020."
"With months of data now available, we have shifted our primary focus from predictive models to using all of our real-time, Arizona specific data to assess the health of our healthcare system and evaluate the trend of our cases to make decisions that are best for Arizona," the statement said.
Speaking to Newsweek, a spokesperson for FEMA said: "FEMA communicates closely with governors to support their response to COVID-19. We are encouraged to see that social-distancing measures are flattening the curve across the country, however the threat remains."
"Governors have the authority to determine stay at home and quarantine levels for their states in coordination with their public health officials. The information on the White House's website contains the guidelines for Opening Up America Again."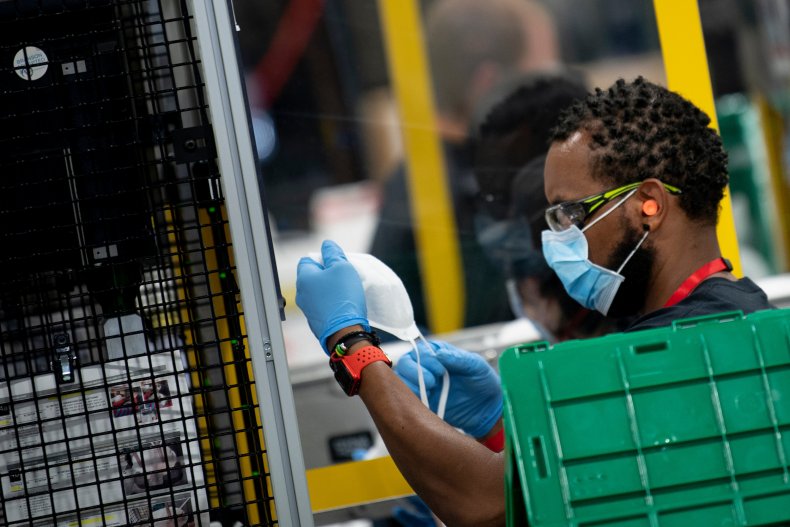 The latest Arizona COVID-19 projection report on April 28, authored by Joe Gerald, a researcher from the Mel and Enid Zuckerman College of Public Health (MEZCOPH) at the University of Arizona, stated: "Social distancing has slowed / continues to slow viral transmission; however, reported cases, hospitalizations, or ICU [intensive care unit] utilizations have yet to clearly peak."
"Community-driven viral transmission remains high as evidenced by substantial numbers of newly reported cases. Accordingly, maintaining or increasing social distancing should remain our highest priority or we risk a resurgence fueled by these active cases. Lifting social distancing restrictions when the April 30 stay-at-home order expires poses a substantial risk of reigniting faster growth," the report said.
"While current social distancing restrictions may be sufficient to prevent exponential growth, they may not be. COVID-19 testing remains constrained. The lack of testing for both clinical diagnosis and public health surveillance is another challenge that must be overcome before social distancing restrictions can be safely lifted," the report concluded.
Last month, a mathematical epidemiologist at Arizona State University, Tim Lant, noted that reopening the state possibly towards the end of May is "the only one [scenario] that doesn't put me immediately back on an exponential growth curve," with transmission rates projected to be the lowest at that time, he told the Arizona Republic.
"I can say, scientifically, no, it's not safe to reopen unless you're planning on, you know, shutting down again after a couple of weeks, and we can help figure out what the appropriate amount of time is to stay open before we shut down," he said.
State Rep. Kelli Butler of Phoenix noted it was "incredibly troubling to learn @AZDHS is disbanding team of researchers working on #COVID19 projections & will "pull back the special data sets which have been shared" w/the researchers. So, fewer experts and even less transparency as GovDucey reopens #AZ," in a post on her official Twitter account.
Newsweek has contacted the University of Arizona, Arizona State University and the governor's office for comment.
Arizona currently has at least 9,305 confirmed case, including 395 deaths, as of the latest report Tuesday from the ADHS.
On Tuesday, President Donald Trump visit a Honeywell mask factory in Phoenix, where he was seen without a mask while touring the facility where masks are being produced as part of the government's response to the COVID-19 pandemic.
The novel coronavirus, which was first reported in Wuhan, China, has infected more than 3.6 million people across the globe, including more than 1.2 million in the U.S. Over 257,900 have died following infection, while more than 1.2 million have reportedly recovered, as of Wednesday, according to the latest figures from Johns Hopkins University.
The graphic below, provided by Statista, illustrates U.S. states with the most confirmed COVID-19 cases.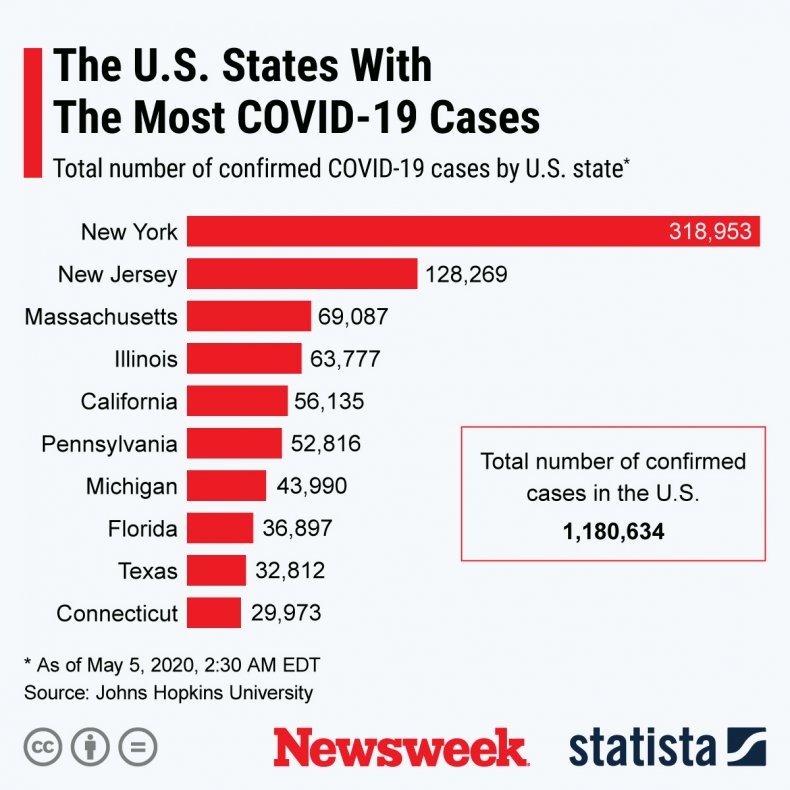 The graphic below, provided by Statista, illustrates the spread of the COVID-19 virus across the U.S.