'Live and Let Die' Blares as Trump Tours Arizona Mask Factory Without Wearing a Face Mask
The Guns N' Roses version of song "Live and Let Die" was heard blasting at a Honeywell mask factory in Phoenix while President Donald Trump toured the facility where face masks are being produced as part of the government's response to the COVID-19 pandemic.
Workers at the factory were seen wearing masks and there was reportedly a visible sign at the facility indicating: "Attention: Face Mask Required in this Area. Thank You!," Reuters reports.
In a video, Trump is seen wearing safety goggles while being led on a tour of the factory, during which "Live and Let Die" can be heard blaring from the public address system.
The chief executive officer of Honeywell, Darius Adamczyk, as well as White House Chief of Staff Mark Meadows and other visiting officials were also reported to have not worn masks during the visit. A White House official claimed Honeywell had told the White House that Trump and other visitors did not need to wear masks, CNBC reports.
Speaking to Newsweek, a spokesperson for Honeywell said: "Following White House recommended protocol, a small number of individuals directly interfacing with the President on Tuesday were tested for COVID-19 immediately prior to the event, received negative test results, and were permitted to not wear masks during portions of the visit based on that medical screening. All others present were wearing masks and social distancing in accordance with Honeywell's site policy."
Earlier on Tuesday, when asked by reporters whether Trump would wear a mask during the factory visit if required to do so, he said: "I think it's a masked facility. If it's a masked facility, I will. I don't know if it's a masked facility. If it's a mask environment, I would certainly do that. I'll know when I get there.
"But I would wear it. If it's a mask environment, I would have no problem," he said.
When asked if it was important for him to wear a mask, Trump said: "I'm supposed to make a speech. You'll tell me: Should I leave the mask on when I'm speaking?"
Newsweek has contacted the White House and Honeywell for comment on Trump's visit.
The government has encouraged Americans from last month to wear masks in a bid to avoid spreading the virus.
Currently, the Centers for Disease Control and Prevention (CDC) "recommends wearing cloth face coverings in public settings where other social distancing measures are difficult to maintain (e.g., grocery stores and pharmacies) especially in areas of significant community-based transmission."
It adds: "This recommendation complements and does not replace the President's Coronavirus Guidelines for America, 30 Days to Slow the Spread, which remains the cornerstone of our national effort to slow the spread of the coronavirus."
Last week, Vice President Mike Pence was seen not wearing a mask during a visit to the Mayo Clinic in Minnesota, a move for which he expressed regret earlier this week on Sunday.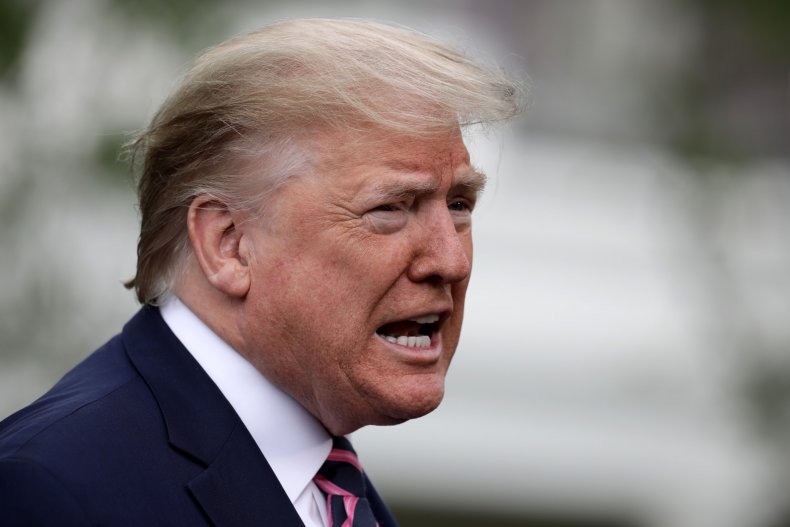 "Part of our protocol for ensuring your safety is to require all patients, visitors and staff to wear a face covering or mask while at Mayo Clinic to guard against transmission of COVID-19," according to the Mayo Clinic's website.
A spokesperson for the Mayo Clinic told Newsweek last week that they "shared the masking policy with the vice president's office," but did not answer the question of why Pence was allowed to tour the medical facility without a mask.
Pence wore a mask during a visit to General Motors in Indiana, two days after his appearance at the Mayo Clinic.
The novel coronavirus, which was first reported in Wuhan, China, has infected more than 3.6 million across the globe, including more than 1.2 million in the U.S. Over 1.2 million have reportedly recovered from infection, while more than 257,300 have died, as of Wednesday, according to the latest figures from Johns Hopkins University.
The graphic below, provided by Statista, illustrates U.S. states with the most confirmed COVID-19 cases.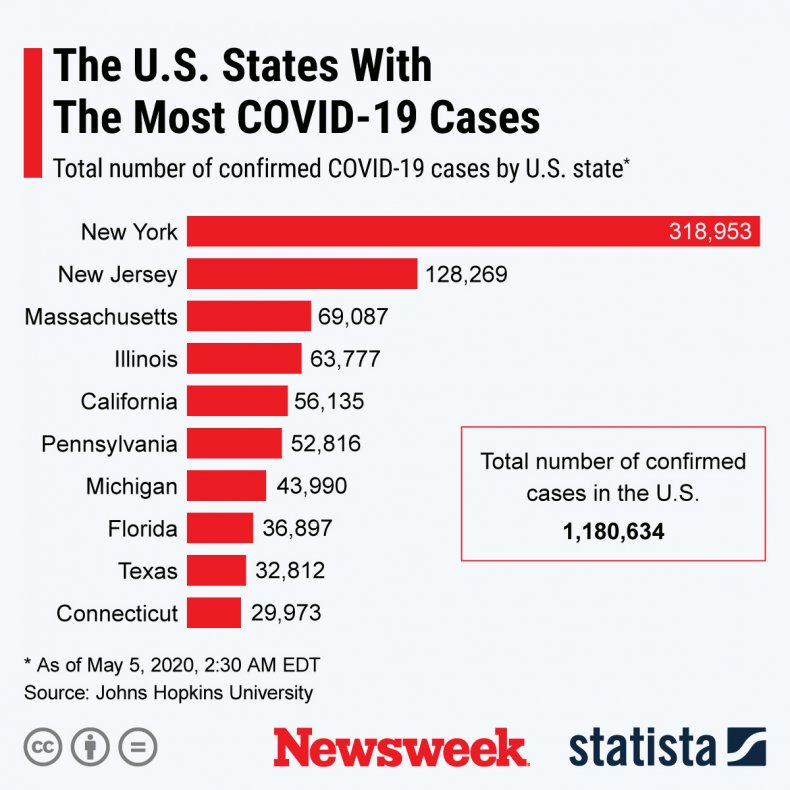 The graphic below, provided by Statista, illustrates the spread of the COVID-19 virus across the U.S.