Nearly 4,000 Complaints About Workplace Coronavirus Hazards Filed to Federal Labor Watchdog
Coronavirus safety concerns have prompted nearly 4,000 complaints from workers to the Occupational Safety and Health Administration (OSHA).
Amid the pandemic so far 3,990 complaints have been made to OSHA from employees at workplaces across the states, a spokesperson for the agency told Newsweek.
Of those 2,694 have been closed, with OSHA "investigating all complaints and responding appropriately."
"OSHA is hearing from workers in various industries concerned about coronavirus in their workplace and, in some instances, from workers who believe they have been wrongly disciplined or lost their job because they raised safety or health concerns about the virus," the spokesperson said.
OSHA, which is part of the Department of Labor, has said it is working "diligently" with workplaces amid the pandemic outbreak, as key workers continue to fulfill their duties and other workers begin to return to work in areas where stay-at-home measures are lifting.
The OSHA spokesperson added: "Under existing OSHA rules and requirements, employers have a duty to protect employees who are exposed to coronavirus at work. OSHA. Where employers fail to take the steps needed to protect workers from known risks, OSHA has the enforcement tools to respond as appropriate."
OSHA guidance covers the need for personal protective equipment where necessary, including provisions for respiratory protection where necessary.
Workers with concerns about potential hazards are able to file complaints to the OSHA online and can request inspections.
There have also been 383 employer-reported referrals to OSHA and 157 referrals made by directly contacting employers and "facilitating prompt actions to address alleged hazards."
Newsweek has contacted Secretary of Labor Eugene Scalia for comment on the number of complaints submitted to OSHA.
States are slowly beginning to lift stay-at-home measures with people beginning to return to work, though guidance on social distancing for those returning to some level of normality remains in place.
During the pandemic there has been strike action from workers concerned about a lack of personal protective equipment and social distancing, with people being urged to remain six feet apart as much as possible.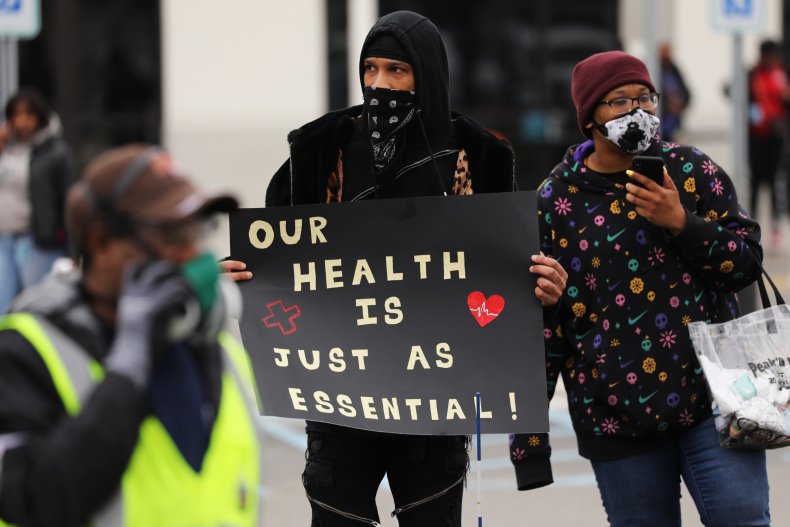 President Donald Trump has persistently spoken of his desire for the country to reopen in order to get the economy back up and running, though he has called for this to be done safely. He has said there is "no choice" for the nation to begin to reopen.
Experts, however, have expressed concerns that opening too quickly may lead to a second wave of the virus.
Some areas, including Texas, are moving to reopen establishments such as bars and in Michigan, where there have been frequent protests over the level of measures in place, bars and restaurants are reopening with limited capacity.
The novel coronavirus has infected 4.8 million people across the globe, including 1.5 million in the U.S.
More than 1.8 million of those infected have reportedly recovered from infection.
There have been more than 319,000 deaths linked to the virus, according to the latest figures from Johns Hopkins University.
The graphic below, from Statista, shows the U.S. states with the most confirmed COVID-19 cases.