Coronavirus Stimulus Talks Officially Crumble as Trump Officials Reject Democrats' Offer
Negotiations over coronavirus relief collapsed on Friday, with top congressional Democrats and Trump administration officials unable to overcome their impasse to reach an agreement on how the federal government should further assist struggling Americans.
White House chief of staff Mark Meadows and Treasury Secretary Steve Mnuchin rejected an offer from House Speaker Nancy Pelosi (D-Calif.) and Senate Minority Leader Chuck Schumer (D-N.Y.) to work toward a bill that would total roughly $2.5 trillion—$1 trillion less than what Democrats have demanded and $1.5 trillion more than what Republicans have offered.
"I said, 'Come back when you're ready to give a higher number,'" Pelosi recounted from the meeting, which only lasted roughly an hour inside the U.S. Capitol.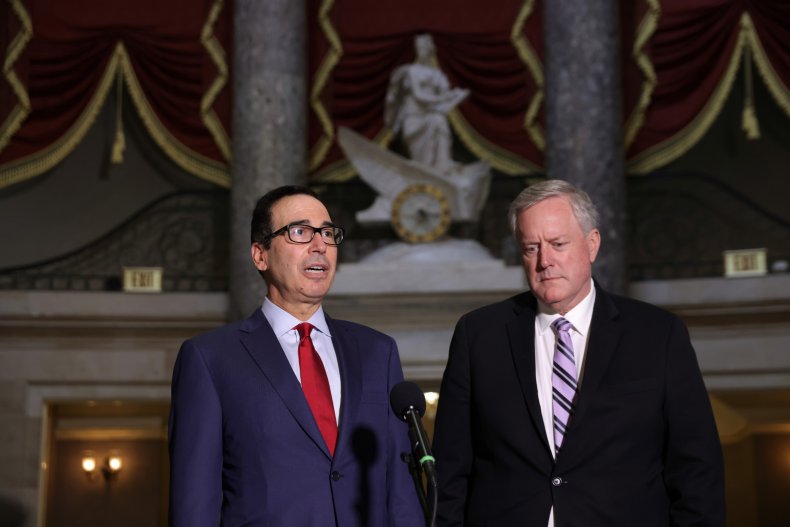 Meadows accused Democrats of remaining unwilling to compromise. "What they want is a $2.5 trillion blank check," he said.
As a result of the stalemate, Mnuchin said he will recommend that President Donald Trump move forward with an executive order, which he promised to issue if a deal could not be reached.
While the details of such unilateral action remain absent, the Treasury secretary suggested it will include some extension of enhanced unemployment benefits, student loan relief and eviction moratoriums, among other things. What it will not include, however, is another round of stimulus checks. The president's authority is limited; legislation would likely be needed to accomplish major initiatives, such as the individual payments.
The timing of the executive action will likely come in the next few days, Mnuchin suggested, potentially as soon as Friday evening.
"Pelosi and Schumer only interested in Bailout Money for poorly run Democrat cities and states," Trump tweeted, referring to the money for state and local governments that Democrats demanded. "Nothing to do with China Virus! Want one trillion dollars. No interest. We are going a different way!"
It remains unclear whether the two sides will continue talks in the future about legislative action. As of Friday afternoon, there was not a future time established for another meeting or conversation.