What a Trump Executive Order on Next Stimulus Could Mean for Cash to Americans
President Donald Trump's threat to use executive orders to break the gridlock in Congress over the next coronavirus relief deal may offer Americans some aid, such as protection from evictions.
But the unprecedented use of authority would likely stop talks cold, meaning millions of others could be left without the economic relief—like the proposed $1,200 checks—that experts say are needed to restart the faltering economy.
Trump has threatened to use the orders to circumvent legislation if lawmakers and the administration cannot come to an agreement in principle by Friday. His package of proposed relief measures would offer federal assistance to some Americans by way of a payroll tax cut, eviction protections for some, a re-employment bonus, some form of jobless aid and student loan relief.
The talks officially crumbled Friday afternoon, with Trump officials rejecting a deal from Democrats and vowing that the president has no choice but to take executive action.
But the executive orders, the details of which have yet to be unveiled, would almost certainly help a fraction of those that a broader relief package would target. Such action would also leave no room for further negotiation, Democrats have warned.
Likely excluded would be millions of people because of the lack of broader policies that could be accomplished only through legislation, such as a second round of $1,200 checks for most Americans, which both sides support; broader protections for renters; an extension of the federal unemployment benefit; funding for schools trying to reopen; and aid for local and state governments facing massive budget shortfalls.
Trump had two choices, according to Democrats: keep negotiating or issue an executive order.
"[It] will leave most people out, will not cover the broad expanse of what's needed, will be litigated in court and will be awkward and difficult to implement," Senate Minority Leader Chuck Schumer told reporters following a three-hour meeting Thursday night with House Speaker Nancy Pelosi, Treasury Secretary Steve Mnuchin and White House chief of staff Mark Meadows.
"And they admitted that in the room," Schumer, a New York Democrat, said of the administration officials.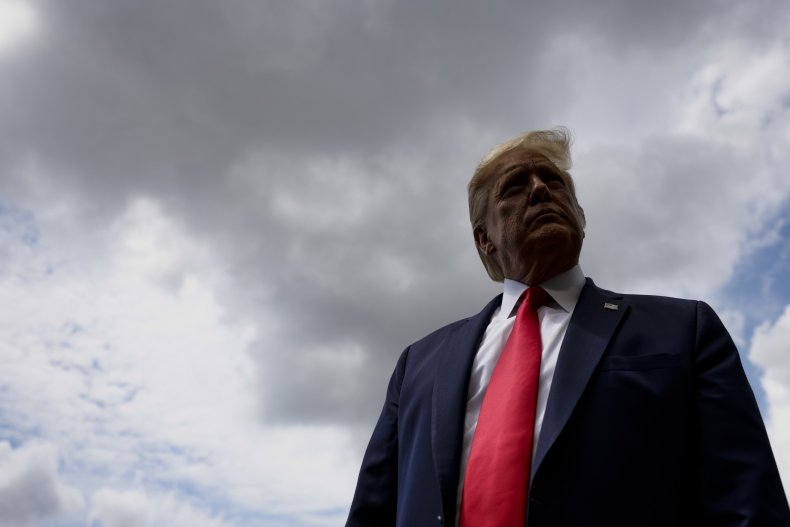 After negotiators emerged from the closed-door meeting—which at times became very intense, according to Pelosi—both sides lobbed criticism at each other to reporters and said significant differences remained. Democrats have pushed for a mammoth $3.5 trillion package, while Republicans have proposed a trimmed-down $1 trillion plan.
Mnuchin and Meadows accused the Democrats of refusing to budge on their demands. Meadows said the president has a "right to be frustrated with Congress" because weeks of talks have barely moved the needle on a deal. Democrats, meanwhile, said the Republicans have failed to grasp what they characterize as a dire need for economic aid. Pelosi said Friday that the administration rejected an offer to meet somewhere in the middle of their proposals, at around $2 trillion.
A similar meeting that lasted just an hour on Friday brought the same outcome: an impasse. The result was the official collapse of a potential deal. Mnuchin and Meadows rejected an offer from Pelosi and Schumer for a $2.5 trillion package—roughly in the middle of what the two sides offered.
"His willingness to take action through executive powers should be applauded because he's coming to the realization that perhaps some Democrats, both in the House and Senate, are not serious about compromise and are not serious about trying to meet the needs of the American people," Meadows said about Trump on Thursday.
Pelosi called the scaled-down proposals offered by Mnuchin and Meadows "anorexic" and "disdainful of working families."
At one point during the Thursday meeting, the California Democrat said, she "saw something familiar in the room" when Meadows allegedly "slammed the table and walked out," reminiscent of Trump's behavior during a meeting amid the partial government shutdown in January 2019.
"Well, that's really what Mr. Meadows did, slam the table and walk out," Pelosi recounted. "You're slamming the table on our children and our schools."
Meadows denied the incident occurred. "I don't know what she's talking about. I didn't walk out of any meeting," he said. "It's fabricated."
Amid the ongoing talks and high tensions, some Republicans are wary of Trump taking unilateral action through his limited ability to single-handedly dole out assistance, as well as the precedent that would set for presidential authority.
Senator Lindsey Graham, a Trump confidant, questioned the move's legality and what it could mean for the president's successors.
"Can you legally do it? I'm for a payroll tax cut. But I just am very cautious about executive orders," the South Carolina Republican told reporters. "I don't want to bless one I like because it may open up the floodgates for things I don't like."
This story was updated to include information about a Friday afternoon meeting, where stimulus negotiations collapsed.