Stores across the U.S. are temporarily closing amid the coronavirus outbreak, meaning thousands of employees cannot work. However, while some stores are forcing employees to take time off without pay, others are continuing to pay their employees.
On March 18, President Donal Trump signed the Families First Coronavirus Response Act into law. It aims to provide paid sick leave to employees who weren't previously covered and workers who only had a few days paid sick leave. The law will only apply to employees who cannot work due to the coronavirus and will not extend afterwards.
Businesses with fewer than 50 employees will not be required to pay their employees sick leave and those with more than 500 employees are not mentioned in the bill, so employees are subject to their employer's policies.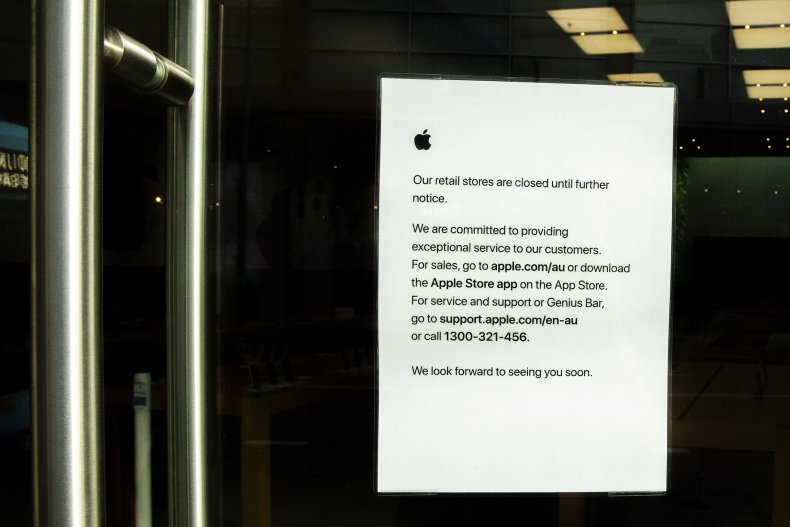 List of companies paying their employees during the coronavirus
The following companies have all confirmed that they will pay their employees while their stores are closed amid the coronavirus outbreak.
Abercrombie and Fitch
A spokesperson for Abercrombie and Fitch, and Hollister, told Newsweek that: "All store associates will continue to be paid in alignment with business as usual operations."
Apple
Apple will pay their employees who are affected by the coronavirus. Apple said in a statement: "All of our hourly workers will continue to receive pay in alignment with business as usual operations.
"We have expanded our leave policies to accommodate personal or family health circumstances created by COVID-19—including recovering from an illness, caring for a sick loved one, mandatory quarantining, or childcare challenges due to school closures."
Bath and Bodyworks
Bath and Bodyworks will continue to pay staff and said in a statement: "While our associates are home with their loved ones at this critical time, we'll support them with pay, as well as look for other ways we might ease their concerns and share our appreciation for all they've done."
Carhartt
Carhartt will pay its staff the company said in a tweet: "The health and wellbeing of our associates and consumers is our top priority, and we are taking all necessary precautions during this pandemic. Even though Carhartt company stores remain closed through April 4, we are compensating our associates."
Crocs
A spokesperson for Crocs told Newsweek: "During this temporary closure of all company-operated retail stores in North America, all retail employees will continue to receive full pay and benefits for their regularly scheduled shifts."
GAP
GAP, and its owned brands, Banana Republic, Old Navy, Athleta, INTERMIX, Hill City, and Janie and Jack, will pay its employees while the stores are closed. Sonia Syngal, incoming CEO, Gap Inc. said in a statement: "Our focus remains on supporting the health and livelihood of our employees while caring for our customers and communities.
"We will provide our impacted store employees with pay continuity and benefits during this two-week period. And, together, we look forward to welcoming our customers back in our stores soon."
Levi
Levi has closed all of its stores and said in a statement: "All of our store employees will be paid for their scheduled hours during these closures."
Lululemon
Lululemon will continue to pay its employees and a spokesperson told Newsweek: "Lululemon  is offering Global Relief Pay  which is available to all global employees for a limited period of time, which began March 12, 2020; this pay is separate from and in addition to any required legislated paid sick leave, even without symptoms of COVID-19.
"The Relief Pay program includes: Life Disruption Time for unexpected disruptions related to COVID-19, COVID-19 and quarantine time for employees who need to self-quarantine for up to 14 days, and Sick Pay for employees with flu-like symptoms with or without exposure to COVID-19."
Lush
Lush told Newsweek that it "is committed to keeping all our staff and customers safe during this time and we are working through how to best support our employee base through these changes, ensuring regular pay for all staff during this period."
Macy's
Macy's said in a press release: "In response to the widespread COVID-19 outbreak, Macy's today announced that it will temporarily close all stores by end of business today, March 17, 2020, through March 31, 2020.
"This includes all Macy's, Bloomingdale's, Bluemercury, Macy's Backstage, Bloomingdales the Outlet and Market by Macy's stores. Macy's, Inc. will provide benefits and compensation to its impacted workforce."
Morphe
Morphe confirmed in an Instagram post that it would pay its staff while its stores are closed throughout March.
Nordstrom
Nordstrom told Newsweek that despite closing its stores, they "can confirm all employees are eligible for two weeks of pay and benefits."
Primark
A Primark spokesperson told Newsweek: "Our main priority is the health and wellbeing of our employees. Primark has committed to supporting all U.S. employees who are directly affected by the COVID-19 virus or by store closures by providing them with their full pay for their scheduled hours for two weeks.
"After two weeks, the situation will be reviewed. Primark will continue to closely monitor the situation, following WHO advice as well as local and national government guidance."
Sephora
Sephora will continue to pay its employees, as a spokesperson told Newsweek: "The health and safety of our employees, their families, and the community is our first priority, and to adapt to the rapidly changing situation related to coronavirus (COVID-19), we will be closing all SEPHORA stores across the U.S and Canada from 5 p.m. local time Tuesday, March 17 through Friday, April 3.
"All store employees will continue to receive their base pay for scheduled shifts for the duration of this closure. In addition, health and wellness benefits for employees who are currently enrolled will continue."