Families First Coronavirus Bill Sent to Senate With Rolled Back Sick Leave Benefits
A bill providing American workers with paid sick leave amid the coronavirus outbreak had some of its provisions rolled back before it was sent to the Senate on Tuesday.
The Families First Coronavirus Response Act was passed by the House on Saturday morning, but on Monday night the chamber approved major changes to the bill's sick leave provisions before it was passed to the Republican-controlled Senate.
It was reported by the Wall Street Journal on Tuesday that the changes were filed as a "technical correction" and passed unanimously, with many House lawmakers not present for the vote in Washington, D.C.
Under the new version of the bill, paid family leave up to 12 weeks will now only be offered to parents caring for children who are home from school because of closures. And small businesses with less than 50 employees, including healthcare firms, will now also not be required to pay for sick leave or family leave at the discretion of the labor department.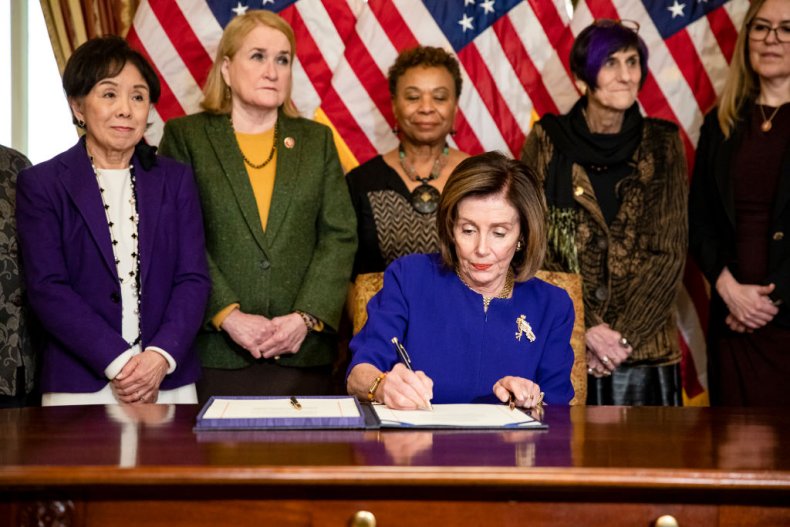 Two weeks of paid sick leave capped at $511 per day will still be provided to some workers at companies with less than 500 employees. The ten additional weeks of paid leave at a two-thirds rate, now being offered only to those caring for children not in school, were previously on offer to all workers who received paid sick leave in the original bill.
Newsweek has contacted the office of Speaker Pelosi and the bill's sponsor Rep. Nita Lowey (D-NY) for comment on the changes. This article will be updated with any responses.
In a statement released on Tuesday, House Speaker Nancy Pelosi said, "Now, as the House develops our third Families First package, we are working to advance additional steps to expand the emergency leave mandate."
The Speaker went on to list "additional steps" that the Democratic-controlled House was going to push for in its third package, including access to "longer term leave" for workers who have exhausted short term sick leave and "increasing the scope of allowable uses of family and medical leave."
"During negotiations, the Democratic House will continue to make clear to the Administration that any emergency response package must put Families First before any aid to corporate America is considered," she added.
Having received the Families First Coronavirus Response Act on Tuesday, it is expected that the Senate will vote later this week on the amended bill that also makes available free coronavirus testing.
Senate Majority Leader Mitch McConnell said on Sunday that that passing a relief package for workers amid the ongoing COVID-19 outbreak was an "urgent" priority for the upper chamber this week.
Politico reported on Monday night that the Senate was set to pass the bill following its revisions. When the coronavirus response act was put to the House on Saturday morning, 40 Republican representatives voted against its measures, with one saying they and their staff had not had enough time to read the emergency bill.