Sweden, Which Refused Lockdown During COVID First Wave, Imposes Restrictions as Cases Soar
As coronavirus cases rise in Sweden, where a nationwide lockdown was never imposed, the country's public health agency is working with regional authorities who will now be able to enforce new restrictions from Monday.
The latest move follows the country's sixth consecutive rise in weekly new cases since the week commencing August 31, after flattening out for months, according to data compiled by the World Health Organization (WHO).
Last week, Sweden reported its highest daily case count since June, reporting 970 cases on October 15, according to the WHO.
Speaking to Newsweek, Dr. Anders Tegnell, the chief state epidemiologist at Sweden's public health agency who is behind the country's anti-lockdown strategy, said: "It [the latest measures] is not a lockdown but some extra recommendations might be communicated locally when a need from the regional authorities is communicated."
When asked what were the main reasons that prompted this shift in the country's COVID-19 strategy, Tegnell told Newsweek: "That on the national level the development is fairly stable but local development might happen and will need local solutions," adding that the new restrictions "will be decided according to the local epidemiology and needs."
Johan Nojd, who leads the infectious diseases department in Uppsala, a city near the Swedish capital of Stockholm, is expected to meet with Tegnell on Monday to discuss which measures will be introduced in Uppsala, where cases were reported to have increased tenfold in recent weeks, with 185 cases per 100,000 recovered over the past two weeks, the Telegraph reported.
Nojd told the Telegraph: "Perhaps tomorrow we will have several talking about concerts or restaurants and then perhaps one could say, 'in Uppsala now for two or three weeks it is the [Swedish] public health agency's advice not to sit in restaurants late at night'."
Local officials will have the authority to direct residents to avoid certain public spaces including shopping centers, museums, libraries, swimming pools, gyms, other sports facilities, sports matches and concerts. Regional authorities will also have the power to tell residents to avoid public transport as well as visiting the elderly and others that fall within risk groups, according to the Telegraph.
The new measures, described by Bitte Brastad, the chief legal officer at Sweden's public health agency, as "something in between regulations and recommendations," do not come with fines for any violations.
Speaking to Newsweek, Marcus Carlsson, a mathematician and senior lecturer at Lund University who has been closely following the outbreak, said: "The authorities have certainly made a silent shift towards a strategy more in line with the rest of Europe."
But Carlsson noted the latest new measures have not been "implemented in reality anywhere in Sweden, and even doctors in hospitals still walk around without masks (leaving vulnerable people too afraid to seek health care).
"At least 10 percent of old and vulnerable [people] are still self-isolating, contact tracing is still absent and case reporting is not reliable. But despite these things, it seems they [Sweden's public health agency] are reluctant to repeat the mistakes of spring and secret herd immunity dreams does no longer seem to be steering the interventions, or lack thereof.
"So yes, there is a genuine shift, although reluctant and yet insufficient to honestly protect any risk groups," he added.
Speaking to Newsweek, Tom Britton, a professor in mathematical statistics at Stockholm University, said: "In the summer it was discussed in the media and also by our public health agency what to do if/when a second wave might pop up. It seems like most people suggested: increased testing to quickly find such signs, local restrictions if/when transmission increases.
"So far I think any local restrictions are still milder than the national restrictions during spring, but it could also happen that they can become more severe," Britton said.
Dr. Joacim Rocklov, an epidemiologist at Sweden's Umea University, believes the latest measures indicate a shift in Sweden's COVID-19 strategy.
"What's happened in the last couple of weeks is a movement towards a similar model to what has been used in Norway and many other countries," Rocklov told the Telegraph.
Rocklov thinks witnessing a new rise in cases in Stockholm and other cities that saw infections soar in the spring, such as Milan and Madrid, challenged the public health agency's stance on herd immunity.
Rocklov told the Telegraph: "I think they [Sweden's public health agency] must have been shocked by that, after all these strong claims that we were closing in on immunity in April and May. They must have realised that that's not really the case."
Last Thursday, Tegnell said: "I think the obvious conclusion is that the level of immunity in those cities is not at all as high as we have, as maybe some people, have believed.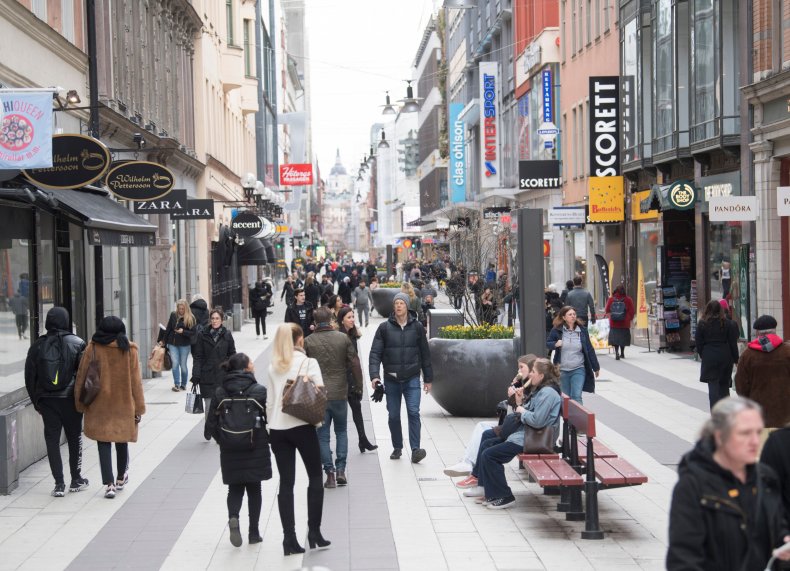 Confirmed cases in Sweden have reached at least 103,200, as of Monday. Weekly new cases declined from late June before flattening out from mid-July to late August, according to the WHO.
The Scandinavian nation is currently "reporting community transmission" of the virus, reporting a 13 percent increase in its "14-day incidence value," according to the WHO's latest report Monday.
The 14-day incidence value represents the "number of new cases reported per 100,000 population over the past 14 days. Percentages indicate change in 14-day cumulative incidence as compared to 14 days ago," the WHO noted.
Earlier this month, the director general of Sweden's public health agency, Johan Carlson, noted: "We can expect that measures against the spread of corona will remain for some time, we're talking about at least another year," in an interview Sunday with Sweden's Sveriges Television (SVT).
The wider picture
The novel coronavirus has infected more than 40.1 million people across the globe since it was first reported in Wuhan, China, including over 8.1 million in the U.S. Globally, more than 1.1 million have died following infection, while more than 27.5 million have reportedly recovered as of Monday, according to Johns Hopkins University.
The graphic below, provided by Statista, illustrates countries with the most COVID-19 cases.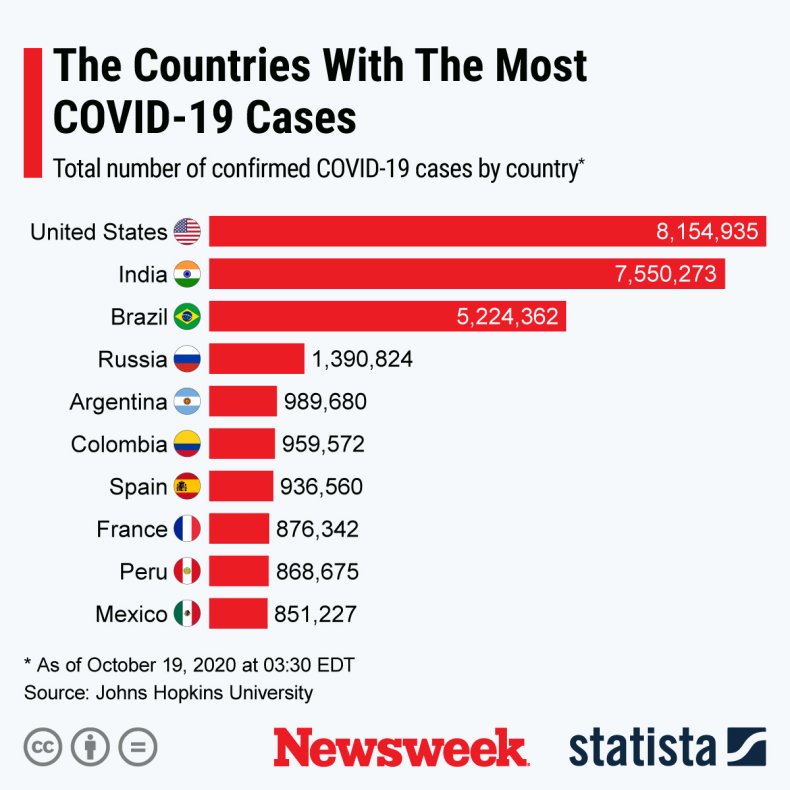 The graphic below, also produced by Statista, illustrates regions across the globe seeing a rise in COVID-19 cases.