Experts Call for Sweden Lockdown As COVID Deaths Soar, 'Enough Is Enough'
As total coronavirus deaths in Sweden, where a nationwide lockdown was never imposed, approach 7,700, calls for a lockdown and stricter measures to be implemented are rising among health officials.
The country's seven-day average of deaths has been rising sharply since late October, before dipping in recent days from early December, according to data compiled by Worldometer.
Bjorn Eriksson, the health and medical care director for the Stockholm region, warned: "We are far beyond 100 percent of capacity in intensive care. We are approaching almost double the number of available spaces," at a press conference on Tuesday.
Eriksson noted at a press briefing last week: "Enough is enough. It simply cannot be worth it, to have after-work drinks and hustle of Christmas present shopping...the consequences are horrible."
By January 2, the country's death toll is forecast to surpass 10,000 even with "rapid vaccine rollout," which would see vaccine distribution scaled up for 45 days, according to the latest projection by the Institute for Health Metrics and Evaluation (IHME) at the University of Washington.
The country's daily death count is projected to reach around 117 on December 25 and 163 on January 1. These projected figures would be reached if "vaccine distribution is scaled up over 90 days" and "governments do not re-impose mandates if cases increase," according to the IHME.
Both projections are much higher than the latest average daily death count of 17 reported on December 15, according to Worldometer.
Karin Hildebrand, a cardiologist in the intensive care unit (ICU) of the Sodersjukhuset hospital in Stockholm, also warned: "I'm afraid it's going to get even worse. We all fear the coming weeks. We do not have enough personnel to deal with this," The New York Times reported Tuesday.
Sweden's ICUs are forecast to reach nearly full capacity by January 13, when the number of ICU beds projected to be needed will peak at around 690, edging closer to the 710 ICU beds available, according to the latest projection from the IHME.
Tove Fall, a professor of molecular epidemiology at Uppsala University near Stockholm told The Times: "We need a few weeks of lockdown to get the numbers down," noting "Other countries are taking much higher precautions at lower transmission levels."
"I was hoping this grave situation would change things, but yesterday they opened the ski lifts in Sweden," Fredrik Elgh, a professor of clinical virology at Umea University and outspoken critic of the country's COVID-19 strategy, told The Times.
"Taking such actions into account, I don't think the government is taking the firm action I had hoped for.
"We are the only democracy in the world that does not recommend the use of face masks. There are more than 170 countries in the world that recommend using masks. But here they are saying there is not enough science behind that. That is nonsense," Elgh added.
Under current Swedish law, the government is not able to enforce stay-at-home orders or impose fines on those who violate recommended safety guidelines. But the government was reported to be drafting an emergency law that would allow it to mandate lockdowns and close businesses when the virus is spreading, according to The Times.
The latest warnings come as a report by the country's coronavirus commission highlighted several "shortcomings" of Sweden's combat strategy, including its "failed" approach to protecting the elderly and "remarkably poor" access to personal protective equipment (PPE) in care homes.
"We have found that elderly care was unprepared and ill-equipped when the pandemic struck and that this was founded in structural shortcomings that were known long before the outbreak of the virus. The ultimate responsibility for these shortcomings rests with the Government in power–and with the previous governments that also possessed this information.
Newsweek has contacted The Public Health Agency of Sweden, the Swedish government and The National Board of Health and Welfare for comment.
In late October, new restrictions were introduced in Sweden following consecutive rises in weekly new infections.
Speaking to Newsweek at the time, Dr. Anders Tegnell, the chief state epidemiologist at The Public Health Agency of Sweden who is behind the country's anti-lockdown strategy, said: "It [the latest measures in October] is not a lockdown but some extra recommendations might be communicated locally when a need from the regional authorities is communicated."
When asked what were the main reasons that prompted this shift in the country's COVID-19 strategy, Tegnell told Newsweek at the time: "That on the national level the development is fairly stable but local development might happen and will need local solutions," adding that the new restrictions "will be decided according to the local epidemiology and needs."
Back in late April, Tegnell claimed the decision to not issue a lockdown "worked in some aspects because our health system has been able to cope," in an interview with BBC's Radio Four's Today program.
"At least 50 percent of our death toll is within elderly homes and we have a hard time understanding how a lockdown would stop the introduction of disease.
"We already had a law making it illegal for visitors to come to elderly homes. They need constant care, they need a lot of people coming and going to take care of them.
"So it's a bit unclear to us if a lockdown really would have stopped this from happening or not," Tegnell added.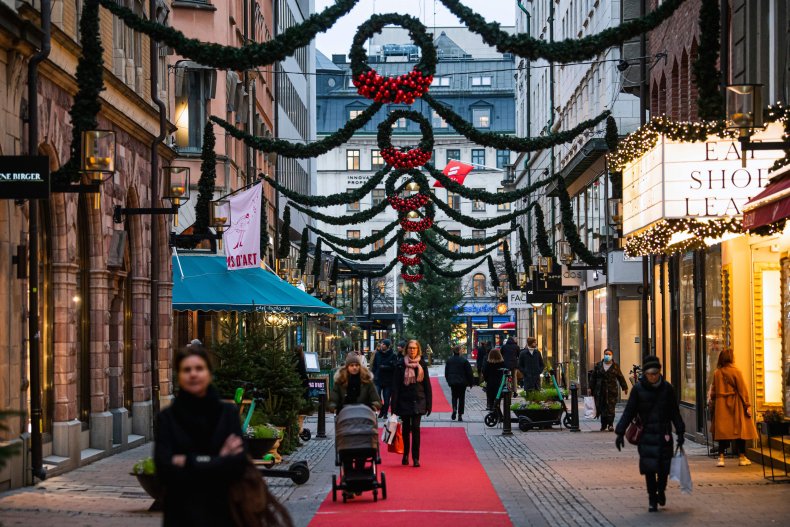 The wider picture
The novel coronavirus has infected more than 73.6 million people, including over 16.7 million in the U.S., since it was first reported in Wuhan, China.
More than 1.6 million people have died worldwide and over 41.7 million have recovered as of Wednesday, according to John Hopkins University.
The graphic below, provided by Statista, shows the countries with the highest COVID-19 death tolls.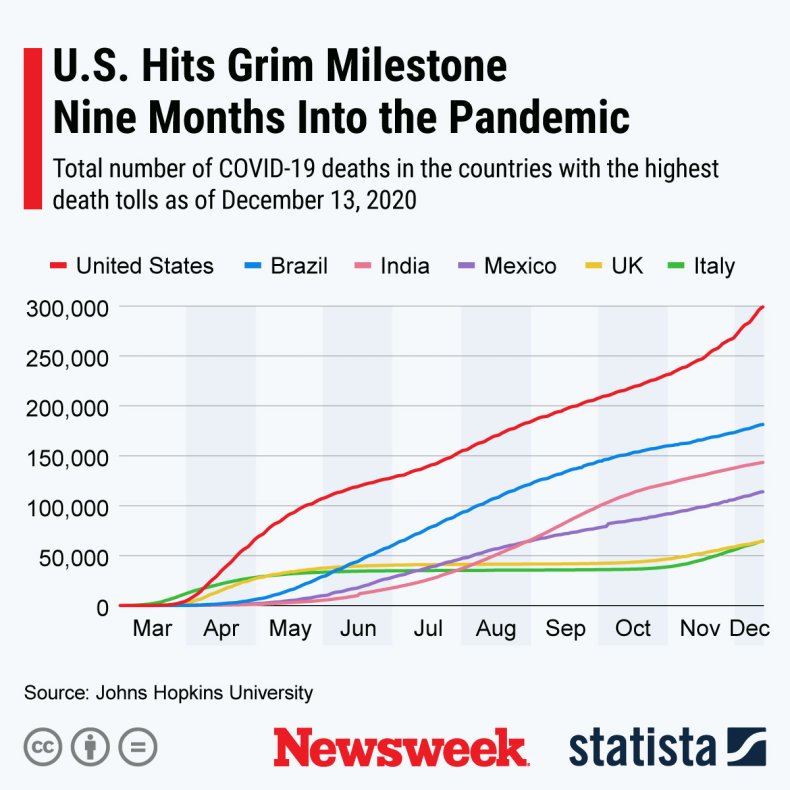 The graphic below, provided by Statista, shows countries with the most COVID-19 cases.