A COVID-19 patient who denied the severity of the outbreak despite being in intensive care admitted he was "mistaken" after an encounter with a nurse who told him: "I've seen more people die in the last two weeks than I have in my entire career."
The exchange was shared in a Twitter thread posted by @TheBlondeRN, a nurse in El Paso, Texas who was "recently transferred from the OR [operating room] to COVID ICU."
The nurse wrote on Monday: "I resigned from my job last week and I've been asked several times, 'What was the breaking point?' I don't know a specific one, but I'll share this: a thread."
Her thread, which has received more than 100,000 likes and 38,000 retweets, gave an account of a "very eye opening experience" the nurse had with a COVID-19 patient during her final shift,.
She recalled speaking to the patient, who referred to "fake news" and said: "I don't think covids is really more than a flu."
When she asked the patient, "Now you think differently though?", he replied: "No the same. I should just take vitamins for my immune system. They (news) are making it a big deal."
The nurse wrote: "I'm shocked. I'm at a loss for words. Here I am basically wrapped in tarp, here he is in a COVID ICU. How can you deny the validity of COVID? How is this possible? Misinformation is literally killing people."
Following some hesitation, the nurse was "brutally honest" with the patient and said: "You're the only patient of 25 that has been able to speak to me today or is even aware I'm here.
"I tell him in 10 years of being a nurse I've done more CPR and seen more people die in the last two weeks than I have in my entire career."
The nurse's statement shifted the patient's perspective. "His tone changes, he seems to have understood the gravity of what I'm saying. He apologizes. I cry. The hot tears roll down my face from under my glasses, onto my mask, my respirator, from under my face shield and onto my gown," she writes.
While being transferred to a different COVID-19 floor, the patient told the nurse: "Thank you for telling me what you told me. Thank you for being a good nurse and about me. I saw a lot of the other ones when you were wheeling me out of ICU. It's much more than a flu. I was mistaken.
"I will tell everyone that denies how bad this is about my experiences," he added.
The nurse's thread was shared on Tuesday by actress Kerry Washington, who tweeted: "Misinformation is killing us."
The thread follows a week of record COVID-19 hospitalizations in the U.S., according to The Atlantic's COVID Tracking Project.
In the period from November 4 to 17, the seven-day average of new daily COVID-19 cases increased in every state except Hawaii, North Dakota, Iowa and Mississippi, according to Johns Hopkins University.
As total confirmed cases in the U.S. approach 11.4 million, with more than 248,000 reported deaths, skepticism about the virus remains among a significant portion of the American population, according to a survey by the YouGov-Cambridge Globalism Project.
About 38 percent of Americans think the COVID-19 death rate has been "deliberately and greatly exaggerated," according to the study of 26,000 people in 25 countries, conducted in collaboration with The Guardian.
Some 35 percent of Americans believe it is definitely or probably true that the virus was deliberately created and spread by the Chinese government, said the survey, which was published in late October.
A third (33 percent) of Americans were reported to give at least some credence to the view that "the truth about the harmful effects of vaccines is being deliberately hidden from the public."
An article published in March by BMC Medicine, a peer-reviewed medical journal, found "a global rise recently in the spread of misinformation that has plagued the scientific community and public...the public health crisis emerging due to the coronavirus is also now beginning to feel the effects of misinformation.
"As COVID-19 turns into a full-fledged public health crisis, multiple theories regarding the virus' origin have taken hold on the internet, all with a common theme: the virus was artificially created in a lab by a rogue government with an agenda.
"If powerful and clear statements are not made denouncing and debunking these fabrications, then the impact on the populous has the potential to be devastating."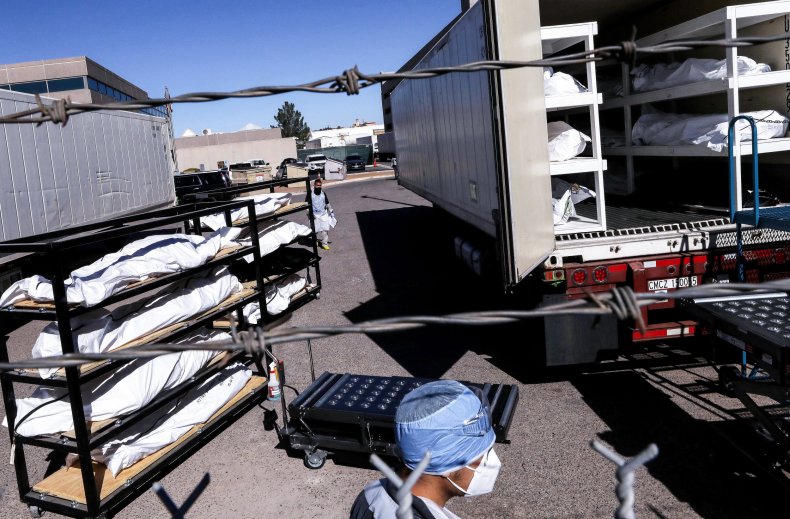 In March, the U.S. Centers for Disease Control and Prevention also warned: "Know the facts about COVID-19. Don't share rumors and unintentionally spread misinformation." The CDC directed people to the Federal Emergency Management Agency's Coronavirus Rumor Control website.
The FEMA website advised: "To find trusted sources, look for information from official public health and safety authorities. You can find many official sources at coronavirus.gov. Check your state and local government or emergency management websites and social media accounts."
The wider picture
The novel coronavirus has infected more than 55.7 million people since it was first reported in Wuhan, China.
More than 1.3 million people have died worldwide and more than 35.9 million have recovered as of Wednesday, according to Johns Hopkins.
The graphic below, provided by Statista, illustrates the number of COVID-19 hospitalizations from March to November.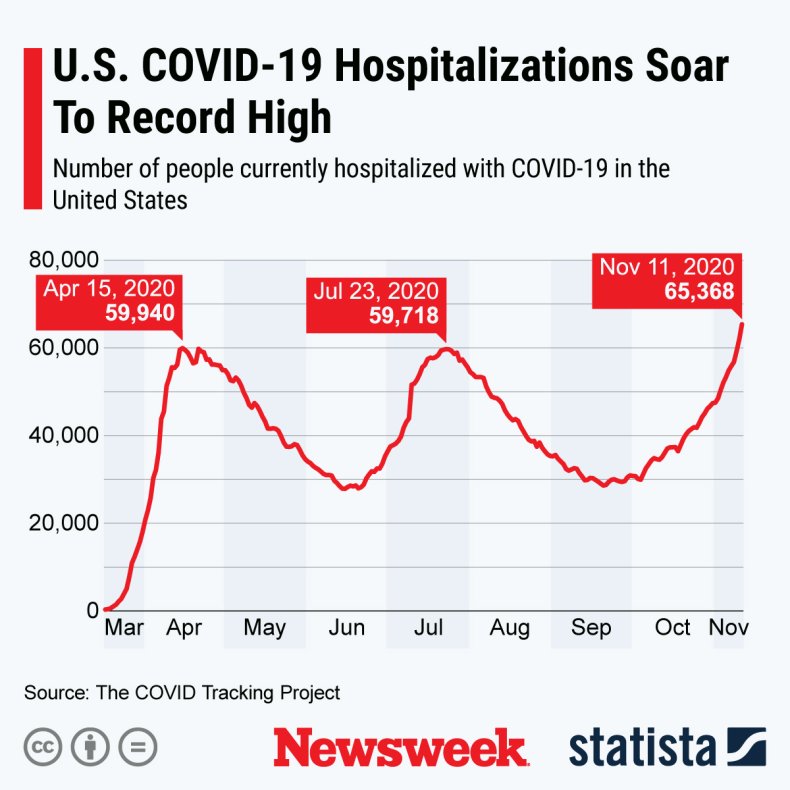 The graphic below, produced by Statista, shows the spread of COVID-19 cases across the U.S.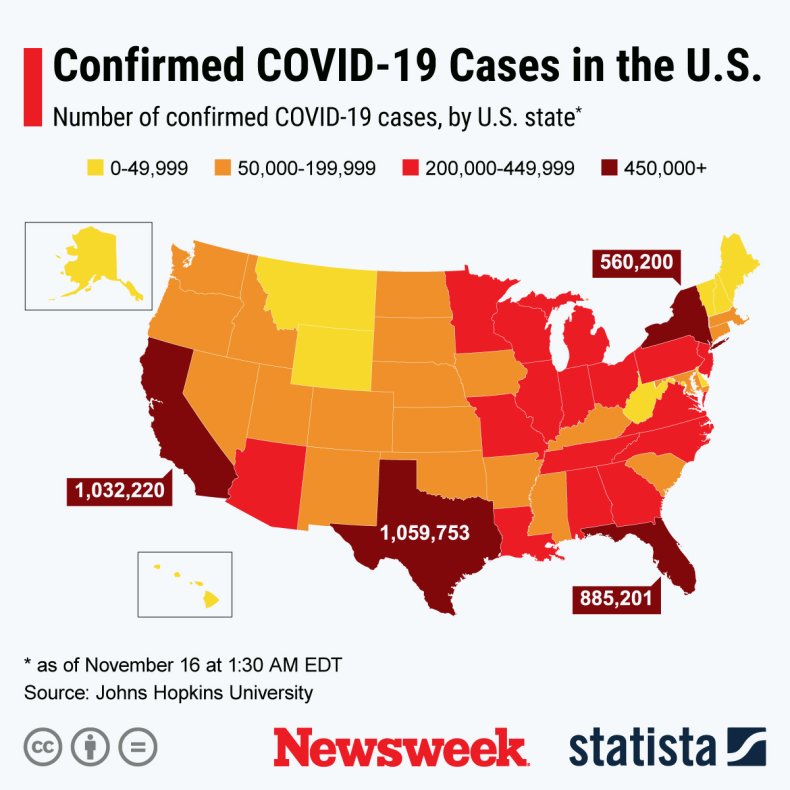 Uncommon Knowledge
Newsweek is committed to challenging conventional wisdom and finding connections in the search for common ground.
Newsweek is committed to challenging conventional wisdom and finding connections in the search for common ground.
About the writer
Soo Kim is a Newsweek SEO Reporter is based in London, UK. She reports on various trends and lifestyle stories, from health, fitness and travel to psychology, relationships and family issues. She is also a South Korea expert who regularly covers Korean culture/entertainment for Newsweek, including the latest K-dramas, films and K-pop news, and is the author of the book How to Live Korean, which is available in eight languages. Soo also covered the COVID-19 pandemic extensively from 2020 through 2021 after joining the general news desk of Newsweek in 2019 from the Daily Telegraph (a U.K. national newspaper) where she was a travel reporter/editor from 2010. She is a graduate of Binghamton University in New York and the journalism school of City University in London, where she earned a Masters in international journalism. Languages spoken: English and Korean.
Follow her on Twitter at @MissSooKim or Instagram at @miss.soo.kim
You can get in touch with Soo by emailing s.kim@newsweek.com