Texas Teacher Forced to Quarantine In First Week of School Reopening
As coronavirus cases in Texas approach 480,000, concerns have been raised by a teacher in Houston, the state's most populous city, who went into quarantine following possible exposure to the virus in her first week back to school this month.
Arnetta Murray, a teacher at Avondale House, a school for children with autism serving 24 school districts in the Houston area, went into quarantine after her assistant was found to have been exposed to the virus through a family member.
The pair were forced to self-quarantine after having been in the classroom together, with Murray asking, "What if the students were in class this week and faced a possible exposure?," ABC13 Houston reported.
"Teacher's life, student's life are more important than money. I went back to the classroom and you guessed it, I'm now in a 14-day quarantine. Pray for our special needs students," she said in an image posted on her Twitter account.
"Do what's right, not what's a political fight!!! Period," she noted in the post, which tagged the official Twitter accounts of various Texas officials, including Texas Gov. Greg Abbott, Houston Mayor Sylvester Turner, Texas Lieutenant Gov. Dan Patrick, the Texas Education Agency and Harris County Judge Lina Hidalgo.
While the school was reported to have endeavored to create a safe environment for students, including installing shields, Murray noted "We do not have all the measures in place," she told ABC13 Houston.
"There's going to be a lot of absentees, a lot of teachers quitting and children getting sick. That is not OK. I'm concerned about it. I don't want to see children dying. I don't want to see teachers dying," she added.
Murray, who is a certified COVID-19 contact tracer, believes all students and staff should be tested before their return to in-person learning, ABC13 Houston reported.
Newsweek has contacted the Texas Education Agency, the Houston Mayor's Office of Education as well as the offices for Abbott, Turner and Hidalgo for comment.
Back in June, Abbott unveiled a reopening plan which requires schools to provide in-person instruction five days a week starting in August. The plan raised concerns for teachers, who must report to work in person, while parents and guardians may opt to have their children engage in long-distance learning.
At a press conference in San Antonio on Tuesday, Abbott stressed that "local school districts can base their decisions about when and how to open their schools on the advice of those local public health authorities.
"Nothing is stopping them from doing that, and they can fully adopt whatever strategy the local public health authority says," Abbott said.
Earlier last month, the Houston Federation of Teachers called Abbott's plan for reopening Texas schools "unacceptably vague and hardly adequate.
"It leaves the details up to the school districts, provides no additional funding, and does not even meet the low Threshold set by the White House in April," the statement noted.
Last month, some teachers were reported to be writing their wills ahead of their return to school.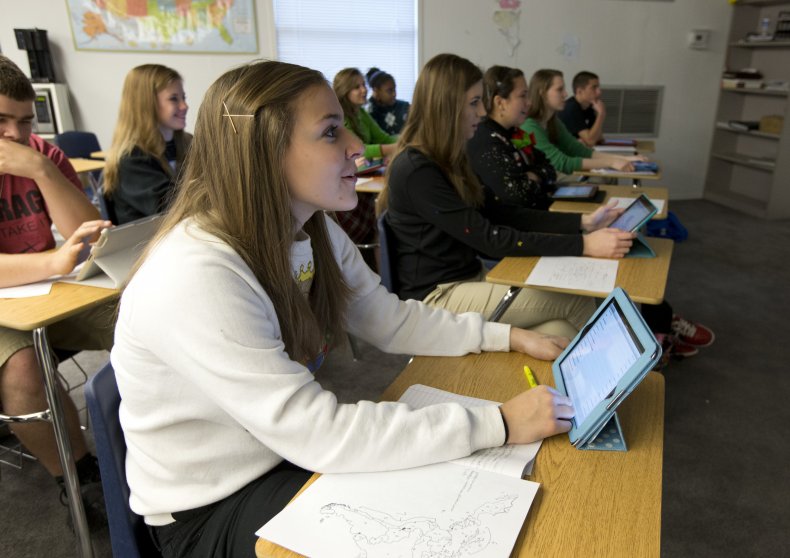 "It's pretty atrocious that in preparation for returning to school this fall, teachers are writing wills, getting medical power of attorney established, and taking out extra life insurance. This country has chosen its priorities. It's money over people," teacher Jessica Schwinn wrote on Twitter.
On Tuesday, Abbott confirmed "the state will continue to purchase and distribute PPE (personal protective equipment) to schools at no cost to the school districts," according to a statement from the governor's office.
The statement also advised that "local school boards have up to a four-week back to school transition period during which they can offer a solely remote instructional setting if that is deemed needed for the health and safety of students, teachers, staff and parents.
"After four weeks, the school district can extend the transition period up to another four weeks with a vote of the school board and receiving a waiver. If any school district believes they need an extension beyond eight weeks due to COVID-19 related issues, the TEA (Texas Education Agency) will review that request on a case-by-case basis," the statement noted.
The graphics below, provided by Statista, illustrate the spread of COVID-19 cases in the U.S.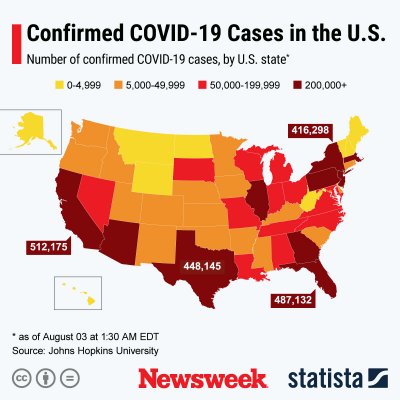 Average daily new infections in Texas began rising on a sharper incline from around mid-June to mid-July. It peaked on July 16, when the state's three-day rolling average of daily new cases was at 12,730, before seeing a few dips in recent weeks, according to data compiled by Johns Hopkins University.
Back in June, Abbott announced a pause on further reopenings across the state following the surge in new infections, which saw the closure of reopened bars and other restrictions.
Last week, the COVID-19 death toll in Texas, which currently stands at 7,706, was forecast to reach an estimated 25,962 by November 1 if mandates are eased.
Over 18.8 million people globally have been infected since the virus was first reported in Wuhan, China, including more than 4.8 million in the U.S. Over 11.3 million globally have reportedly recovered from infection, while more than 707,700 have died, as of Thursday, according to the latest figures from Johns Hopkins University.
The graphic below, provided by Statista, illustrates countries with the most COVID-19 cases.