Coronavirus Travel Insurance Advice: Can I Get a Refund If My Trip Is Canceled Because of the COVID-19 Virus Outbreak?
The ongoing COVID-19 virus outbreak has made traveling and planning your travels more complicated than ever, with flight schedules, travel advisories and country restrictions changing every day as the situation develops.
But will you be compensated if your trip is canceled because of the outbreak? The simple answer is yes and no, but it depends.
Yes, you can claim some compensation. But no, you won't get a 100 percent refund for your trip, even if you purchased a comprehensive "Cancel For Any Reason" (CFAR) travel coverage (more on this later). And whether you can be compensated also depends on the airline, hotel or third party company you used to book your trip.
The virus, which was first detected in Wuhan city in the Hubei province of China, has spread to around 115 countries and affected more than 119,000 people (most of whom are in China), while more than 65,000 have recovered from the infection, according to the latest figures from Johns Hopkins University.
But "travelers should check with their airlines and other travel suppliers before filing a claim to see if they are offering refunds, waivers, or other accommodations," the U.S. Travel Insurance Association (USTIA) advises.
Speaking to Newsweek, Julie Loffredi, a spokesperson for InsureMyTrip (an American travel insurance comparison website), also said: "We would suggest that travelers seek reimbursement through their travel supplier (many are understanding and quite flexible during this uncertain time). You may be comfortable taking a voucher and simply rescheduling your trip for a later date."
Dr. Robert Quigley, senior vice president and regional medical director of International SOS (a global medical and travel security services firm), told Newsweek: "Many airlines are offering to rebook flights for those impacted by COVID-19 at no additional cost" and some hotels "are demonstrating flexibility in their policies under these unusual circumstances of COVID-19."
Some insurers offer adjusted coverage in view of COVID-19
From around January 21, which is when the World Health Organization (WHO) first reported there was human-to-human transmission, the COVID-19 virus outbreak has become a "known event," in insurance policy speak.
And the date from when the outbreak is considered a known event can differ according to the insurer. For example, some companies might consider the virus a known event from earlier in January or from back in December last year, when it was first reported.
"Remember that travel insurance helps with unexpected events. Similar to a hurricane, once an event is a 'known event,' it may not be a covered reason for cancellation if a traveler books a trip after that date. For many insurance companies, plans must have been purchased before January 21, 2020, for trip cancellation and interruption coverage to apply," the USTIA notes.
Speaking to Newsweek, Loffredi said: "Despite coronavirus being considered a known event, important coverages may still apply, such as financial default in the event your cruise line or, say, airline goes belly up."
The USTIA adds "If CFAR coverage is purchased today, travelers may still be eligible for coverage given the current situation [of the COVID-19 outbreak]," so it's best to check with your insurer for any changes in policies since the outbreak.
Travel Insured International is among the travel insurance companies that have adjusted their policies in view of the outbreak.
"Travel Insured previously advised that there would be no coverage under our plans due to the coronavirus, except for CFAR and IFAR [Interruption For Any Reason]. It remains true that the [U.S.] State Department's decision to issue a travel advisory of level 4 for China, or any other country, does not trigger coverage, nor does a fear to travel due to the virus," the company said in a statement.
"However, it has come to our attention that the coronavirus may be causing individuals to be quarantined and flights to be delayed. With this in mind there may be coverage including trip cancellation if a common carrier delay causes an insured to miss more than 50 percent of his or her trip," the company said.
Among the benefits that may be offered beyond what CFAR and IFAR coverage offers relates to quarantines due to the outbreak. "One covered reason for trip cancellation or interruption that could apply is quarantine," Travel Insured International states.
"Should travelers become ill with the Coronavirus while traveling, coverage may be available for emergency medical, medical evacuationn or trip interruption," the company said.
However, "If your travel supplier cancels your trip, the trip cancelation benefit may pay for the reissue fee charged by the airline for the tickets. You must have insured the entire cost of your trip including the airfare cost," it explains.
Other insurance companies may be responding on a case-by-case basis with situations surrounding the outbreak. "There are no inclusions in the [travel insurance] policy for quarantines. If you were to get quarantined or sick, you need to pay up front and file a claim for reimbursement," a spokesperson from IMG, the global insurance company, told Outside.
Cancel For Any Reason (CFAR) insurance comes with catches
For those planning trips amid the current outbreak, purchasing CFAR coverage as part of your travel insurance is a good move.
Loffredi told Newsweek: "Travelers looking to cancel a trip out of 'fear' [ie fears over the COVID-19 virus] would require 'cancel for any reason' coverage."
The USTIA also states: "While cancellation of a trip out of fear of traveling or due to travel advisories is not typically a covered reason, travelers who purchased travel insurance policies that include Cancel For Any Reason (CFAR) coverage may still be covered.
However, CFAR insurance also comes with various terms and conditions, such as being nearly 50 percent more expensive than standard travel insurance, which only covers lost baggage and inclement weather, Quigley told Newsweek.
Quigley explains: "Cancel-for-any-reason travel insurance (CFAR) has several stipulations," such as the plan having to be purchased within a set time frame of the planned trip (typically seven to 21 days).
"All CFAR plans require you do so [cancel your trip] at least 48 hours prior to departure" and "these [CFAR] plans do not reimburse 100 percent (typically only 50-75 percent) and often cost 40-60 percent more than standard travel insurance.
"CFAR insurance is subject to state level regulations, so travelers must be certain it's available in your home state prior to purchase," he adds.
Evacuation coverage
For frequent travelers, it's also worth looking into travel membership services, such as MedJet and Global Rescue, which covers evacuations.
"As a MedjetAssist Member, if you become hospitalized internationally or domestically—150 miles or more from home—Medjet will arrange medical transportation to a home-country hospital of your choice for inpatient care. All you pay is your membership fee," the company states. Fees range from $99 (for short-term memberships) to $295 (for annual memberships).
Global Rescue offers medical, security, evacuation, travel risk and crisis management services, the company states.
"There's also emergency medical coverage in the event you contract the virus on a trip and require medical care and medical evacuation coverage. Also, travel insurance companies do offer 24/7 emergency assistance," Loffredi told Newsweek.
The USTIA adds: "For those continuing to travel, a comprehensive travel insurance policy may cover emergency medical expenses if you get sick or injured on your trip. Assistance services through your plan can help coordinate emergency medical transportation and medical care, and even contact family back home."
Airlines
Fears over the virus have seen several major airlines, including American Airlines, Delta Air Lines and United, suspend flights to China and other regions heavily affected by the outbreak. All three carriers and several others are offering refunds on selected flights as well as travel waivers allowing passengers to rebook their flight without incurring a fee.
United notes: "The dynamic nature of this outbreak requires us to be nimble and flexible in how we respond, provide service and protect our customers and employees."
"If you're scheduled to travel March 10–April 30, 2020 and would like to change your plans, there is no fee to do so, regardless of when you purchased your ticket or where you're traveling," the airline said in a statement.
American Airlines is offering cancellation and change fee waivers as well as refunds on selected flights to China, Hong Kong, South Korea, various parts of Italy including Rome, Milan, Venice and Florence, through April. See the airline's website for full details on which routes apply.
Delta is offering waivers for selected services to China, South Korea, Japan, several parts of Italy as well as Israel, through May. See Delta's website for full details on which routes apply.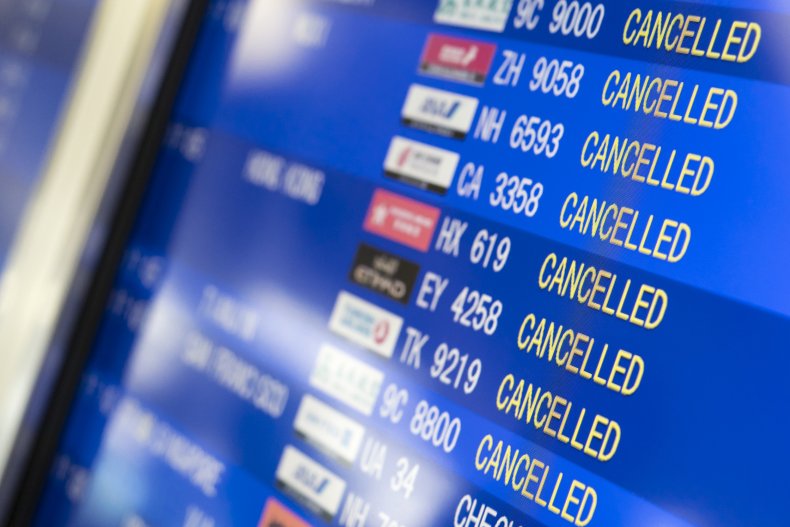 Hotels
Various major international hotel groups have also begun to introduce fee waivers in view of the virus. Marriott, one of the world's largest hotel chains, announced cancellation fee waivers for properties in areas affected by the outbreak, including Asia, Australia and Italy.
"We are closely monitoring the Centers for Disease Control and Prevention and World Health Organization's statements regarding the novel coronavirus (COVID-19) cases and following guidelines from these agencies and the local health departments.
"We are waiving cancellation fees for hotel stays through March 31, 2020 for guests traveling to or from the following locations: Mainland China, Hong Kong SAR, Macau SAR, Taiwan, Japan, South Korea, French Polynesia, Maldives, India, Sri Lanka, Bhutan, Nepal Bangladesh, Thailand, Myanmar, Cambodia, Vietnam, Malaysia, Singapore, Indonesia, Philippines, Australia, New Zealand, Fiji, New Caledonia, Samoa and Italy," Marriott said in a statement.
Hilton, the U.S.-based international hotel group with thousands of properties in nearly 100 countries across the globe, also announced fee waivers.
"To assist guests whose travel may be impacted by the novel coronavirus, Hilton has modification and cancellation waivers in place," the company said in a statement.
The waivers apply across hotels in several regions including China, South Korea, Israel and Saudi Arabia for stays through March 31 and in Italy, for stays through April 30, the company confirmed.
Accor, one of Europe's largest hospitality groups operating a string of luxury and mid-market hotels including Raffles, Fairmont and Sofitel, is also allowing guests to change or cancel their bookings.
"Considering the recent cases of novel coronavirus (COVID-19), we are closely monitoring the situation and fully understand the concerns around traveling during this time," Accor said in a statement.
"Guests travelling to OR from Mainland China, Hong Kong SAR China, Macau SAR China, Taiwan China and South Korea through 31 March 2020 will be able to modify or cancel a valid booking," the company said.
Luxury hotel group Four Seasons is also reportedly offering refunds for canceled bookings in China and the Asia Pacific region through March 31, while the global hotel chains Hyatt and the InterContinental Hotels Group are also offering cancellation or change fee waivers for hotels in China, Hong Kong, Macau or Taiwan for stays through March 31, Business Traveller reports.
Both Hyatt and the InterContinental Hotels Group are also offering cancellation fee waivers for bookings through March 31 in South Korea and Italy, while Hyatt extended the waiver for bookings in Japan through March 31, Business Traveller reports.
Airbnb
Airbnb also offers refunds for canceled reservations that fall under its "extenuating circumstances policy." The company states: "Our extenuating circumstances policy covers our hosts and guests with eligible reservations who are being impacted by the coronavirus (COVID-19) outbreak."
Reservations that fall within the extenuating circumstances policy includes: "Guests who are travelling to or from severely affected areas (for a list of areas affected and covered by this policy, check below), hosts who are hosting in or welcoming guests from severely affected areas (for a list of areas affected and covered by this policy, check below) and anyone who can't complete their trip due to official travel restrictions, medical or disease control duties, flight or ground transport cancellation initiated by the provider due to COVID-19, or suspected or confirmed cases of COVID-19," the company said in a statement.
"If your trip is covered by the policy, you will have the option to cancel your homes reservation or Airbnb Experience without charge. If you're travelling from or hosting in a severely impacted area and we can recognise your location and reservation details as outlined below, you may be notified that your reservation automatically qualifies on the reservation details page.
"We're closely monitoring official guidance from local governmental and health authorities and the World Health Organization in order to support the health and wellbeing of our community in severely impacted areas. As the situation evolves, we will be continuously evaluating and updating this policy," the company said.
See the Airbnb website for full details on reservations made in China, South Korea and Italy, which outlines booking date restrictions as well as other terms and conditions depending on the country.
Third party bookings
Some third party companies may be offering its own refund and waiver policies. Booking.com said in a statement: "We expect you to refund any prepayment and waive any cancellation costs (fees, expenses and/or other amounts) in situations where the guests/travellers requested cancellations as a result of the Forced Circumstances (FC). Booking.com will waive the commission in these cases."
Reservations that fall under the FC policy include bookings made for properties in or by travelers from mainland China as well as Daegu and Cheongdo County in South Korea, for check-in dates through March 31. The policy also applies for booking made by travelers from or properties in Italy with a check-in date on or before April 3, the company notes.
"Reservations made by travellers who have been to an area affected by Coronavirus, and have subsequently been banned from entering the country they intended to travel to, are also subject to the FC policy," the company states.
"In addition to the above-mentioned areas, FC also covers individual cases wherein a traveller cannot reasonably be expected to travel/stay (e.g. an infection in a hotel outside FC regions mentioned in this communication)," it adds.
Expedia advises: "Most of our hotels offer free cancellation, so consider booking refundable hotels vs. non-refundable. Just look for the 'free cancellation' message during your search.
"If you're looking for more information on how to change a potentially impacted trip, please visit our Customer Service Portal," the company states.
World Health Organization advice for avoiding spread of coronavirus disease (COVID-19)
Hygiene advice
Clean hands frequently with soap and water, or alcohol-based hand rub.
Wash hands after coughing or sneezing; when caring for the sick; before; during and after food preparation; before eating; after using the toilet; when hands are visibly dirty; and after handling animals or waste.
Maintain at least 1 meter (3 feet) distance from anyone who is coughing or sneezing.
Avoid touching your hands, nose and mouth. Do not spit in public.
Cover your mouth and nose with a tissue or bent elbow when coughing or sneezing. Discard the tissue immediately and clean your hands.
Medical advice
If you feel unwell (fever, cough, difficulty breathing) seek medical care early and call local health authorities in advance.
Stay up to date on COVID-19 developments issued by health authorities and follow their guidance.
Mask usage
Healthy individuals only need to wear a mask if taking care of a sick person.
Wear a mask if you are coughing or sneezing.
Masks are effective when used in combination with frequent hand cleaning.
Do not touch the mask while wearing it. Clean hands if you touch the mask.
Learn how to properly put on, remove and dispose of masks. Clean hands after disposing of mask.
Do not reuse single-use masks.