Goldman Sachs Confirms Roughly 4 Million Employees to Remain Unemployed Into 2022
Following the impact of the ongoing COVID-19 pandemic, nearly a quarter (around 4.5 million) of the over 18 million temporarily layoffs reported as of April, are expected to become permanent, according to the latest projection by Goldman Sachs.
Nearly two million of those temporarily laid off could potentially be jobless well into 2021, Goldman Sachs predicted, according to Bloomberg News.
While the transition rate from temporary to permanent lay-offs has been historically low, "rehiring prospects for temporarily laid-off workers started to deteriorate in July," and the figure was reported to have nearly doubled from June to July, Joseph Briggs, an economist at Goldman Sachs, confirmed in a research note Friday.
"Overall, these patterns suggest that temporarily laid-off workers will boost the labor market recovery for the remainder of 2020, but will increasingly transition to permanent unemployment as time separated from their prior job increases," he said.
Goldman Sachs expects further increases in permanent unemployment following the depletion of funds from the Paycheck Protection Program, which was established by the CARES (Coronavirus Aid, Relief, and Economic Security) Act to help small businesses pay up to eight weeks of payroll costs.
Goldman Sachs also expects rehires to make up the 5.6 million net job gains anticipated for later this year. The rehiring of temporarily laid-off workers was reported to have helped the country bounce back in May, June and July as economies began to reopen. With more than 9.2 million still temporarily unemployed, "the labor market seems poised for additional large job gains later this year," Briggs noted.
A monthly survey of 1,057 people, conducted from April to July by the Associated Press and the NORC research group at the University of Chicago, showed that in July, 47 percent of Americans believe those laid off will definitely not or probably not be able to return to the same job once the COVID-19 outbreak is over.
The survey results reported in April (20 percent), May (30 percent) and June (36 percent) showed an increasing portion of Americans believed the prospects of returning to the same job were not possible or likely.
Unemployment fell to 10.2 percent in July, according to the Bureau of Labor Statistics, marking the third consecutive monthly decrease, a level of unemployment that's higher than the Great Recession.
While July's job figures showed the country may be heading in the right direction, recovering from the financial fallout of the outbreak and returning to pre-pandemic unemployment levels was expected to be more than a year away, experts warned earlier this month.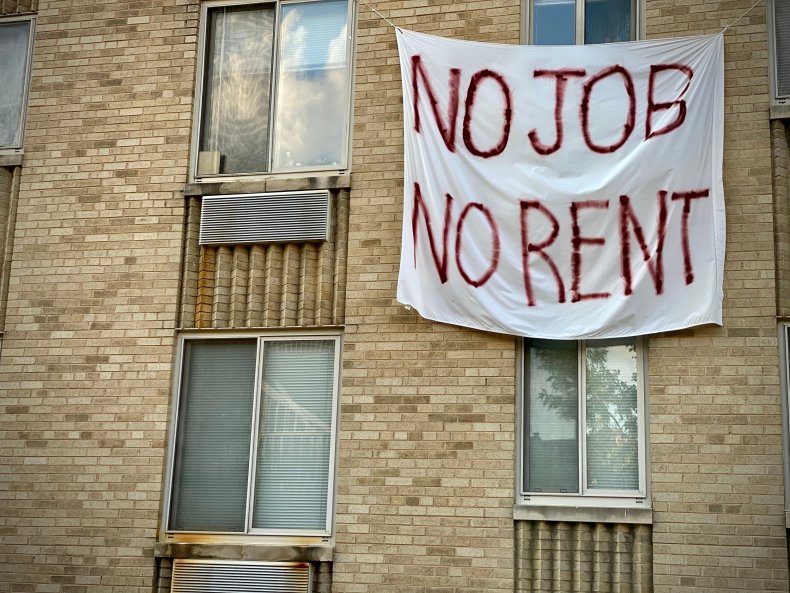 Over 23.2 million people globally have been infected since the virus was first reported in Wuhan, China, including more than 5.6 million in the U.S. Over 14.9 million globally have reportedly recovered from infection, while more than 805,100 have died, according to the latest report Sunday from Johns Hopkins University.
The graphic below, provided by
Statista
, illustrates unemployments rates in the U.S.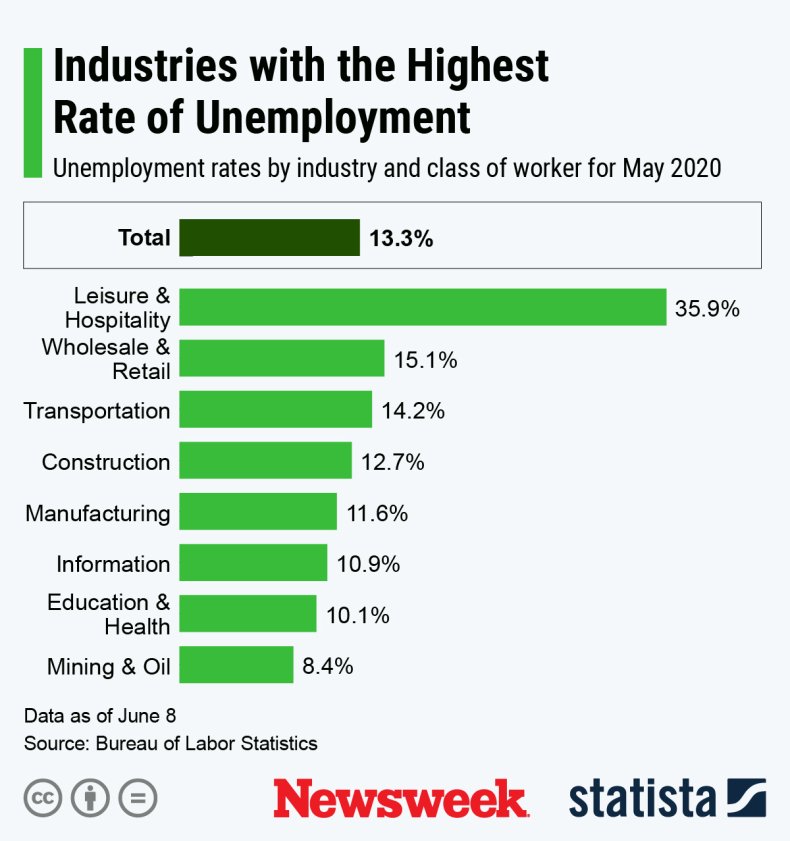 The graphic below, provided by
Statista
, illustrates the spread of COVID-19 cases in the U.S.