Coronavirus Update: WHO Confirms over 2,000 COVID-19 Fatalities as Two Quarantined Cruise Ship Passengers Die
Over 2,000 people have died of the new coronavirus—including two former passengers of a quarantined cruise ship—in more than 75,000 cases, according to health officials.
In its latest report on COVID-19 released Wednesday, the World Health Organization (WHO) said 75,204 people had fallen ill worldwide—up by 1,872 from the previous day. Most cases were in China, at 74,280, in an increase of 1,752 cases. Some 136 people died, bringing the global death toll to 2006. Outside of China, there were 120 new cases across 25 countries—as shown in the infographic below by Statista—and three deaths.
However, a dashboard by Johns Hopkins University, which tracks cases of the new coronavirus by drawing data from a number of official sources including the WHO as well as China's National Health Commission, suggests the figures are far higher. On Thursday morning, it stated 75,727 cases had been confirmed, with 2,129 deaths.
In a decision which could arguably complicate matters, officials in China have again changed how they count cases. Last week, officials in the province of Hubei—the epicenter of the outbreak—said the definition was broadened to include those diagnosed using lung scans, not just laboratory tests.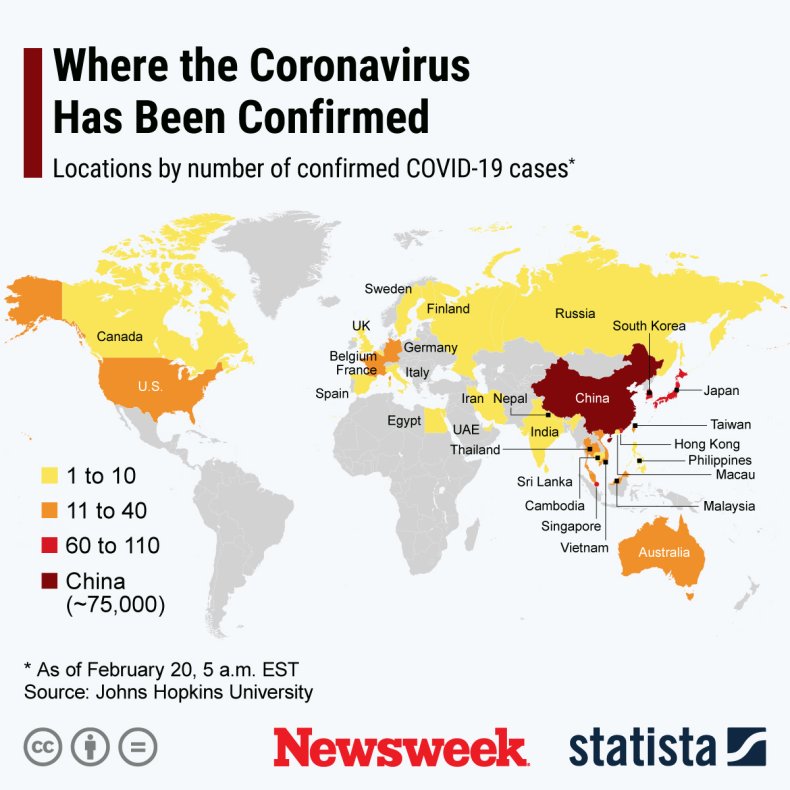 On Thursday, China's national health commission said in a statement that 394 new cases had been confirmed in the past 24 hours, down from 1,749 the day before.
As of Thursday, the Hubei Health Commission will separate suspected cases and confirmed cases, which according to The Guardian would remove those who were diagnosed with lung scans but later confirmed not to have been sick with COVID-19 in laboratory tests. The commission's remit includes the city of Wuhan, where the infection is thought to have first jumped from animals to humans late last year.
It is unclear how the new approach might affect reports that the number of people who recovered from COVID-19 in China on Tuesday had overtaken those who fell ill for the first time since the outbreak of the new coronavirus.
Meanwhile in Japan—one of the countries hardest hit by the outbreak—health officials confirmed the first deaths among those who caught COVID-19 on the Diamond Princess cruise ship, which is quarantined off the coast of the city of Yokohama.
Citing a statement from Japan's health ministry, the AFP news agency reported both victims were in their 80s, and the man had a pre-existing health condition. The pair were removed from the cruise ship and taken to hospital last week after they started showing symptoms of COVID-19, which include a fever, dry cough, and shortness of breath. A total of 621 people on board the cruise ship have tested positive for COVID-19, meaning the vessel has the most confirmed cases outside of mainland China.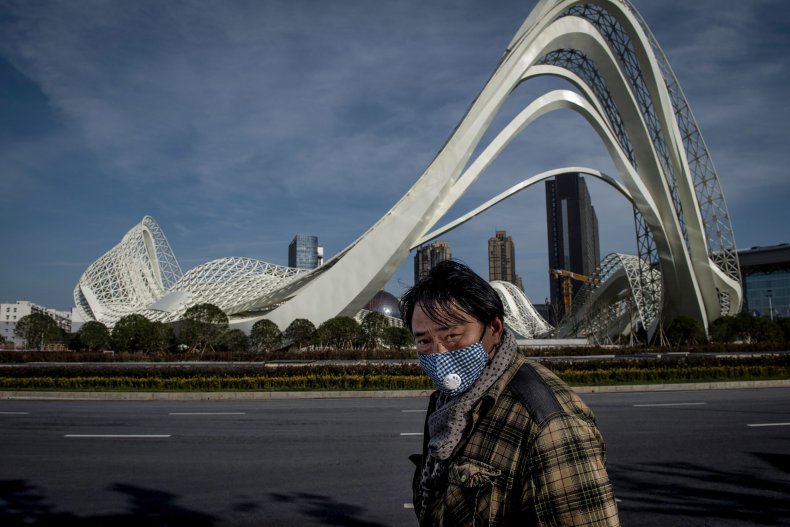 Cautiously encouraging signs
Before Hubei health officials changed their counting methods, Andrew Freedman, reader in infectious diseases at Cardiff University School of Medicine, U.K., told Newsweek the number of recoveries overtaking new cases was "certainly encouraging."
He continued: "However, I think we need to be very cautious before concluding that the epidemic has peaked. None of the figures take into account the mild/asymptomatic cases, which may be very large and might allow further spread," he said.
Asked whether China's approach to the virus, which has included effectively putting Wuhan in lockdown have worked, he said: "I think it is very difficult to determine just how effective the drastic measures China has taken have been. We clearly don't know how much worse it would have been if they hadn't taken them or indeed whether other approaches might have been more effective, particularly if they had acted sooner."
Commenting on the prospect of the virus becoming a global pandemic, Freedman said: "I don't think I am any more or less worried at the stage. I think it is still too early to predict how things will go."
This article has been updated with a chart from Statista.