Coronavirus Recoveries Overtake New COVID-19 Cases in China for the First Time, Health Officials Say
The number of people who recovered from COVID-19 in China on Tuesday overtook those who fell ill for the first time since the outbreak of the new coronavirus, figures from the country's health department show.
A total of 1,749 new cases of coronavirus were reported on Tuesday, while 1,824 patients were released from hospital "after being cured," China's National Health Commission said in a statement on Wednesday. An additional 25,014 people who had been in close contact with individuals infected with COVID-19 and who were being observed were released, while 135,881 are currently being monitored.
A total of 14,376 people have recovered and been discharged since the virus emerged late last year, but 11,977 people remain in a serious condition, the health authorities said.
Professor Paul Digard, chair of virology at University of Edinburgh, U.K., told Newsweek: "This is excellent news. It's further confirmation that the control measures in China are working and that the epidemic is coming under control."
This includes the combination of quarantines, self-isolation, and restrictions to movements, he said.
"Disentangling which measures were effective and which weren't will take years of analysis when the dust has settled," he added.
But Diagard cautioned: "It doesn't mean that we should relax however, as the potential for spread elsewhere in the world is still very real."
According to a dashboard tracking cases of the new coronavirus by Johns Hopkins University, which draws data from a number of official sources including the World Health Organization and China's National Health Commission, over 2,012 people have so far died of COVID-19 in 75,200 cases. 1,921 of the deaths have occurred in Hubei province, where the virus is thought to have originated, in Wuhan, its capital.
Since then, the virus—symptoms of which include a fever, dry cough and short breath—has spread to over 25 countries and territories, including the U.S., as shown in the infographic by Statista below.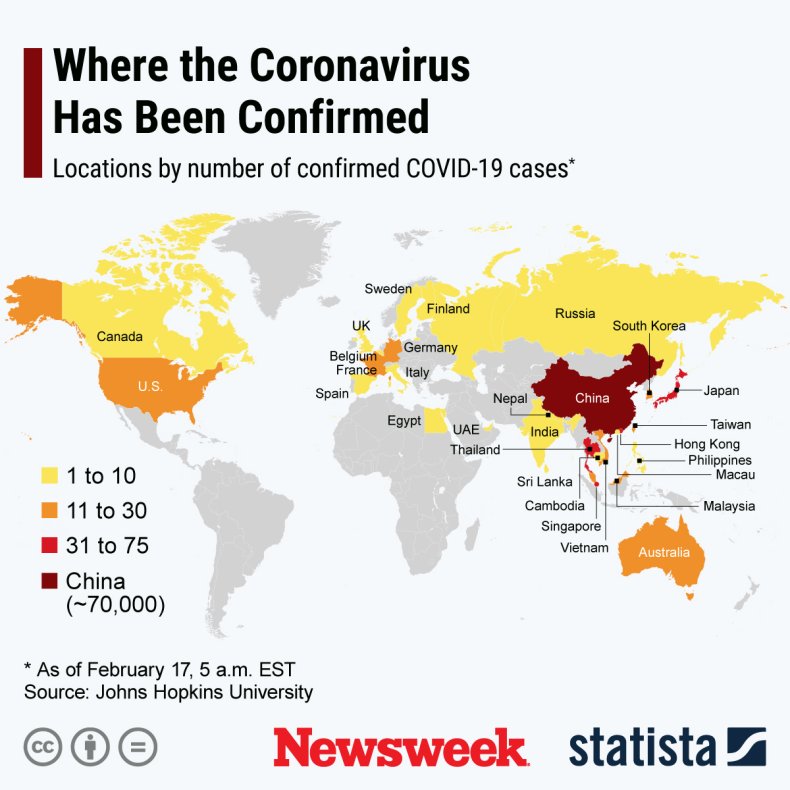 There is currently no vaccine to prevent the virus, and no specific drugs treat it. Instead, people must manage their symptoms and be supported while they try to recover, which in some cases involves hospitalization. On Tuesday, Japan joined China and Thailand in announcing it would try using HIV drugs against COVID-19. However, experts told Newsweek they were not optimistic that this approach would work.
Discussing the potential for a longer term spread of COVID-19, Digard said "it's encouraging that the numbers of new cases seem to be dropping in the Chinese epicentre, but it's still too early to be sure what's going to happen elsewhere.
"If I had to guess, I think it will become a virus like influenza, that will be a problem for some years to come, but there's still hope that we'll be able to stop it becoming a pandemic," he said.