Coronavirus Update, Map as Death Toll Hits 3,800, Oil Prices Suffer Historic Collapse in Global Market Panic
The COVID-19 virus continues to spread across the globe, with around 16 million facing lockdown in Italy and the number of deaths climbing to at least 22 in the U.S.
The rising death toll has seen global markets plunge, with oil prices seeing a dramatic drop of more than 30 percent on Monday, while London's FTSE 100 (Financial Times Stock Exchange 100 Index) dropped to a three-year low and Asia stock markets fell, Reuters reports.
The recent losses come after a historic 10.1 percent drop in U.S. oil prices on Friday, which was reportedly the largest decrease in more than five years, CBS News reports.
Around eight new countries, including the Faroe Islands, French Guiana, the Maldives, Malta, Martinique, Bulgaria and Moldova, have reported their first cases in the past couple of days, according to the latest report by the World Health Organization (WHO) on Sunday.
The virus, which was first detected in Wuhan city in the Hubei province of China, has affected at least 110,041 people across 108 countries globally, with around 80,735 of the cases reported in China. The global death toll has reached 3,841, while at least 62,053 have recovered from the infection, according to the latest figures from Johns Hopkins University.
The outbreak in South Korea seems to be slowing down and China reported its lowest number of new cases since late January. With around 196 countries in the world, around 88 have yet to report any infections, including most of Africa, Central and South America. Last Wednesday, WHO director-general Dr. Tedros Adhanom Ghebreyesus reported around 47 countries have reported 10 cases or less.
The health body advised in a statement on Sunday: "WHO is urging all countries to prepare for the potential arrival of COVID-19 by readying emergency response systems; increasing capacity to detect and care for patients; ensuring hospitals have the space, supplies and necessary personnel; and developing life-saving medical interventions."
Several countries have taken heightened precautionary measures to curb the spread of the virus, including travel bans, transport restrictions and temporary school closures, which at least 22 countries across three continents have enforced, including at least 13 countries that have shut schools nationwide, UNESCO reported on Wednesday.
The airline industry has been heavily affected by the outbreak, with at least one hub carrier said to have had a 108 percent reduction in bookings for Italy, while many others are reporting 50 percent "no-shows across several markets," according to a statement by the IATA (International Air Transport Association) last week.
"IATA research has shown that traffic has collapsed on key Asian routes and that this is rippling throughout the air transport network globally, even between countries without major outbreaks of COVID-19," IATA's director general and chief executive officer, Alexandre de Juniac, said in the statement .
"The turn of events as a result of COVID-19 is almost without precedent. In little over two months, the industry's prospects in much of the world have taken a dramatic turn for the worse. It is unclear how the virus will develop, but whether we see the impact contained to a few markets and a $63 billion revenue loss, or a broader impact leading to a $113 billion loss of revenue, this is a crisis," the director said.
The graphic below, provided by Statista, illustrates the spread of the COVID-19 virus across the world as of March 9.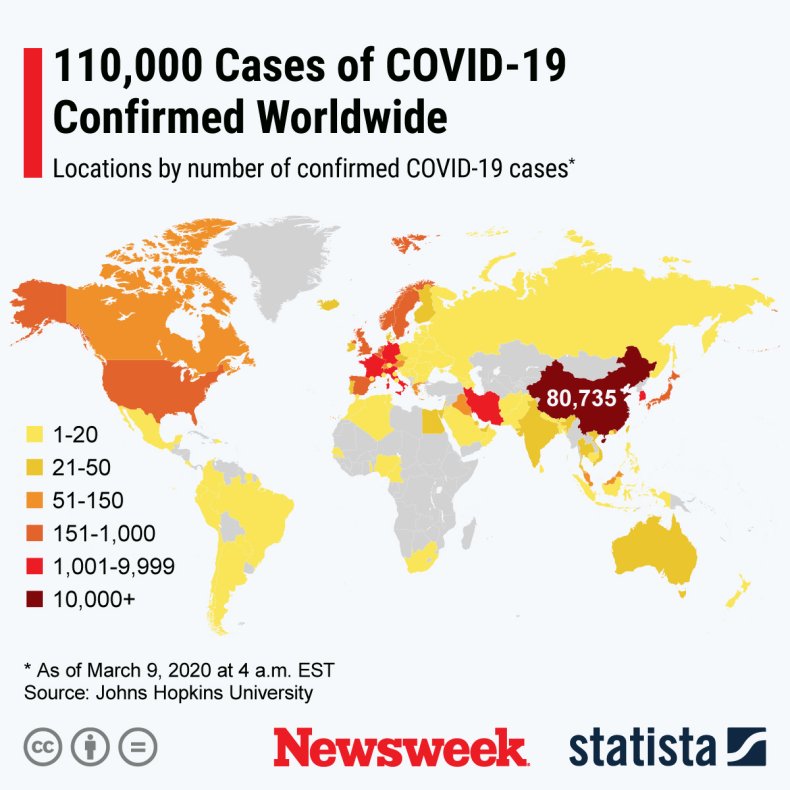 U.S. death toll hits 22
Two new deaths reported in Washington state, near Seattle, has raised the death count to 22 in the U.S., including 16 other fatalities in Washington state, two deaths in Florida and one California since last week.
There are at least 554 cases reported in the country, with new cases reported in Vermont, Virginia, Missouri and Washington D.C., which recently held two conferences attended by several U.S. government officials, including Texas state senator Ted Cruz, who had "a brief conversation and a handshake" with a person at the Conservative Political Action Conference (CPAC) in National Harbor, Maryland, he said in a statement.
The conference was also attended by President Donald Trump and Vice President Mike Pence, among other officials, but the infected individual reportedly did not have any contact with Trump or Pence, according to the American Conservation Union, CNN reports.
The senator will voluntarily quarantine himself "until a full 14 days have passed since the CPAC interaction," according to the statement, The Texas Tribune reports.
Cruz noted that "the medical authorities have advised me that the odds of transmission from the other individual to me were extremely low," and that "the people who have interacted with me in the 10 days since CPAC should not be concerned about potential transmission."
More cases have emerged in several states including Hawaii, Oregon, Kentucky as well as New York, which this weekend declared a state of emergency. New York City's Columbia University said in a statement on Sunday: "Because a member of the Columbia community has been quarantined as a result of exposure to the coronavirus (COVID-19), classes are suspended on Monday, March 9 and Tuesday, March 10," the university said in a statement.
"I want to emphasize that the individual who has been quarantined has not been diagnosed at this point with the virus," Columbia president Lee C. Bollinger said in a statement.
Americans warned against cruise travel
The U.S. State Department issued a cruise travel advisory on Sunday, warning that "U.S. citizens, particularly travelers with underlying health conditions, should not travel by cruise ship," the department states on its website.
"While the U.S. government has evacuated some cruise ship passengers in recent weeks, repatriation flights should not be relied upon as an option for U.S. citizens under the potential risk of quarantine by local authorities," it added.
The Grand Princess (a cruise ship from the Princess Cruises cruise line), which has been held off the coast of San Francisco since last week with 21 infected among the nearly 3,500 on board, will dock in Oakland on Monday, Agence-France-Presse (AFP) reports.
Infected individuals from the ship will be transferred to a hospital while Americans who are unaffected will be quarantined for 14 days in California, Texas and Georgia.
Hundreds of foreign nationals from 54 countries on the ship will also be repatriated, including around 237 from Canada (any without symptoms will be quarantined in Trenton, Ontario).
On Sunday, another Princess Cruises vessel (the Regal Princess) was held off the coast of Florida while two crew members, who had transferred from the Grand Princess, were tested for the virus. The results for both people were reported to be negative.
According to the U.S. Centers for Disease Control and Prevention (CDC), at least 46 of the cases in the U.S. are passengers aboard the Diamond Princess, another vessel from Princess Cruises, which was was quarantined in Japan last month after a passenger from Hong Kong was diagnosed.
Italy puts 16 million on lockdown
The virus has seen around 7,375 cases in Italy, with around 366 deaths, according to the latest figures from Johns Hopkins University.
From April 3, residents of Italy's Lombardy region (including Milan), as well as 14 other central and northern provinces, including Venice in the Veneto region, will be banned from traveling without special permission, Italy's Prime Minister Giuseppe Conte announced on Sunday.
All schools, gyms, nightclubs, museums, as well as public events, sport activities, civil/religious ceremonies have been cancelled across the country, the prime minister said. This includes various tourist attractions including the Sistine Chapel, the Vatican Museums and the ancient ruins of Pompeii near Naples.
Anyone violating the restrictions will be subject to a fine of up to $232 or up to three months in prison CNN reports.
"There will be an obligation to avoid any movement of people," Conte said on Sunday, CNN reports.
"And even within the areas, moving around will occur only for essential work or health reasons," he added.
Pope Francis, who tested negative for the virus last week, prayed for those affected by the virus via a livestream video from a library inside the Vatican on Sunday before appearing briefly at a window overlooking near-empty St. Peter Square. He noted it was unusual for the Pope to be "locked away" and that it was being done "so that the close concentration of people won't spread the virus," he said.
"I am close with prayer to people suffering from the current coronavirus epidemic and to all those who care for them," he said, Bloomberg reports.
U.K. considering "social distancing" measures
U.K. prime minister Boris Johnson will be holding an emergency meeting with health authorities to discuss potential new measures, such "social distancing," to enforce in a bid to fight the outbreak, which saw the third death in the country on Sunday in Manchester, while two new cases were reported in Wales on Monday.
The social distancing measures may entail banning large events, school closures and asking employees to work from home in order to avoid crowded trains and buses while traveling via public transport, BBC reports.
There are 280 cases reported in the U.K., according to Johns Hopkins University.
South Korea reaches "turning point" in outbreak
South Korea has reported around 69 new cases on Monday, according to Reuters, and 248 cases on Sunday, according to the Korea Centers for Disease Control (KCDC), which is said to be the smallest increase in cases reported since late February. Around 166 cases have been discharged from isolation, according to the latest figures from the KCDC on Monday.
With the latest figures showing a remarkable reduction from the 500 or so daily new cases previously reported, the country's prime minister Chung Sye-kyun said on Monday: "I'm still extremely cautious, but there's hope we can reach a turning point in the near future," Reuters reports.
The country's vice health minister, Kim Gang-lip, added: "There are still many patients arising from Daegu and nearby regions ... and sporadic infections continue to emerge elsewhere, though they're not spreading as fast," he said at a briefing.
"In fact, now is the time to concentrate all our capabilities to bring a clear reduction in infections," he said.
Health officials believe the number of cases seem to have decreased after most of the nearly 200,000 members of a religious group at the heart of the outbreak have now been tested, Reuters reports.
South Korea currently has 7,478 confirmed cases, including 53 deaths, as on Monday, according to Johns Hopkins University. The majority of the cases have been linked to members of the religious cult Shincheonji Church of Jesus, the Temple of the Tabernacle of the Testimony (SCJ), which holds services in large masses with members sitting in close proximity for long periods. Several members were reportedly diagnosed after an infected member attending an SCJ facility in the city of Daegu, where the majority of the country's infections have been concentrated.
South Korea has reportedly tested around 140,000 people in the country, which may explain its low mortality rate of 0.6 percent, Business Insider reports.
China also reported its lowest daily increase in cases, according to the country's National Health Commission, the South China Morning Post reports. China reported 40 news cases on Sunday, with all cases said to have come from within Wuhan, except for four infections, which were imported from Gansu province.
Diplomats evacuated in North Korea
Several embassies in North Korea, which claims to have no reported cases of the virus but has imposed strict precautionary measures (including closing its borders and locking ambassadors in their quarters), have been shut down on Monday.
Around 60 foreign diplomats, who remained under quarantine for weeks, were evacuated to the Russian city of Vladivostok. They included diplomats from Russia, France, Germany and Sweden, AFP reports.
Restrictions were reportedly eased since last week and around 200 of the nearly 380 foreign nationals that have been quarantined were allowed to leave their compounds, AFP reports.
Last week, North Korean leader Kim Jong-un warned that "In case the infectious disease spreading beyond control finds its way into our country, it will entail serious consequences," at a meeting with the ruling Workers' Party.
"No special cases must be allowed within the state anti-epidemic system," reportedly said at the meeting, according to North Korea's Korea Central News Agency (KCNA), Reuters reported.
Concerns remain over the accuracy of the secretive nation's claim that it has yet to report any infections, given the country borders China, the country where the virus was first identified, and South Korea, which has reported the highest number of cases outside China.
Last week, the country refused the humanitarian efforts of the United Nations, which is prepared to export goggles, thermometers, and stethoscopes to the country to help fight the threat of the virus. The UN, unconvinced that North Korea is equipped with a medical system robust enough to cope with an outbreak, had approved exemptions to the current sanctions placed on the country.
Iran sees highest number of deaths in a day
Iran, which currently has the second highest number of total deaths outside China after Italy, reported its largest jump in fatalities within a 24-hour period, reporting 49 new deaths on Sunday, France24 reports.
The country has also reported at least 743 new infections in the last couple of days, bringing its total number of cases to around 6,566, according to the latest figures from Johns Hopkins University.
The outbreak has seen the country release around 70,000 prisoners, Al Jazeera reports.
"The release of the prisoners, to the point where it doesn't create insecurity in society ... will continue," Iranian judiciary chief Ebrahim Raisi said, according to Mizan, the website of the judiciary, Reuters reports.
Elsewhere in the Middle East, Qatar has suspended flights to and from 14 more countries (in addition to Italy), including Bangladesh, China, Egypt, India, Iran, Iraq, Lebanon, Nepal, Pakistan, the Philippines, South Korea, Sri Lanka, Syria and Thailand, the country's ministry of health announced in a statement.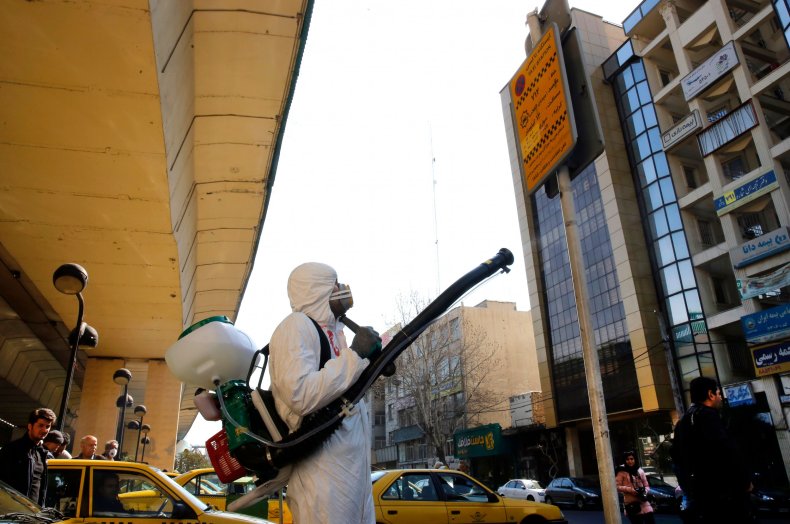 "The decision affects all individuals intending to enter from these countries, including visas upon arrival, those with a residence or work permit, and temporary visitors," the statement said.
Gulf Air also announced it would be suspending flights to and from Saudi Arabia. The latest suspension comes after the country suspended its aircraft and ship services with Bahrain, as well as several other countries including Kuwait, the UAE, Lebanon and Syria, Al Jazeera reports.