Over 3 Million Traveled Through U.S. Airports in Weekend Before Christmas As COVID Cases Hit Record High
As COVID cases and deaths in the U.S. hit record highs, more than a million people a day traveled through U.S. airports in the weekend before Christmas.
The latest report from the U.S. Transportation Security Administration (TSA) showed 1,064,619 travelers passed through U.S. airport security checkpoints on Sunday. On the same day, the country's seven-day average of deaths hit a record high of 2,628.
The seven-day average of cases also hit a record level of 222,673 on Friday. On that same day, 1,066,747 were screened at U.S. airport security checkpoints, while Saturday saw 1,073,563 travelers pass through airports across the country.
The country's average case count surpassed the previous record of 180,700 set on November 25.
The previous record average death toll was set earlier this month, hitting 2,259 on December 6. The figure, which has been rising sharply since early November, broke the record set on April 21 when it peaked at 2,258.
Current COVID-19 hospitalizations continue to soar across the country. They reached a record high on Thursday, with 114,459 COVID-19 patients reported to be hospitalized on December 17. The figure has been at record levels for several weeks since early November, according to data compiled by The Atlantic's COVID Tracking Project.
Total confirmed cases in the U.S. have surpassed 17.8 million, with 317,686 total reported deaths, as of Monday, according to Johns Hopkins University (JHU).
On New Year's Day, the country's daily case count is projected to reach around 614,367, nearly tripling the latest average case tally of 217,630 recorded on Sunday. The projected figure could be hit even with "rapid vaccine rollout," which would see vaccine distribution scaled up over 45 days, according to the latest forecast by the Institute for Health Metrics and Evaluation (IHME) at the University of Washington.
The U.S. could see over a million cases per day by January 10, if "governments do not re-impose mandates if cases increase" and "vaccine distribution is scaled up over 90 days," according to the IHME.
The IHME also predicts the country's daily death toll could hit around 3,493 on January 1, while total deaths could reach around 352,554 on the same day, even if vaccine distribution is maximized over 45 days.
According to forecasts from 28 modeling groups published by the Centers for Disease Control and Prevention (CDC) on December 17, "the number of newly reported COVID-19 cases will likely increase over the next 4 weeks with 1,200,000 to 2,300,000 new cases likely to be reported in the week ending January 9, 2021."
According to forecasts from 37 modeling groups published by the CDC last week, "newly reported COVID-19 deaths will likely increase over the next 4 weeks, with 15,800 to 27,700 new deaths likely to be reported in the week ending January 9, 2021," while "a total of 357,000 to 391,000 COVID-19 deaths will be reported by this date.
"On the national level, the forecasts estimate that 6,800 to 28,000 new COVID-19 hospital admissions will be reported January 11, 2021," according to forecasts from 11 modeling groups published by the CDC in mid-December.
Speaking to Newsweek earlier this month, Dr. Anthony Fauci warned: "January is going to be terrible," with the outbreak expected to reach its worst level yet.
The director of the National Institute of Allergy and Infectious Diseases (NIAID) and member of the White House COVID-19 task force explained: "I think January is going to be terrible because you're going to have the Thanksgiving surge super-imposed upon the Christmas surge. So it's entirely conceivable that January could be the worst."
The outbreak will "get worse before it gets better" and the country won't see "dramatic changes" until the third quarter of next year, Fauci told Newsweek.
"I think the decreases are going to start as we get into April and as more of the general population gets vaccinated.
"Then as you get to May, June and July, towards the end of the second quarter of 2021, I think you're going to start seeing some dramatic changes as we go into the third quarter," Fauci added.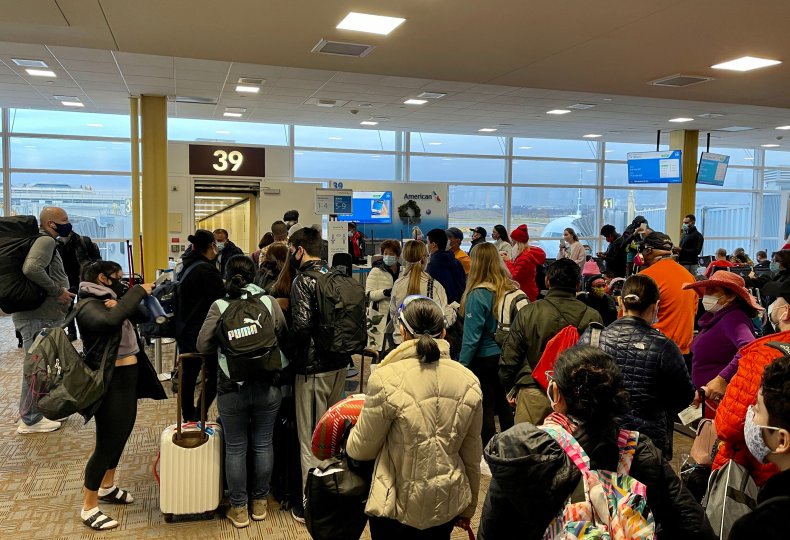 The wider picture
The novel coronavirus has infected more than 76.9 million people, since it was first reported in Wuhan, China.
More than 1.6 million people have died worldwide and over 43.3 million have recovered as of Monday, according to JHU.
The graphic below, provided by Statista, shows the countries with the highest COVID-19 death tolls.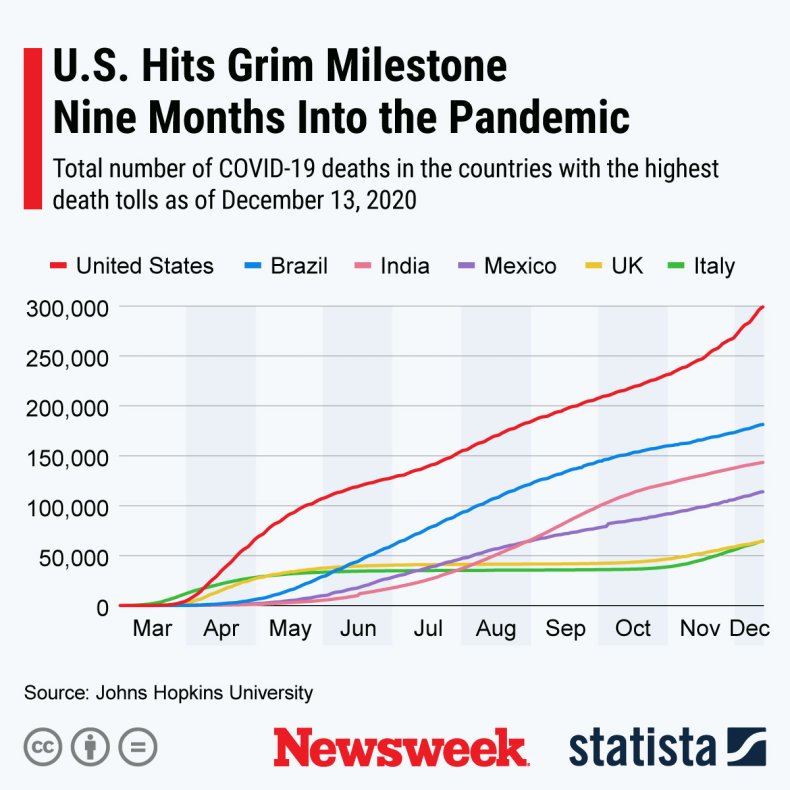 The graphic below, provided by Statista, shows the percentage of adults in the U.S. who would get a COVID-19 vaccine.