When Can I Get the COVID Vaccine?
As distribution of the COVID-19 vaccine developed by Pfizer/BioNTech continues, exactly when individuals can get vaccinated depends on the state.
But the country's millions of health care workers and elderly residents of long term care facilities will be prioritized, followed by nearly 87 million essential workers, while the general population won't be given the vaccine until next year.
Health and Human Services Secretary Alex Azar projects Americans could begin getting inoculated at different pharmacy and grocery chains, such as Walmart and CVS, from "late February, into March."
Young and healthy members of the public should be last in line, according Dr. Moncef Slaoui, the chief adviser of Operation Warp Speed, the national program set by the government to accelerate the development and distribution of COVID-19 vaccines.
Who gets inoculated first will depend on the state's COVID-19 vaccination plan, which every state was required to submit to the U.S. Centers for Disease Control and Prevention (CDC).
However, the CDC's Advisory Committee on Immunization Practices (ACIP) has issued recommendations on who should be prioritized.
"Early protection of health care personnel is critical to preserve capacity to care for patients with COVID-19 or other illnesses," the ACIP noted in guidelines published on December 3.
"Demand is expected to exceed supply during the first months of the national COVID-19 vaccination program," the ACIP noted, recommending that "both 1) health care personnel and 2) residents of long-term care facilities be offered COVID-19 vaccine in the initial phase of the vaccination program.
"Federal, state, and local jurisdictions should use this guidance for COVID-19 vaccination program planning and implementation," the ACIP advised.
"Health care personnel are defined as paid and unpaid persons serving in health care settings who have the potential for direct or indirect exposure to patients or infectious materials.
"Long-term care facility residents are defined as adults who reside in facilities that provide a variety of services, including medical and personal care, to persons who are unable to live independently," the ACIP noted.
Around 21 million health care personnel in the country are reported to work in hospitals, long term care facilities, outpatient clinics, home health care, public health clinical services, emergency medical services and pharmacies.
About three million adults are estimated to live in long term care facilities, which includes skilled nursing facilities, nursing homes and assisted living facilities, according to the ACIP.
"Jurisdictions might consider first offering vaccine to health care personnel whose duties require proximity (within 6 feet) to other persons.
"Depending upon the number of initial vaccine doses available, jurisdictions might consider first offering vaccination to residents and health care personnel in skilled nursing facilities because of high medical acuity and COVID-19–associated mortality among residents in these settings," the ACIP advised.
Speaking to Newsweek earlier this month, Dr. Anthony Fauci, the director of the National Institute of Allergy and Infectious Diseases, noted: "I think the decreases [in COVID-19 cases and deaths] are going to start as we get into April and as more of the general population gets vaccinated.
"Then as you get to May, June and July, towards the end of the second quarter of 2021, I think you're going to start seeing some dramatic changes as we go into the third quarter.
"If people take the vaccine, we could go a long way to really diminishing dramatically [in cases] as we get into the second and third quarter of 2021. Then I think you'll start to see a dramatic diminishing of cases," Fauci told Newsweek.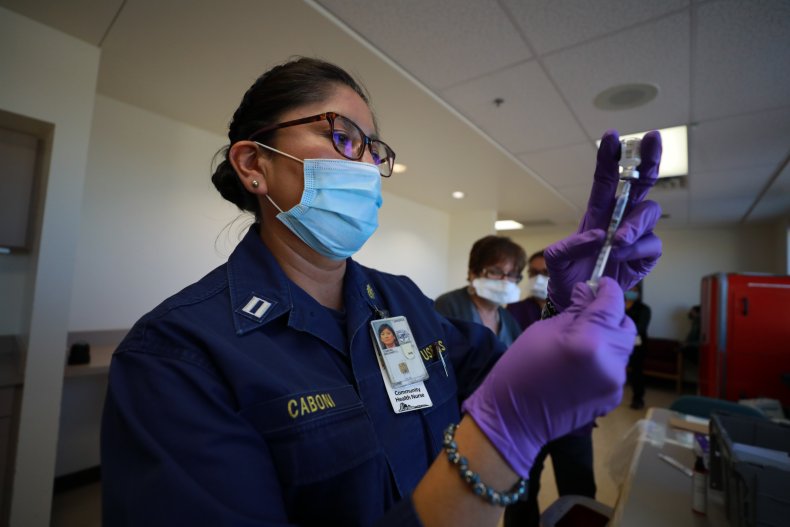 The wider picture
The novel coronavirus has infected more than 73.5 million people, including over 16.9 million in the U.S., since it was first reported in Wuhan, China.
More than 1.6 million people have died worldwide and over 41.9 million have recovered as of Thursday, according to John Hopkins University.
The graphic below, provided by Statista, shows the percentage of adults in the U.S. who would or would not get a COVID-19 vaccine.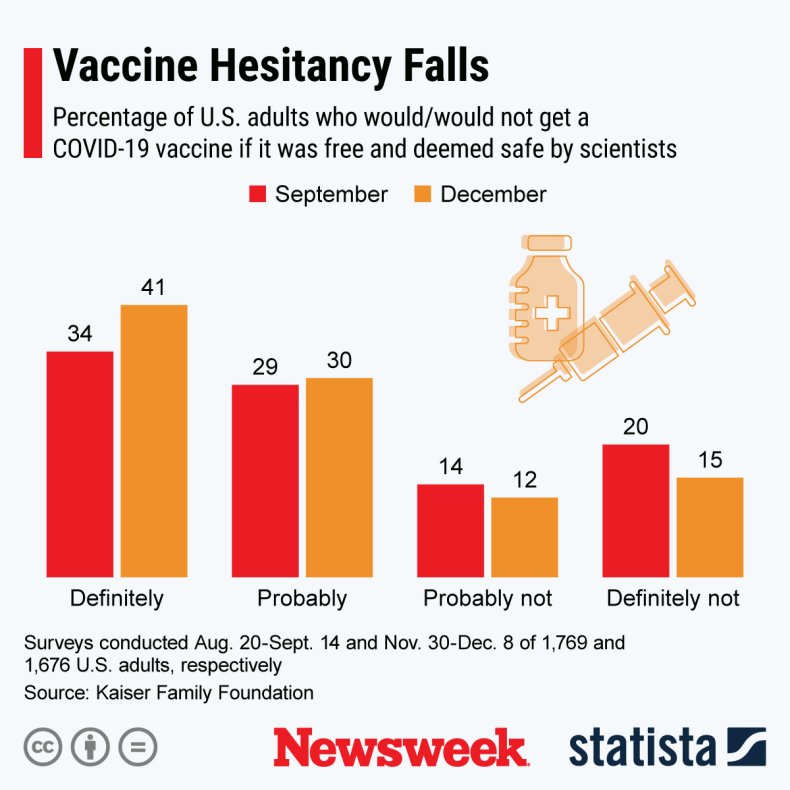 The graphic below, provided by Statista, shows the countries with the highest COVID-19 death tolls.