What Joe Biden Has Said About a Nationwide Lockdown If U.S. COVID Cases Continue to Spiral
President-elect Joe Biden has said he will do "everything possible to get COVID-19 under control" in what he describes as "the worst wave yet in this pandemic," following his first coronavirus briefing this week.
Biden expressed similar sentiments in August, saying he would do "whatever it takes to save lives," including a national lockdown, if COVID-19 infections surged in January, exacerbated by the flu season.
"I would shut it [the country] down; I would listen to the scientists," Biden told ABC News anchor David Muir.
"I would be prepared to do whatever it takes to save lives because we cannot get the country moving until we control the virus. That is the fundamental flaw of this [Donald Trump] administration's thinking to begin with.
"In order to keep the country running and moving—and the economy growing and people employed—you have to fix the virus," Biden told Muir.
In early September, Biden clarified his stance, stating: "There's going to be no need, in my view, to shut down the whole economy.
"I got asked by David Muir a question, if I was asked to shut everything down. I took that as a generic question if—am I going to follow the science?" he noted.
Last month at a town hall in Philadelphia, Biden said: "I don't think there's a need to lock down...I laid out a plan [on] how you can open businesses. You can open businesses and schools if in fact you provide them the guidance they need as well as the money to be able to do it."
However, President Donald Trump claimed during September's presidential debate that Biden "wants to shut down the country."
Trump added that "more people would be hurt" by a lockdown because of businesses being closed. "Those states [that are shut down] are not doing well."
Earlier this week Biden laid out his COVID-19 strategy.
"We'll follow the science. Let me say that again, we'll follow the science. And we'll adjust to new data when it comes in," Biden said Monday, noting "the challenge before us is still immense and growing...there's a need for bold action to fight this pandemic.
"The bottom line—I will spare no effort to turn this pandemic around once we're [Biden and Vice President-elect Kamala Harris] sworn in on January 20, to get our kids back to school safely, our businesses growing and our economy running at full speed again and to get an approved vaccine manufactured and distributed as quickly as possible to as many Americans as possible free of charge," he said.
Biden's words come as confirmed cases in the U.S. are approaching 10.3 million, with nearly 240,000 reported deaths, as of Wednesday, according to data compiled by Johns Hopkins University.
The U.S. marked another grim milestone Tuesday with more than 60,000 current COVID-19 hospitalizations, breaking the record of 59,940 set in April.
Tuesday also saw the country's highest daily case count since the outbreak began, with more than 136,000 new infections—the seventh day with more than 100,000 new cases, according to Johns Hopkins.
The daily case count first surpassed 100,000 a day after the 2020 election as millions headed to the polls.
The seven-day moving average of daily new cases has been rising sharply since early October. The average daily death count has also been climbing since mid-October, after declining from early August, according to Worldometer.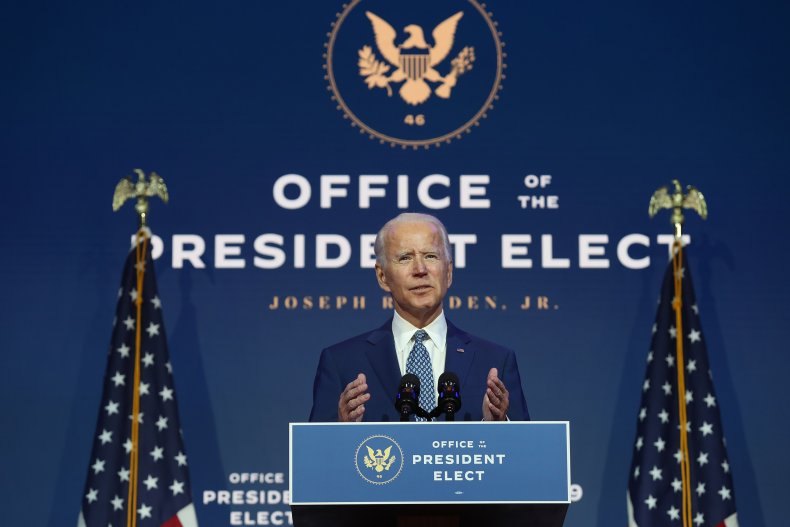 The wider picture
The novel coronavirus has infected more than 51.5 million people across the globe since it was first reported in Wuhan, China.
Globally, more than 1.2 million have died while more than 33.5 million have reportedly recovered as of Tuesday, according to Johns Hopkins.
The graphic below, produced by Statista, shows the spread of COVID-19 across the U.S.