Coronavirus U.S. Update: Death Toll Rises, Apple Closes Stores and Delta Cancels Europe Flights
Infections of COVID-19 continue to spread across the U.S., with more than 2,170 confirmed cases and the nationwide death toll believed to be at least 50.
The novel coronavirus has been recorded in 46 states and the District of Columbia, according to the latest report from the Centers for Disease Control and Prevention (CDC). The political response to the virus has also ramped up, with President Donald Trump declaring a national emergency.
Globally, COVID-19 has infected more than 145,300 people and caused more than 5,400 deaths at time of writing, suggests a live map being maintained by Johns Hopkins University.
The outbreak caused severe disruption to the U.S. stock markets over the past week, as major companies are increasingly asking employees to work from home to help limit the possibility of infection. Yet despite attempts to contain the virus, more positive test cases continue to surface. Here's the latest.
More cases in Florida
The Florida Department of Health confirmed 25 new individuals have tested positive for COVID-19. Officials said one Orange County resident tested positive while traveling and died in California. New patients "all are being cared for and isolated," the agency added. The full list was published online, to include a 20-year old female in Broward County, a 37-year old male in Miami-Dade County, a 37-year old male in Palm Beach County and a 62-year old female in Manatee County.
In total, at the time of writing, there have been 70 Florida residents who have tested positive and three state residents who have died. There are currently more than 220 people who are pending test results.
Montana reveals presumptive cases
Montana Governor Steve Bullock confirmed four presumptively positive cases of COVID-19 in the counties of Gallatin, Yellowstone, Silver Bow, and Lewis and Clark.
All patients will be isolated and those who came into contact with the infected citizens will be monitored for 14 days for fever and respiratory symptoms per CDC guidance, the governor's office stated.
The patients were identified as a male in their 40s, a female in their 50s, and two males in their 50s. It was unclear if any have prior medical issues.
A state of emergency in the was declared on Thursday. Officials have said they have capacity to test about 1,000 individuals. Gov. Bullock said in a statement shared online, "I urge all Montanans to continue efforts to plan and follow public health recommendations to take the proper precautions."
Apple is closing some stores
CEO Tim Cook confirmed on Twitter that Apple is "temporarily closing all stores outside of Greater China until March 27 and committing $15 million to help with worldwide recovery."
In a statement, Apple said, "In all of our offices, we are moving to flexible work arrangements worldwide outside of Greater China. That means team members should work remotely if their job allows, and those whose work requires them to be on site should follow guidance to maximize interpersonal space. Extensive cleaning will continue at all sites. We are rolling out new health screenings and temperature checks."
The U.S. technology giant confirmed that its stores operating in Greater China have now reopened. Apple said its hourly workers will continue to receive pay in "alignment with business as usual operations." The news came after it told investors that the new coronavirus could negatively impact its sales figures.
Third Mar-a-Lago guest positive
At least three people who recently visited Trump's Mar-a-Lago resort in Florida have since tested positive for COVID-19. The third person was acting Brazilian Ambassador Nestor Forster, The Washington Post reported, citing the Brazilian embassy. "Forster will extend his self-quarantine, which he had already placed himself into as a precautionary measure, for another two weeks," the embassy said.
The second person had visited for a fundraising lunch and the first was Fabio Wajngarten, press secretary to Brazil's President Jair Bolsonaro. Miami Mayor Francis Suarez tested positive after meeting with the same Brazilian delegation, as Business Insider reported. Suarez has since went into quarantine.
On Saturday, the White House physician for Trump said that the president tested negative for the coronavirus, which he underwent an exam for on Friday evening.
In a memo, Dr. Sean P. Conley wrote: "Last night after an in-depth with the President regarding COVID-19 testing, he elected to proceed. This evening, I received confirmation that the test is negative."
"One week after having dinner with the Brazilian delegation in Mar-a-Lago, the President remains symptom-free," Conley added. "I have been in daily contact with the CDC and White House Coronavirus Task Force, and we are encouraging the implementation of all their best practices for exposure reduction and transmission mitigation."
Earlier Saturday at a press conference, the president revealed that he was tested. "I had my temperature taken coming into the room," he said at the time. "I also took the test last night, and I decided I should, based on the press conference yesterday. People were asking did I take the test? I don't know whatever it takes--a day or two days. Whatever it is. They send it to a lab."
Other U.S. politicians — including Republican senators Lindsey Graham and Ted Cruz — are already in the process of self-isolation as a result of COVID-19.
Pentagon halts domestic travel
U.S. defense officials have now placed new travel restrictions on service members, DoD civilians, and their families, according to an official statement released by the Pentagon.
From March 16 until May 11, service members will only be allowed local leave, while all official visits by "international partners and visitors" have been suspended, the agency said.
The Department of Defense statement, published online, elaborated: "Any individual, DOD civilian, military service member, contractor, or official visitor with recent international travel may not enter the Pentagon Facilities within 14 days from the date of their arrival back to the United States.
"Access may be restored on the 15th day, if the individual remains asymptomatic."
Puerto Rico confirms island's first cases
Puerto Rico officials have announced the island's first three cases of coronavirus, including a 68-year-old woman, her 70-year-old husband and a 71-year-old man who is unrelated to the couple, NBC News reported, citing an official media release shared on Twitter by governor Wanda Vázquez Garced.
Sixth death in California, School Closures
The County of Santa Clara Public Health Department on Friday announced the second death linked to COVID-19 had been confirmed.The victim was identified as a woman in her 80s who was among the cases reported by the agency on March 13. "The Public Health Department is saddened to share this news and expresses its condolences to her family," officials said. That brought the state's death toll to six.
There have been over 240 confirmed cases in the region. It has the third largest number of infections after Washington and New York. The Guardian reported that schools across California, including in the San Diego unified school district and Los Angeles unified school district, are now expecting to close.
Delta suspends flights to Europe
U.S. airline Delta confirmed on Friday that it will "significantly reduce" flights between the U.S. and Europe from Monday, March 16. The move came in response to the Trump administration's directive that travel routes should be restricted in an attempt to contain the potential spread of COVID-19 disease.
The company said will operate one daily flight between the following cities:
Atlanta to Amsterdam
Atlanta to London-Heathrow
Atlanta to Paris-Charles De Gaulle
Detroit to Amsterdam
Detroit to London-Heathrow
New York-JFK to London-Heathrow
New York-JFK to Dublin
It added, "Delta will temporarily suspend service between New York-JFK and Mumbai starting Tuesday, March 17. The last flight from New York-JFK to Mumbai will operate Saturday, March 14.
"The last flight from Mumbai to New York-JFK will operate Monday, March 16. The airline will continue to evaluate customer demand and adjust service as needed." Cruise companies have also canceled trips.
World Health Organization advice for avoiding spread of COVID-19
Hygiene advice
Clean hands frequently with soap and water, or alcohol-based hand rub.
Wash hands after coughing or sneezing;
When caring for the sick; before; during and after food preparation; before eating; after using the toilet; when hands are visibly dirty; and after handling animals or waste.
Maintain at least 1 meter (3 feet) distance from anyone who is coughing or sneezing.
Avoid touching your hands, nose and mouth. Do not spit in public.
Cover your mouth and nose with a tissue or bent elbow when coughing or sneezing. Discard the tissue immediately and clean your hands.
Medical advice
If you feel unwell seek medical care early and call local health authorities in advance.
Stay up to date on COVID-19 developments issued by health authorities, follow guidance.
Mask usage
Healthy individuals only need to wear a mask if taking care of a sick person.
Wear a mask if you are coughing or sneezing.
Masks are effective when used in combination with frequent hand cleaning.
Do not touch the mask while wearing it. Clean hands if you touch the mask.
Learn how to properly put on, remove and dispose of masks.
Clean hands after disposing of mask, do not reuse single-use masks.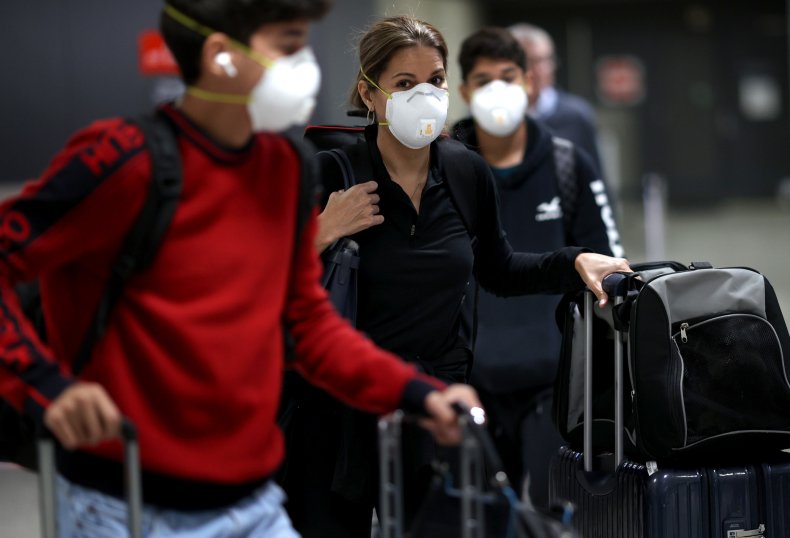 Updated 8:11 PM ET, to include that President Trump tested negative for coronavirus, according to his physician Saturday.