Coronavirus Has Killed 7 Teachers Since School Year Began
Coronavirus deaths in the U.S. among teachers climbed to at least seven since the school year began following the death of an educator in Wisconsin.
Heidi Hussli, 47, a Wisconsin native from Beaver Dam who taught German at Bay Port High School in Suamico of eastern Wisconsin, died Thursday following "a brief hospitalization related to COVID-19," Howard-Suamico School District Superintendent Damian LaCroix confirmed in a statement.
Hussli was reported to have been in classes the week of September 8 before falling ill over the weekend and being unable to return to school.
She was reported to have been hospitalized at St. Mary's Hospital according to a message shared in the statement from her family, who said: "We are deeply grateful to the staff at St. Mary's Hospital for their professionalism and care. Heidi is at peace now."
LaCroix noted in the statement: "Bay Port High School will pause our learning plan Monday and Tuesday next week, September 21-22, to support the well-being of our staff and students. Students and teachers will not participate in online or in-person learning activities on these days, but school will be open for students and staff who desire support.
"We will continue to evaluate our protocols supporting the physical safety of our students and staff related to current COVID-19 cases and quarantine numbers at Bay Port. We will return to the current schedule at Bay Port Wednesday, September 23. Our other schools will proceed according to their current schedules," the statement confirmed.
Hussli is the latest in a tragic string of teachers who died following COVID-19 infection after schools reopened for in-person learning amid the ongoing outbreak.
An elementary school teacher in South Carolina was reported to have died from the virus last Monday, after being diagnosed the previous Friday, a spokesperson for the school district confirmed in a statement.
The 28-year-old third-grade teacher at Windsor Elementary School, Demetria Bannister, was reported to have last visited the school on August 28 during a week of teacher workdays before the school year began, after which she started teaching virtually from her home, Richland County School District Two confirmed in a statement.
The school year for Richland County School District Two officially began on August 31, with all classes being taught virtually.
The school was reported to be following all required protocols for contact tracing and notifying those who had been in close contact with Bannister. The school's custodial service was reported to be "disinfecting [the school] with EPA [Environmental Protection Agency] approved virucides and electrostatic disinfecting machines," according to the statement.
AshLee DeMarinis, a 34-year-old special education teacher at John Evans Middle School in Potosi, Missouri, who also had asthma, died on September 6, three weeks after first showing symptoms of the virus.
Another teacher—Tom Slade (who taught history at Vancleave High School in Vancleave, Mississippi)—died earlier this month following infection.
Slade was reported to have been teaching in-person classes when the school year began on August 6. But he went into quarantine after he had contact with an infected person at a church meeting. His last day of teaching was on August 21, according to the school's principal Raina Holmes.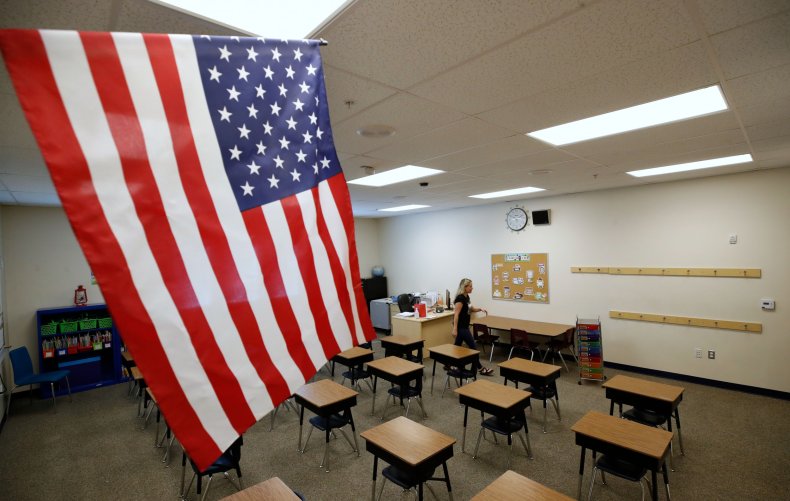 Last month, another teacher in Mississippi was reported to have died following infection. Nacoma James, a 42-year-old who taught at a middle school and coached high school football, died on August 6 during the first week of classes.
He was reported to be self-quarantining when teachers and students returned to the classroom, according to Lafayette County School District Superintendent Adam Pugh.
In Tulsa, Oklahoma, Teresa Horn, a 62-year-old special education teacher at Tahlequah High School, died on August 28 after testing positive for the virus four days earlier. She was reported to have not been hospitalized.
An unnamed teacher at the Ruby Van Meter School in Des Moines, Iowa also died after testing positive for the virus following an out-of-state trip, a spokesperson for Des Moines Public Schools confirmed earlier this month.
The teacher was reported to have not been in the classroom for several months, as they died a week before classes started.
Back in July, the National Education Association, the largest teachers' union in the U.S. with over three million members, said it would support its members striking over health and safety conditions in schools.
The wider picture
The novel coronavirus has infected over 30.2 million people across the globe, including more than 6.6 million in the U.S. Over 94,800 people have died globally, while more than 20.3 million have reportedly recovered from infection, according to the latest report Friday by Johns Hopkins University.
The graphic below, provided by Statista, illustrates the percentage of Americans who do or don't COVID-19 restrictions to be relaxed in the country.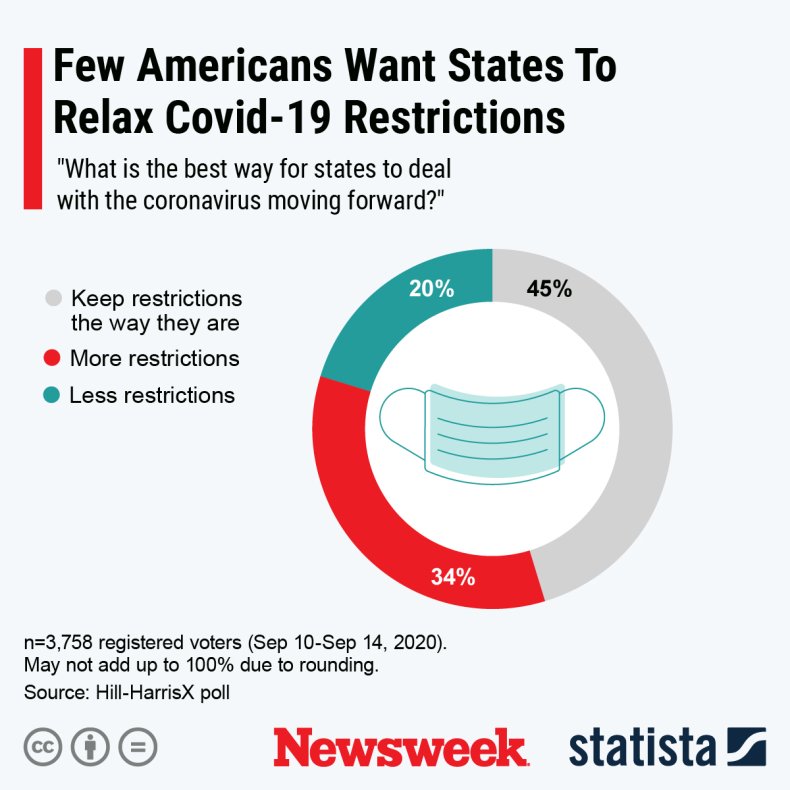 The graphic below, provided by Statista, illustrates U.S. states with the most COVID-19 cases.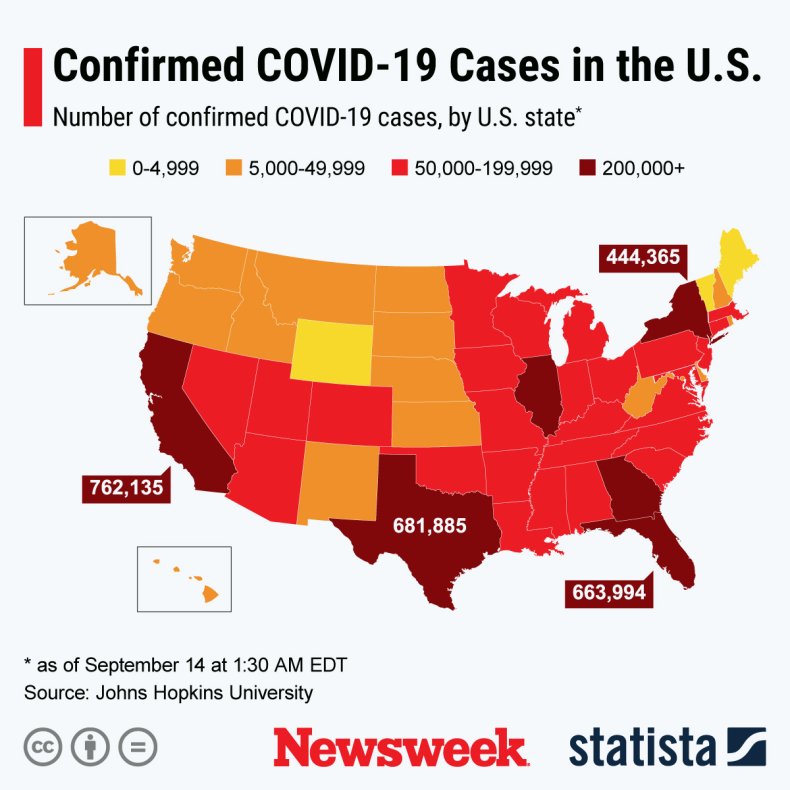 The below graphics, also provided by Statista, illustrates the spread of COVID-19 cases in counties across the globe.