New COVID Wave Feared by Half of Americans Ahead of July 4 Celebrations, Poll Reveals
As the threat of the Delta COVID variant looms ahead of the July 4 celebrations, half of Americans fear the potential onset of a new wave of the virus, according to a poll released Thursday.
The new survey of 1,115 adults in the U.S. aged 18 and older, conducted by the Marist Poll in partnership with NPR and PBS NewsHour, said 50 percent of Americans "express concern about the possibility of a new wave of the coronavirus."
The poll was conducted by phone from June 22 to 29. It had a margin of error of ±3.7 percentage points.
Dr. Lee M. Miringoff, director of the Marist Institute for Public Opinion, stated on Thursday: "Barring another wave of COVID-19, Americans are focused on the economic recovery, getting back to work, and having their lives return to normal."
Almost half of those polled (48 percent) believe it will take at least six months "to return to normal from the pandemic," which is down from the 74 percent who shared that view back in April, the survey showed.
Just under one-third (27 percent) of those surveyed think it will take less than half a year for life to return to normal, up from 15 percent, while 12 percent believe "life has already returned to normal."
While most were reported to be dining at restaurants (78 percent) and visiting family and friends who haven't been vaccinated (75 percent), "Americans are not as willing to participate in larger gatherings," according to the survey.
A majority are also not going to bars (69 percent), attending live concerts or sporting events (65 percent), or attending in-person religious services (54 percent), the poll showed.
The survey said: "Americans are split on traveling on planes, trains, or shared transportation (50 percent yes, 50 percent no)."
While most (70 percent) of those polled reported they don't have children under the age of 18, "80 percent of parents say they are sending or are ready to send their children to in-person school or daycare," according to the poll.
Growing Concerns Over Delta Variant
Concern over the spread of the Delta variant in the U.S. has cast a shadow over the upcoming July 4 celebrations.
CNN reported the Delta variant, described as the "most transmissible" of the known variants by the director-general of the World Health Organization, has spread to nearly every U.S. state.
According to data compiled by Worldometer, the seven-day average of all cases in California, the country's most populous state, has been rising since early June. The state has seen an average of over 1,000 new cases a day since June 7, according to Worldometer.
The seven-day average of cases across the country has declined from about mid-April and it flattened out from mid-June, hovering at around 13,000 new infections per day, according to data from Worldometer.
Dr. Anthony Fauci, the country's top infectious disease expert and chief medical advisor to President Joe Biden, told CBS News on Wednesday that he's "quite concerned" about the Delta variant.
"The Delta variant has the capability of spreading much more efficiently from person to person. It also can cause more severe disease. So there are two things about it that are troublesome," Fauci warned.
The graphic below, produced by Statista, shows where the COVID Delta variant is gaining ground.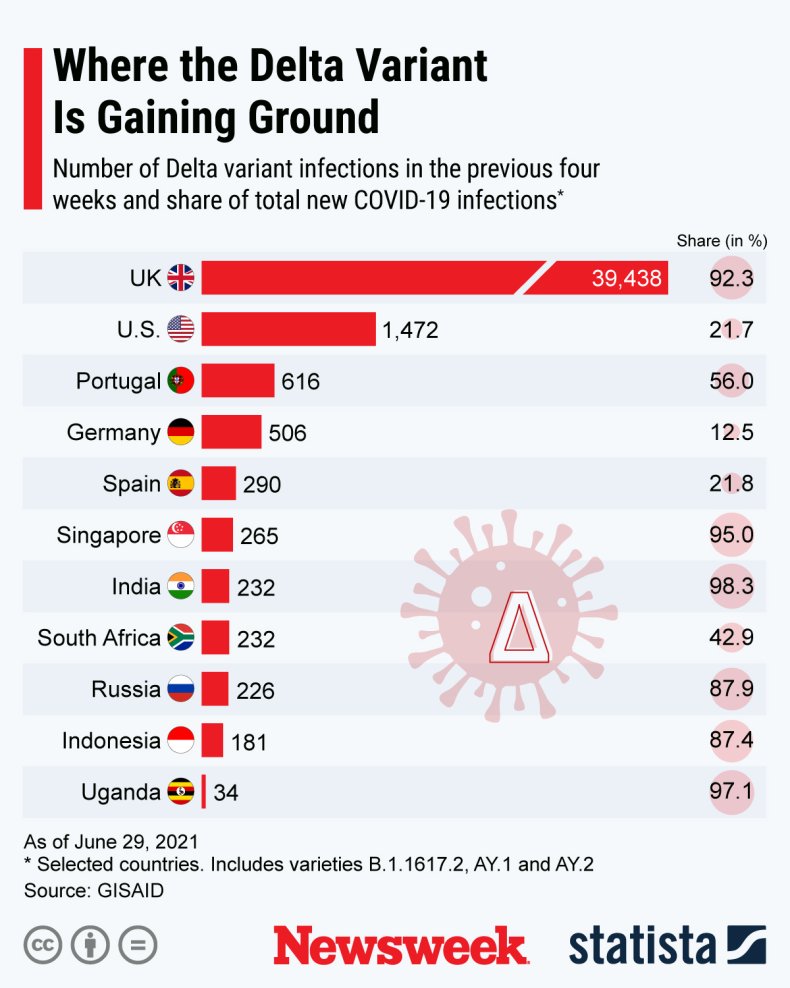 Noting that the COVID vaccines being administered in the country "do very well," the director of the National Institute of Allergy and Infectious Diseases (NIAID) urged everyone to get the vaccine.
Fauci warned: "People who are unvaccinated are at significant risk of a virus that spreads so efficiently.
"We are asking people, almost pleading with people, if you are not vaccinated, please get vaccinated," he said.
According to the latest report Wednesday from the U.S. Centers for Disease Control and Prevention (CDC), 46.7 percent of the total American population has been fully vaccinated, while 54.4 percent have received at least one dose of the vaccine.
The Wider Picture
Coronavirus has infected more than 182.2 million people since it was first reported in Wuhan, China, including over 33.6 million in the U.S. More than 3.9 million people have died and over 3.2 billion COVID vaccine doses have been administered worldwide, as of Thursday, according to Johns Hopkins University.
The graphic below, also produced by Statista, shows the share of the vaccinated population in different countries.