The Coronavirus Crisis Forced a Restaurant Owner to Lay Off 80 Percent of His Staff. So He's Feeding Them for Free
Newsweek's "Heroes of the Pandemic" series features everyday heroes showing service, sacrifice or kindness in the time of COVID-19.
As the coronavirus outbreak took hold and officials introduced measures to control its spread, Curtis Allred watched sales plunge at his two Virginia restaurants by 90 percent on some days. He had to lay off almost 80 percent of his staff as a result.
"Sales dropped like a rock in a matter of weeks," Allred, president of the Rocket Hospitality Collective in Leesburg, which includes the restaurants Delirium Cafe U.S.A. and Wild Wood Pizza, told Newsweek.
"The impact of this viral storm has been immediate and will be prolonged. It almost has to be if we're going to avoid overwhelming our healthcare system. If there's any hope of our businesses being around after the storm recedes, we have to make hard decisions and sacrifices."
Allred acted swiftly and decisively in cutting staff, enabling those affected to quickly claim unemployment benefits rather than hanging on to their job for only a smattering of hours, burning their savings or borrowing money just to make ends meet. But as well as helping them to find unemployment benefits, he is feeding them, too. For free.
Allred told Newsweek he is hearing of things like grants and loans to help struggling small businesses like his. "But I'll tell you what's actually available. The only thing that's real and concrete," he said.
"The only thing that's actually there are our neighbors. Our community. Our employees and their families. They helped us get open, they represent me and my family and our investors to every guest.
"The least I can do is feed them for a few days while we see the lay of the land and what may come this week. So we take care of who we can… There's no way to pay them, so at the very least feed them and make sure they have full access to what benefits can be extended."
Allred added: "We can't have our people without a safety net. If our company survives this, and that's a big if, then we want to have these folks back, with as little long-term damage as possible."
Kara Jin works for Allred and said she has seen first hand "how he goes above and beyond for people."
"I am so thankful to have a boss that genuinely cares about his employees," Jin told Newsweek.
"He is doing everything he can to try to continue supporting us right now, willing to give a helping hand for anyone filing for unemployment.
"I've worked in multiple restaurants, and I have never had a manager genuinely care for the employees and the community the way Curtis does.
"And no manager has put in the time and the compassion the way he does for all of us. Even before the virus, he made sure that we knew that he cared for our wellbeing and that we could take care of our health and families first."
The crisis struck right before St. Patrick's Day weekend, which Allred said is "huge for cashflow" and a time "you can start to breathe a little bit." Now, that is gone, the bars and restaurants emptied because of the coronavirus pandemic: "The situation is pretty dire."
Cafe Delirium has been open for three years, and Wild Wood held its grand opening on February 26 this year. "We were just turning the corner out of the slowest weeks of the year with spring on the horizon when this started," Allred told Newsweek.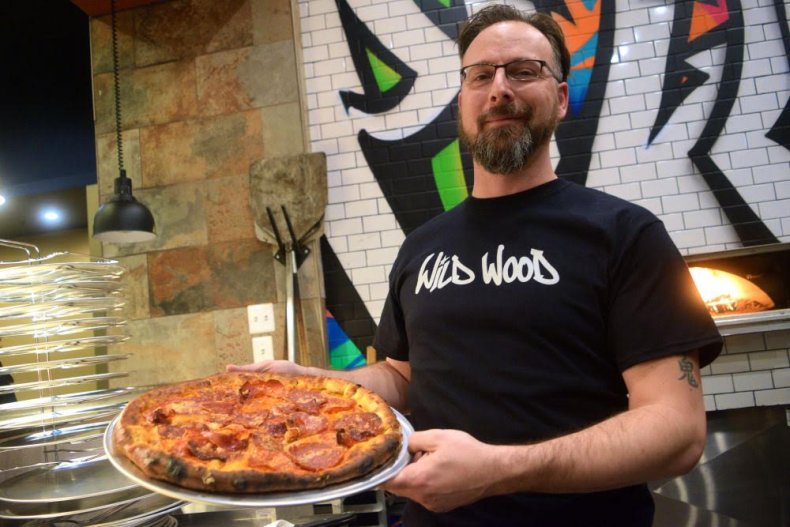 "These businesses were designed to be experiential, within the four walls. You spend your career working towards these goals and something beyond the control of anyone then tells you, you're going to have to be different. Your plans are now wrong.
"You're going to have to find a way to take your experience and put it in a box. Or you've got to give up and quit. File bankruptcy. Sell, lose your house. I don't know if we can survive."
He has a lot of different feelings about what is unfolding. "I feel thankful that my health and that of my wife and children is pretty solid. I feel worried for my parents and in-laws who are much older and at greater risk," Allred said.
"I feel like the teams in both of my restaurants will come out of this wiser about how to handle money and budgeting and being prepared. I feel like all I can do is get up every day and fight to make it better than the one before, knowing that sometimes I'll fail at that, but that I'll still try anyway."
Know a hero you want to nominate to be featured in our series? Drop us a line at heroes@newsweek.com.