Wisconsin Stay at Home Orders Explained as Gov. Evers Set to Battle GOP Over Legislation
Democratic Wisconsin Gov. Tony Evers issued a new executive order Tuesday advising residents to "stay home to save lives."
On the same day, the state recorded its highest average daily COVID-19 case count and daily death toll to date, according to data compiled by Worldometer.
The governor's latest order could potentially ignite another heated battle with Republican legislators, who back in May challenged an extension of the state's stay-at-home order issued in March. The challenge resulted in a Wisconsin Supreme Court ruling against the extension of the order.
The latest stay-at-home order
In a video address Tuesday, Evers warned: "Wisconsin, this is serious. This crisis is urgent. It took us 7.5 months to get to 100,000 cases, but it only took 36 days to add another 100,000. The way things are going, it will take us only 20 days to reach another 100,000 cases.
"I am concerned about what our current trajectory means for Wisconsin healthcare workers, families, and our economy if we don't get this virus under control," Evers said.
The governor advised residents to "cancel the happy hours, dinner parties, sleepovers, and playdates at your home," warning against going to "any gatherings with people who are not in your immediate home," during the upcoming holidays.
Evers noted local businesses can be supported with curbside pick-up, delivery and online orders. He also called on employers to expand options for employees to work from home in a bid to limit the "number of people in offices, facilities, and stores" as well as to limit all travel to "essential needs or errands."
Evers said: "Please only leave your home if it's absolutely necessary like going to the doctor, picking up prescriptions, grabbing groceries, or getting tested [for COVID-19]."
Residents were also urged to wear a mask and maintain a six-feet social distance from others if they do go out.
"Wearing a mask is not a political statement—it's a sign to coworkers or the strangers you pass in the grocery store that you care about them, and they care about you, too," he noted.
GOP challenges to previous orders
The governor's latest measure follows a controversial Wisconsin Supreme Court ruling in May which declared the extension of the state's first stay-at-home order was "unlawful, invalid and unenforceable."
The March order was expected to expire in April but was extended to May 26 by Evers and Wisconsin Department of Health and Human Services Secretary Andrea Palm.
The ruling noted "Palm's order confining all people to their homes, forbidding travel and closing businesses" exceeded the power given to her under Wisconsin statutes. Palm's extension of the order was declared "unlawful, invalid and unenforceable."
Last month, Evers issued another executive order, which limited public gatherings to "no more than 25 percent of a room or building's total occupancy," due to a "deadly, uncontrolled, and exponentially growing spike in cases of COVID-19," across the state.
The measure was challenged last month by Republican lawmakers who claimed the order was "unilateral," "illegal" and "unenforceable."
Back in September, Evers declared a public health emergency and issued a new mask mandate for indoor spaces.
"Face coverings are required to be worn whenever you are indoors or in an enclosed space, other than a private residence, and other people are present in the same room or space," the governor's office stated.
COVID-19 cases and deaths rising in Wisconsin
Evers' latest executive order comes as the number of total confirmed cases in Wisconsin approaches nearly 294,000, with 2,395 reported deaths, as of Wednesday, according to Johns Hopkins University.
The seven-day moving average of daily new infections and seven-day moving average of daily new deaths in the state both reached a record high on Tuesday, with 5,825 new infections and 42 new deaths, according to data compiled by Worldometer.
Total COVID-19 deaths across the state are projected to double the current death toll in December, with around 4,755 deaths expected on December 17 with "continued easing of social distancing mandates and mandates are not re-imposed," according to the latest projection by the Institute for Health Metrics and Evaluation (IHME).
Wisconsin was reported to have the fourth-highest infection rate (cases per 100,000 people) and fifth-highest death rate (deaths per 100,000) among all states over the past seven days, according to the latest report Tuesday by the U.S. Centers for Disease Control and Prevention (CDC).
Newsweek has contacted the office of Evers and members of the Wisconsin State Legislature for comment.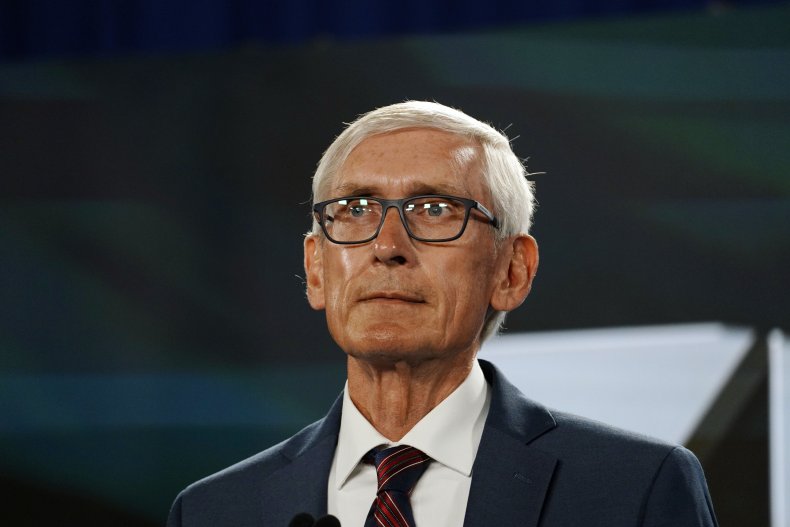 The wider picture
The novel coronavirus has infected more than 51.5 million people across the globe since it was first reported in Wuhan, China.
Globally, more than 1.2 million have died while more than 33.6 million have reportedly recovered as of Tuesday, according to Johns Hopkins.
The graphic below, produced by Statista, shows the spread of COVID-19 across the U.S.