Corrections Officer Charged With Killing Beloved Tattoo Shop Rooster
A Mississippi town is mourning the loss of Carl Jr. the Rooster, a beloved fixture in his community. After a social media firestorm over suspected foul play, corrections officer Kendra Shaffer has been arrested for her involvement in his kidnapping and death.
Christina Jackson manages Twisted Anchor Tattoo, where Carl Jr. spent most of his time in downtown Ocean Springs. "We're devastated and heartbroken," Jackson said to Newsweek. "Carl J's loss has affected all of us so deeply."
The rooster disappeared from the tattoo shop's front porch on Sunday. He had claimed the spot as his home two years ago and the staff adopted him as a pet. However, he was family to all of downtown Ocean Springs, starting his mornings at Lil Market Deli & Bagelry, then making rounds through Spoonwater Bar & Grill, Rooftop Taco & Tequila Bar and other local haunts before ending up back at Twisted Anchor Tattoo to roost.
Jackson first raised the alarm Tuesday, asking in a Facebook post, "Has anyone seen Carl J?! Haven't seen him today, and his water dish is still full so he hasn't stopped by without me knowing either."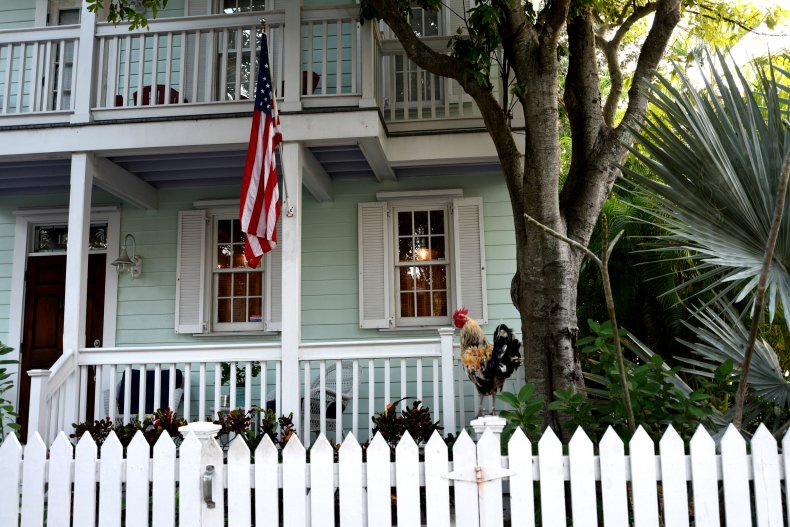 On Wednesday, surveillance footage of Carl Jr. surfaced and shocked the town. One video appeared to show Carl being kidnapped by a woman, who carried him off the front porch of the tattoo shop, followed by a group of men. A second video allegedly showed his body being dumped in nearby Biloxi, Mississippi, where he was later found dead, the Jones County Sheriff's Department confirmed to Newsweek.
Social media erupted with grief over the iconic rooster and outrage against his killers, with many using the hashtag #justiceforcarljr.
Shaffer, a corrections officer with the Jones County Juvenile Detention Center, is suspected of being the woman in the video. She was arrested by the Ocean Springs Police Department and cited for animal cruelty, the sheriff's department confirmed to Newsweek.
She was fired by the sheriff's department and will appear in Ocean Springs Municipal Court on May 4.
"We expect those individuals employed by the Jones County Sheriff's Department to perform their duties and live their lives in a professional and honorable manner," Sheriff Joe Berlin said in a statement to Newsweek. "The criminal charge against Ms. Shaffer by the Ocean Springs Police Department is serious and we do not tolerate or condone this behavior. Her employment termination is immediate."
Jackson said the community will not rest until Carl Jr.'s killers are punished. "We have no intentions on slowing down or stopping until we get justice for our big guy," she said.