Could Cavaliers Get Isaiah Thomas Back Before 2018? LeBron James Didn't Need Him Against Kings
Isaiah Thomas continues to make steady progress in his return from the hip injury that has kept him off the court since his trade from the Celtics to the Cavaliers in the summer.
But even without him, the Cavaliers can't stop winning.
Tyronn Lue's team had to be at its strongest late in the game on Wednesday night against the Sacramento Kings. The Cavs got a dominant fourth quarter at Quicken Loans Arena, a big rebounding night from Kevin Love and productivity from the bench from Jeff Green.
Winning 13 straight games is always easier when you have LeBron James, too. James changed his shoes three times on Wednesday night but produced another clutch moment in a season when he seems to have raised an already elite game to even higher levels at the most important moments. With 16.6 seconds remaining and the Cavaliers' lead sitting at a precarious two points, James sank his fifth and final three-pointer of the game—finally toasting the stubborn Kings.
"I just wanted to continue to improve my game," James said postgame in quotes reported by ESPN. "I try to get better and better each and every year, and shooting the ball is what this league has kind of turned into, so for me to continue to improve, that's what I wanted to do. I put a lot of work into my offseason training and I just try to implement it into the season once it gets here."
At 32 (turning 33 on December 30), James seems to be improving as a shooter. ESPN Stats & Info noted on Wednesday that this is the best three-point percentage of his career through 25 games. James has also never made this many three-pointers at this stage in a season before.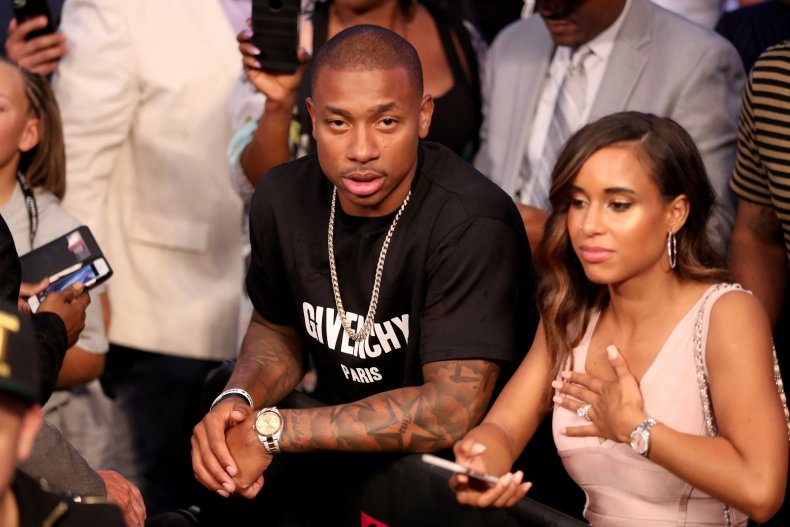 James's play this season can be measured outside of statistics, too. The Cavaliers have climbed to second in the Eastern Conference behind the Celtics even as Lue, the Cavs' head coach, has been forced to shuffle between an awkward multitude of starting point guards.
José Calderón nominally filled that role on Wednesday although the 36-year-old only played 15 minutes and was held pointless. ESPN's box score showed the Cavaliers didn't have a point guard on the bench, either.
Derrick Rose apologized to his teammates on the court before they faced the Kings. Rose has been missing for two weeks, reportedly as he mulled over whether or not to return to basketball following years of frustration with injuries.
It should be kind of terrifying, then, for the rest of the NBA that Thomas looks like he's gradually making his way back to fitness. NBA.com reported on Wednesday that Thomas had made a "significant step" toward a return to the Cavaliers' starting lineup by playing in a four-on-four scrimmage with Tristan Thompson and members of the Cavaliers' coaching staff. The All-Star "looked good," according to Lue, who didn't give any further update on a date for his return.
The Cavaliers may be the NBA's best team without Thomas, though. With him, they will be even better.