Could Elon Musk Have Solved World Hunger Instead of Buying Twitter?
Right after the announcement that Twitter had accepted Elon Musk's $44 billion bid to purchase the social media platform, the internet started wondering: what else could have been done with such an astonishing amount of money?
One story that suddenly reemerged on social media is that of Musk's pledging $6 billion to the United Nations' World Food Programme to help the organization end world hunger back last year.
The story began with an interview the director of the U.N. World Food Programme (WFP), David Beasley, gave to CNN in October 2021, in which Beasley said that billionaires needed to "step up" to help save millions around the world from famine and starvation.
Specifically talking about Musk, Beasley said that 2 percent of Tesla's CEO's wealth— estimated at $6 billion at the time—could have helped "42 million people that are literally going to die if we don't reach them."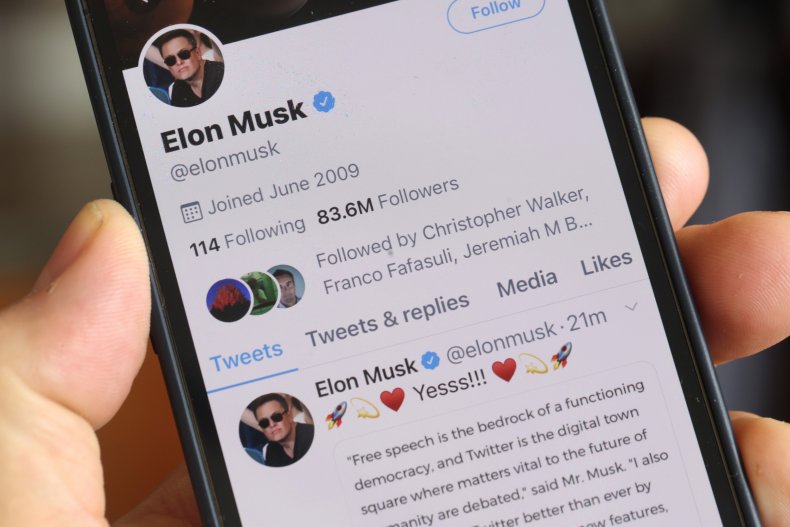 "It's not complicated," he added.
Musk apparently heard Beasley's appeal through researcher Eli David, who quoted CNN's article in a tweet on October 30. A day later, Musk tweeted: "If WFP can describe on this Twitter thread exactly how $6B will solve world hunger, I will sell Tesla stock right now and do it."
Beasley later clarified that he never meant Musk could actually solve world hunger with such a generous donation, but that the money could have definitely helped millions. "$6B will not solve world hunger, but it WILL prevent geopolitical instability, mass migration and save 42 million people on the brink of starvation," Beasley later specified on Twitter in response to Musk's comment.
According to the latest data from the WFP, global hunger is rising at an "alarming" rate, with 282.7 million people across 80 countries currently estimated to be experiencing extreme levels of acute hunger.
The data from 2021 represent an increase of around 110 percent compared to two years earlier and is attributed by the WFP to widespread conflicts, the worsening of the climate crisis and the consequences of the pandemic on a global and local scale. The WFP estimates that up to 811 million people around the world do not have enough food, and 44 million are on the brink of famine.
Following Musk's prompt, a few days later Beasley proceeded to provide the details of how $6 billion could have averted a food crisis for 42 million people in 43 countries, saying that it would have cost a total of $6.6 billion to provide one meal a day for one year to the population in need, or $.43 a meal.
The meal would have been delivered in food aid, cash, or vouchers, according to Beasley.
In response to Musk's request for a clear plan, the WFP published an entire article detailing the planned allocation of a $6 billion donation. But if the WFP kept its side of the deal, did Musk do the same?
Did Musk Donate the $6B to WFP?
The answer is unclear.
News publications, including Fortune, Forbes and The New York Times, reported that Musk made a mysterious $5.74 billion donation in November 2021, a few weeks after his Twitter showdown with the WFP's director.
Although it is certain that Musk made this donation to charity, as certified by a Securities and Exchange Commission (SEC) filing, the recipient of the donation was anonymous and remains unknown to this day. The WFP told Forbes they were not the recipient of the donation, and they had not received a check from Musk.
"Whether WFP receives any of this money is yet to be seen, but I am excited to hear that Elon is engaged," Beasley told Forbes in February. Forbes speculates that the $5.74 billion donation was likely made to a donor-advised fund (DAF)—a philanthropic bank account that entitles a donor to an immediate tax deduction.
Musk did not confirm what charity benefited from the donation.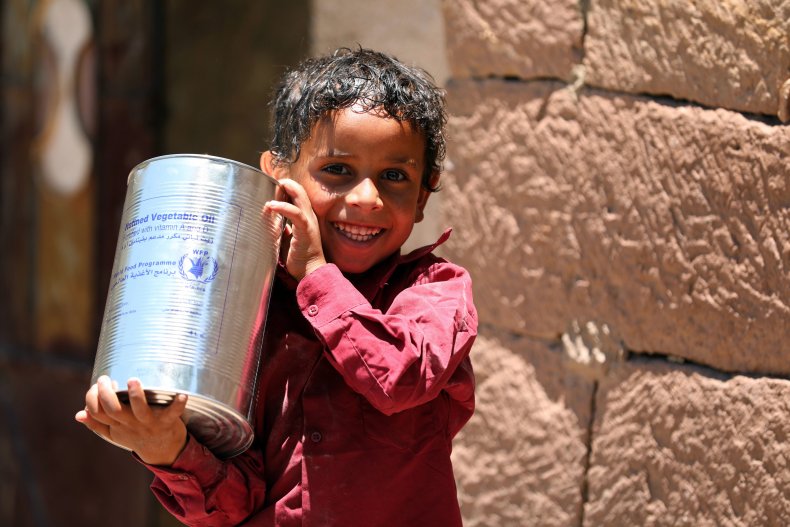 Twitter or WFP?
While the story had died down in the months following November's back-and-forth between Beasley and Musk, the Twitter thread has been suddenly revived by people commenting on whether Musk could have used the $44 billion he offered to buy the social media platform for the greater good instead.
"Remember like two weeks ago when Elon was like "tell me how to end world hunger and I'll do it" and then he bought twitter for $44 billion instead," wrote one Twitter user.
"Why didnt you invest the money into solving world hunger?????????," wrote another Twitter user directly addressing Musk.
"To be honest just solving some world hunger would be a start. Imagine having that much money and doing f' all but buying Twitter shares. I despair," wrote another.
But others have defended Musk, saying the debate around him helping to solve world hunger misled people from holding accountable politicians and the government for the roles they play in helping people struggling to access food.
The whole discussion around what Musk could have done with the money he spent on Twitter revolves around how high the sum is. But while the bid to buy Twitter is certainly a staggering amount of money for most people, it's relatively not that much for the richest man in the world, whose net worth is estimated at $289 billion, according to Bloomberg.
But it's not surprising that Musk's takeover of Twitter got people talking.
The graphic below, provided by Statista, shows that the bid to buy Twitter was one of the largest buyouts in history.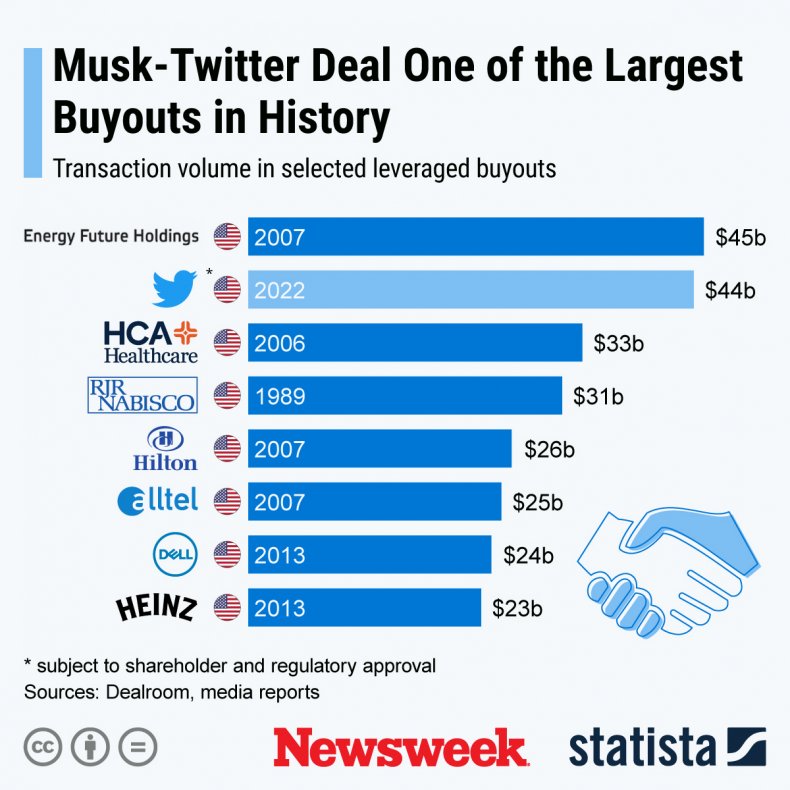 According to an SEC filing, Musk was one of the most generous philanthropists of 2021, second only to Bill Gates and Melinda French Gates.
The financial aspect of acquiring Twitter has appeared to be of minimal interest for Musk in his pursuit of the company. Musk said he hasn't purchased Twitter for the profits he could obtain from the platform, declaring, "I don't care about the economics at all."
Whether he could have used the same amount of money to fund charitable initiatives instead of buying Twitter, is set to remain the object of debate on the internet.
Newsweek reached out to Elon Musk via Tesla for comment.
Update 4/26/22, 9:30 a.m. ET. This article was updated with a graph from Statista.