Could 'House of the Dragon' Trigger Incest Survivors?
In episode seven of HBO's House of the Dragon, Princess Rhaenyra Targaryen not only engaged in sexual intercourse with her uncle, Daemon Targaryen, but she married him.
Though incest was common in the real world during the time of the show's medieval setting—especially in royal families—depictions of such relationships could be triggering for incest survivors. Newsweek reached out to three incest experts who have not seen House of the Dragon, but commented on how onscreen portrayals that normalize incest can be problematic.
Dr. Judith L. Herman, a well-known trauma expert and part-time psychiatry professor at Harvard Medical School, told Newsweek that "certainly anything in pop culture that denies the harm of incest is hurtful to survivors. They've encountered enough denials, rationalizations, excuses and yes, glorifications of incest throughout their lives."
Even before Sunday's episode, there had been talk on social media of how certain scenes in House of the Dragon could reopen old wounds for those who have experienced the trauma of incest. Daemon first attempted to seduce Rhaenyra in the fourth episode when she was was significantly younger, though he stopped after some heated kissing and disrobing.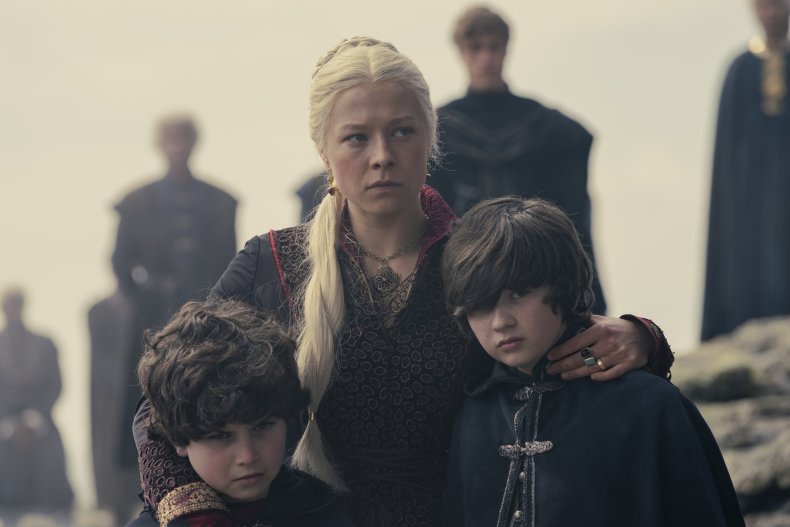 In the show's second episode, uncle-and-niece coupling was shown (in less graphic fashion) to be acceptable in Westeros when Rhaenyra's father, King Viserys Targaryen, was briefly seen entertaining the notion of marrying his niece Lady Laena Velaryon. Viserys thought better of the proposed arrangement due to Laena being only 12 years old, though his brother, Daemon, later marries Laena before her death and his subsequent marriage to Rhaenyra.
"My general observation is that films and series tend to exploit such abuse and trauma for shock value and profit, with little or no regard for the harms they are causing—whether by normalizing, desensitizing, and even glorifying intimate violence or by re-traumatizing viewers who've had such experiences," Dr. Jim Hopper, who is a teaching associate at Harvard Medical School and recognized as an expert on psychological trauma, wrote in an email to Newsweek.
Hopper added, "It is certainly possible to depict incest responsibly, but most shows don't."
The elements of incest is likely not surprising for many House of the Dragon fans. The show's predecessor, Game of Thrones, also carried incest storylines throughout its eight seasons. Perhaps a notable difference, though, is how the topic was handled on the original series.
Siblings Cersei and Jaime Lannister were romantically involved and produced children together, though their relations were characterized as a scandalous secret, and much misfortune came their way as a result.
Jon Snow, one of the main heroes of Game of Thrones, had sexual relations with his aunt, Daenerys Targaryen, though he broke off their romance once he learned they were family.
Of course, HBO uses George R.R. Martin's fantasy novels as its source material for both Games of Thrones and House of the Dragon. His books contain multiple instances of incest in various families, and it is especially pronounced within the Targaryens. In other words, House of the Dragon showrunners would have had a great deal of difficulty in telling Martin's tales if it had scrubbed incest from the stories.
Dr. Christine A. Courtois, an incest trauma specialist and author of Healing the Incest Wound, spoke with Newsweek about different aspects related to portraying incest in popular entertainment.
"As far as I'm concerned, incest is the most misunderstood type of abuse. It does an incredible amounts of damage," Courtois said. "There's so much betrayal involved and usually so much grooming."
When the Rhaenyra/Daemon storyline was described to Courtois, she said: "Uncle abuse, interestingly, is one of the most common forms of incest. There's a lot of hidden victims out there, and for them, seeing that type of incest in particular could be disturbing."
Meanwhile, various figures in media outlets have called for HBO to place a trigger warning at the beginning of episodes that show traumatic child births. Some people on social media have made a similar call for warnings to be placed before episodes containing incest scenes.
Courtois said such a warning could help with some of the negative issues surrounding the show's incest narratives, but it may not be the overall solution.
"Showing it [incest] I don't think is the problem. I think glorifying it as something that is wonderful or not harmful is a problem when that happens," she said. "In most cultures, it's a sign of family pathology and dysfunction, and it causes enormous distrust for the victim and for other members of the family. That doesn't get portrayed in popular media for sure."
Newsweek reached out to HBO for comment.