Could Hunter Biden Face Charges Before 2022 Midterm Elections?
Hunter Biden, the president's son who has been the focus of a federal investigation into his overseas business dealings, could soon be charged with a number of crimes, ranging from tax fraud to making a false statement about a gun purchase, it was reported Thursday.
While The Washington Post's story, which cited anonymous sources, was light on specifics, the most serious allegations about Biden could concern a failure to declare income related to business ventures both domestic and abroad, a crime that can bring jail time, experts tell Newsweek.
Whether Biden, who has long been the target of conservative media, will face charges ahead of the midterm elections—or if they will result in significant jail time—is a different story.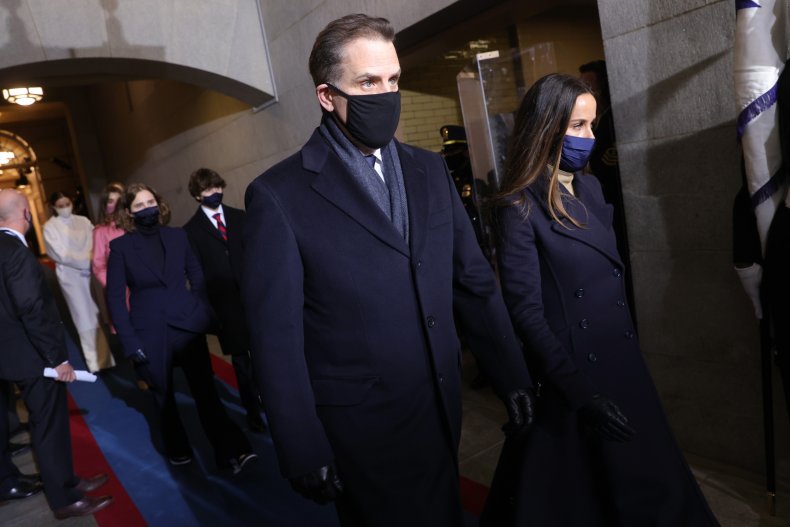 Federal investigators would first need to formally announce they are charging him with a crime, pending the result of a grand jury investigation into his alleged crimes. The process to get to that point is long and convoluted, with the mechanics of actually bringing charges fairly complex in nature.
Even if charges are imminent, there's no way the Department of Justice (DOJ) would be able to get to that point within a month of the elections, experts told Newsweek.
"The DOJ won't be able to bring charges after being dismissed by the grand jury unless they bundle a charge by information and a plea agreement all in one," Brett Tolman, a former U.S. attorney and executive director of Right on Crime, told Newsweek.
"Otherwise, they would need to impanel a new grand jury. I believe neither are likely to happen prior to the election," Tolman said.
Particularly noteworthy is that federal tax evasion charges—like those Biden likely faces—are exceedingly rare. In 2021, the U.S. Sentencing Commission reported that just 370 tax fraud offenders were sentenced under federal guidelines, a 38 percent decrease since 2017.
"In most cases, the IRS does not press charges," said E. Martin Davidoff, the head of the national tax controversy practice at the accounting firm Prager Metis. "There are tens of thousands of audits that don't turn criminal—they choose to make their examples. You can have severe situations in which each prosecutor has discretion."
With the exception of cases featuring a figure the federal government wants to make an example of—like famed gangster Al Capone or notorious American businesswoman (and onetime Newsweek cover subject) Leona Helmsley in the late 1980s—the prosecution of most federal tax fraud cases is typically handled with relative discretion. That's particularly the case if the defendant is guilty and looking to avoid a public trial.
Davidoff said charges of tax fraud can result in jail time but typically result in a plea deal in which the perpetrator pays a fine and serves some sort of sentence, either behind bars or under some form of supervision based on the crime's severity. Often, it's in the interest of both parties to resolve potential tax crimes as quickly as possible.
"If you're guilty, you want to get a quick and clean resolution and minimize penalty as much as you can," Davidoff said.
"If you're not guilty, you have to make some judgments," he continued. "Sometimes people are not guilty or on the fringe of whether they're guilty or not, and sometimes we'll make a deal just to get done with it. Because this is very costly stuff. Litigation in the criminal area is very costly."
Newsweek has contacted Biden's attorney for comment.
Regardless of charges, both President Joe Biden and his son could be the subject of a congressional inquiry should Republicans take control of the House in the midterms.