Full List of People Republicans Plan to Investigate After Midterms
Congressional Republicans have pledged to launch several investigations into the Biden administration if they retake a majority in Congress during November's midterm elections.
The GOP remains favored to win a narrow majority in the House of Representatives, and party leaders have made it clear they hope to wield their power to investigate President Joe Biden, his family and aspects of his administration.
Republican promises of Biden investigations come after years of decrying investigations into former President Donald Trump as politically motivated. Trump has faced several investigations surrounding the January 6, 2021, Capitol riot, his businesses and now over classified documents. The investigations have hampered his public image among Democrats and independents—though he remains popular among the GOP.
Here is the full list of investigations that Republicans pledge to launch if they retake the House.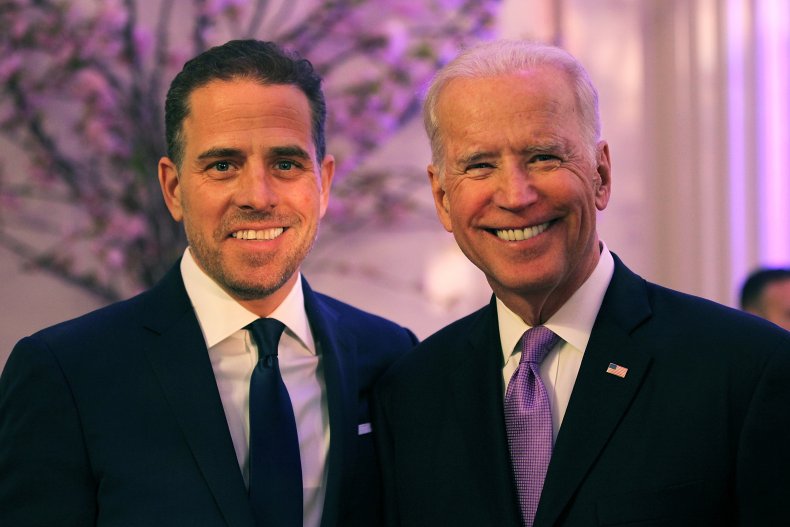 President Joe Biden and His Son
Republicans have long promised to investigate President Biden and his family, specifically his son Hunter Biden. Hunter Biden is already under investigation for alleged money laundering and violations of campaign finance, tax and foreign lobbying laws. The investigation, launched in 2018, first focused on his business activities in foreign countries, including ties to a Chinese energy company, while his father was vice president, but has reportedly intensified in recent months.
If Republicans win the midterms, they could launch their own investigation into the president's son's business dealings.
"The House Oversight Committee is going to be all over Hunter Biden," Representative James Comer, a Kentucky Republican who would likely become chair of the committee, told Politico in April. "We're going to focus on Hunter Biden not for political reasons, but because we feel he's a national security threat."
Dr. Anthony Fauci
Dr. Anthony Fauci, the director of the National Institute of Allergy and Infectious Diseases (NIAID), has long been a target of GOP criticism over his handling of the COVID-19 pandemic. Fauci is set to vacate his position in December, but Republicans—including Senator Rand Paul of Kentucky—have suggested he could face investigation.
Paul tweeted in late August that "Fauci's resignation will not prevent a full-throated investigation into the origins of the pandemic. He will be asked to testify under oath regarding any discussions he participated in concerning the lab leak."
The infectious diseases expert could face investigation into the origins of the COVID-19 virus, as some have claimed it leaked from a lab in China, though this hasn't been proven, as well as whether the National Institutes of Health (NIH) ever funded genetic "gain of function" research in China.
Department of Justice
Republicans have also said they plan to investigate the Department of Justice (DOJ), which they say has been politicized. Representative Jim Jordan, an Ohio Republican, has called on the DOJ to be investigated for going "against parents" by investigating a spike in harassment toward school administrators, board members and staff last October.
The announcement was made after the National School Boards Association (NSBA) wrote a letter to Biden suggesting parents and others who act aggressively during school board meetings on COVID-19 restrictions and the teaching of critical race theory should be considered a form of "domestic terrorism."
These investigation threats grew after the FBI raided Trump's Mar-a-Lago residence in August, seizing 20 boxes containing allegedly classified documents. Attorney General Merrick Garland confirmed he personally approved the decision to seek a search warrant for Mar-a-Lago. Though experts have raised concerns that Trump could have left national security documents vulnerable by not keeping them properly stored, many Republicans have blasted the investigation as being politically motivated.
Trump has repeatedly denied any wrongdoing in regard to the documents, and said that any classified documents that he took from the White House when he left last year had been declassified.
"When Republicans take back the House, we will conduct immediate oversight of this department, follow the facts, and leave no stone unturned," House Minority Leader Kevin McCarthy wrote in a statement on Twitter following the search. "Attorney General Garland, preserve your documents and clear your calendar."
U.S. Withdraw From Afghanistan
Republicans have also called for "a thorough investigation into President Biden's bungled withdrawal of U.S. forces from the country," NBC News reported in June.
Biden faced widespread criticism for his handling of the U.S. exit from Afghanistan in August 2021, which ultimately ended in the Taliban seizing power across the country. Republicans have said that the Department of State failed to establish a procedure to evacuate Americans from Afghanistan and have sought answers about the planning, intelligence and decision making that went into the exit, NBC reported.
While Biden has faced blame for the execution, Democrats have argued that Trump's previous deal to remove troops from Afghanistan left the U.S. in a vulnerable position.
Homeland Security Secretary Alejandro Mayorkas

Republicans may also investigate the Department of Homeland Security, specifically related to Biden's handling of immigration issues. House Republicans in an April letter accused Homeland Security Secretary Alejandro Mayorkas of trying to "dismantle the security of our nation's southern border."
Additionally, more than 30 House Republicans have co-sponsored a resolution to impeach Mayorkas.
"Secretary Mayorkas has failed to faithfully uphold his oath and has instead presided over a reckless abandonment of border security and immigration enforcement, at the expense of the Constitution and the security of the United States," the resolution reads. "Secretary Mayorkas has violated, and continues to violate, this requirement by failing to maintain operational control of the border and releasing hundreds of thousands of illegal aliens into the interior of the United States."
Newsweek reached out to the White House for comment.