Should Dr. Fauci Fear COVID Revenge From a Republican-Led Congress?
Dr. Anthony Fauci could be facing investigations by Congress if Republicans retake the House of Representatives, the Senate or both in crucial midterm elections this November.
The infectious diseases expert announced he would leave his role as director of the National Institute of Allergy and Infectious Diseases (NIAID) in December and some Republicans were quick to claim his decision was due to potential probes.
Though it is not clear if the 81-year-old's decision was motivated by threatened investigations, if Republicans retake either chamber of Congress they will be in a position to call Fauci to testify regardless of the fact he'll have left his current job.
Potential Investigations
Fauci has been a controversial figure, especially among Republican lawmakers, since the beginning of the COVID-19 pandemic and he's clashed with elected officials, most notably Senator Rand Paul, a Republican from Kentucky.
Paul tweeted on Monday that "Fauci's resignation will not prevent a full-throated investigation into the origins of the pandemic. He will be asked to testify under oath regarding any discussions he participated in concerning the lab leak."
He was referring to the suggestion that COVID-19 leaked from a Chinese lab—a claim that has not been proven but may form part of any Republican investigations, along with questions about whether the National Institutes of Health (NIH) ever funded genetic "gain of function" research in China.
The origins of COVID-19 and the U.S. reaction to it, including lockdowns and mask-wearing rules, are likely to be a major feature of any GOP investigations.
If Republicans retake the House—and they are currently favored to do so, according to poll tracker FiveThirtyEight—they will gain control of congressional committees including the House Judiciary and House Oversight panels and will be able to set their agenda.
Those committees can subpoena Fauci to appear and he is very likely to comply given that failure to do so could lead to a referral for contempt of Congress. They would also be able to subpoena other witnesses as well as documents relating to Fauci's work.
Senator John Kennedy, a Louisiana Republican, said on Monday that Fauci "is going to be spending a lot of time in front of a congressional committee and committees" if Republicans retake Congress, though Democrats are currently slightly favored to retain the Senate.
Accusations Against Fauci
Fauci has been the subject of sharp rhetoric and very serious accusations that have continued following the news that he will step down.
Republican Representative Marjorie Taylor Greene said on Monday that Fauci: "should be in jail."
"The American people lost so much and so did the entire world due to Dr. Anthony Fauci's Frankenstein—Dr. Frankenstein-style—experiments," she said, adding that House Republicans should investigate him and should be "locking up Dr. Anthony Fauci."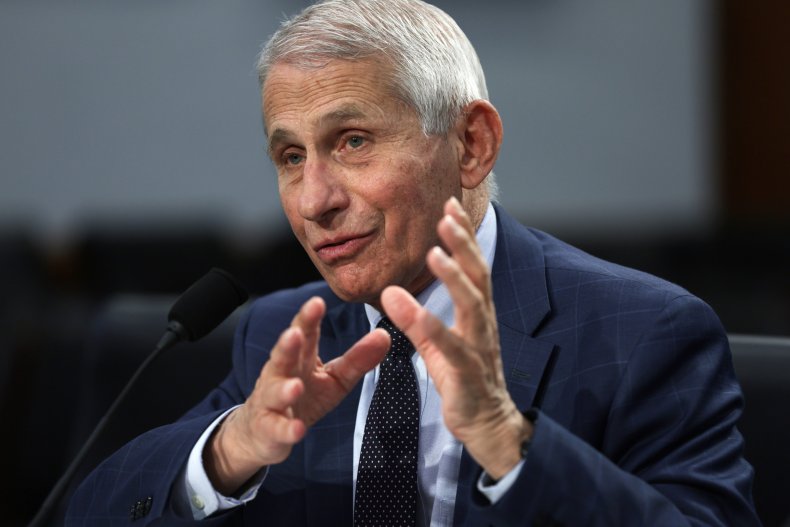 Fox News host Tucker Carlson called Fauci a "dictator" and said the infectious diseases expert is "a dangerous fraud, a man who has done things that in most countries, at most times in history, would be understood perfectly clearly to be very serious crimes."
Congress does not have the power to bring criminal charges against Fauci, despite rhetoric around the subject. Nonetheless, political scientists who spoke to Newsweek suggested he should be prepared for a grilling.
Fauci as a Symbol
While Congress can't bring criminal charges against Fauci, hauling him before committees would be a symbolic act, according to Thomas Gift, founding director of University College London's Center on U.S. Politics.
"Few public figures elicit the kind of visceral hatred among the far-right as Anthony Fauci," Gift told Newsweek.
"Even among more moderate conservatives, Fauci would probably rate just below COVID-19 itself in a popularity contest," he said. "For that reason, it wouldn't at all be surprising if Fauci finds himself dragged again before a Republican-controlled House committee next year to answer questions about his role in leading the federal response to the pandemic."
Gift explained that Congress "lacks prosecutorial powers, and the odds that any probe would lead indirectly to criminal charges are virtually zero."
"But for Republican politicians, that's not the point," he went in. "Instead, it's to politically go after the symbol of all that their base despises about Washington's approach to the virus—from masking, to lockdowns, to vaccines."
Cartoon Villain
Robert Singh, a professor at the Department of Politics at Birkbeck, University of London, told Newsweek that it was not clear if "Fauci is resigning because of a likely GOP takeover of the House, rather than just age and exhaustion."
"And if the Republicans there are going to harass him even after he's gone, the logic of leaving is somewhat undercut," he said.
"That said, he has become something of a cartoon villain for some sections of the party and they would probably see pursuing him as just recompense for what the Democrats have done with Steve Bannon and others, as well as the January 6 Committee hearings," Singh went on.
"Assuming he appeared—which used to be almost taken for granted when a congressional committee called, but seems now to be more contentious after the behavior of some Trump allies—he would have to answer under oath but, as we saw with Trump himself, he can always plead the Fifth Amendment."
A Partisan Gambit
One potential casualty of investigations into Fauci could be the NIAID director's reputation as he seeks to move on with his career.
"It seems, on the surface, difficult to discern what any committee can really do to him other than seek to damage his reputation and profit politically from this," Singh told Newsweek.
"It may be that Fauci gave different opinions on masks and the virus at different points over the past two years, but that is not a federal offense. So, this looks like yet another partisan gambit," he said.
Singh added that whether investigations take place "will depend on whether the GOP can take the House—which is no longer as clear as it seemed a few months ago—and whether their agenda is too crowded to focus on this, rather than legislation."
"But if they don't take the Senate, which seems increasingly possible, it may be that the resort of political positioning is more attractive as a strategy for 2024," he said.