Could I Travel to North Korea? Kim Jong Un Shows Off His New Vacation Spot
North Korean supreme leader Kim Jong Un traveled to his country's up-and-coming coastal resort area to offer instruction for what he hopes will be a sign of his country's resilience under extensive international sanctions.
The official Korean Central News Agency published photos Friday of Kim, his wife Ri Sol Ju along with top military and political leaders visiting the Wonsan-Kalma tourist area on the country's east coast. Kim has long envisioned turning the city into a hotspot for locals and foreigners looking to hit the beach and enjoy luxury hotels, but appeared to postpone the project during his latest visit from a projected date of April 15, his grandfather's birthday, to October 10, the anniversary of the founding of the ruling Korean Workers' Party.
Undeterred, Kim "called upon everybody to build the sea park without an equal in the world by keeping fortitude and strong courage and present it to the people as a gift" on the newly chosen date, according to the Korean Central News Agency. He also offered his own advice in adjusting the height of buildings, adding first-aid stations and certain tree species within the resort.
"It is the Party's long-cherished idea and his long-desired job to build wonderful recreational resorts on the scenic and beautiful shores of our country to let the people enjoy themselves to the full, he said, adding that now it will soon come true," according to the agency, later revealing he had an ulterior motive for carrying out such an ambitious project.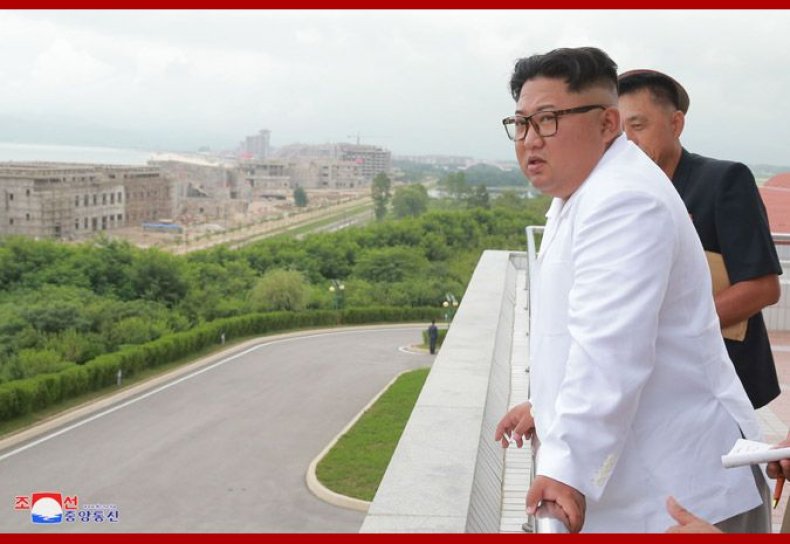 In addition to being one of his own favorite summer getaways, Wonsan has been Kim's venue of choice for up to 40 missile launches aimed at enhancing his country's military, which boasts nuclear weapons and intercontinental ballistic missiles said capable of delivering them as far away as the U.S. mainland. Kim has managed to reach an unprecedented point of diplomacy with his country's longtime foe in Washington by freezing weapons tests, destroying key military sites and agreeing to denuclearize, but strict U.S. sanctions remain in place.
Donald Trump, the first-ever sitting U.S. president to meet a North Korean ruler, has praised Kim's efforts, but the Republican leader's administration has warned that sanctions would not be lifted until the reclusive country had completely denuclearized, a move that Pyongyang has in past years rejected on the basis that it would expose the country to a potential U.S. invasion. With sanctions still strangling his economy, Kim's showcase served to show that the country was still up and running, despite allegations of human rights abuses and being nearly totally isolated from the outside world.
"Such a huge and grand creation campaign as the construction of the Wonsan-Kalma coastal tourist area is an acute standoff with hostile forces trying to stifle the Korean people through brigandish sanctions and blockade, a do-or-die struggle to defend the prestige of the Party and a worthwhile struggle for creating the happiness of the people, he said, and stated that if such large-scale magnificent project...is completed surpassing the world's advanced level at such a difficult time as now, the strength of the single-minded unity of the Party, army and people will be displayed to the whole world once again and the coastal tourist area will be a very nice gift to our people," the Korean Central News Agency wrote.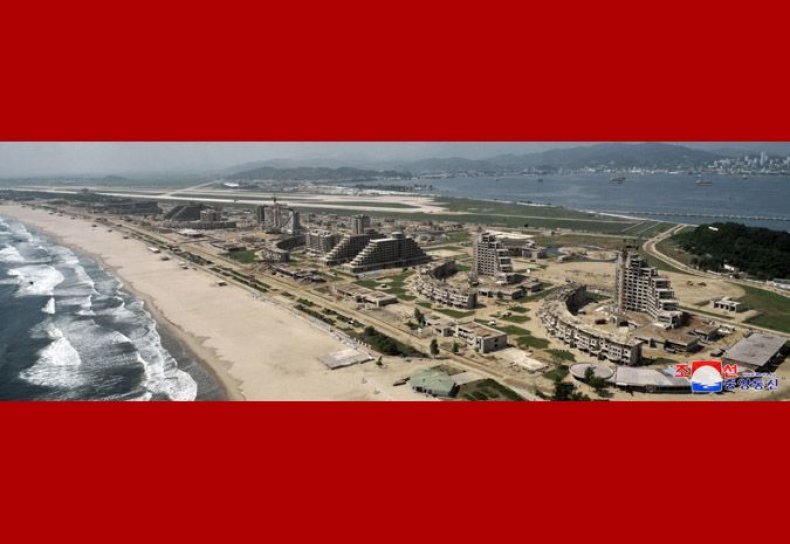 Plans for a sprawling resort including beachside hotels and underwater villas in Wonsan were first announced in July 2014, the same year the Masikryong Ski Resort was built nearly 4,500 feet high in the region's mountains. While Kim has bolstered his country's tourism drive, complete with a new website advertising what's to do in the so-called Hermit Kingdom, U.S. citizens will have to miss out on surfing, sunbathing and agricultural "labor tours." It's not Kim that doesn't want them there, however.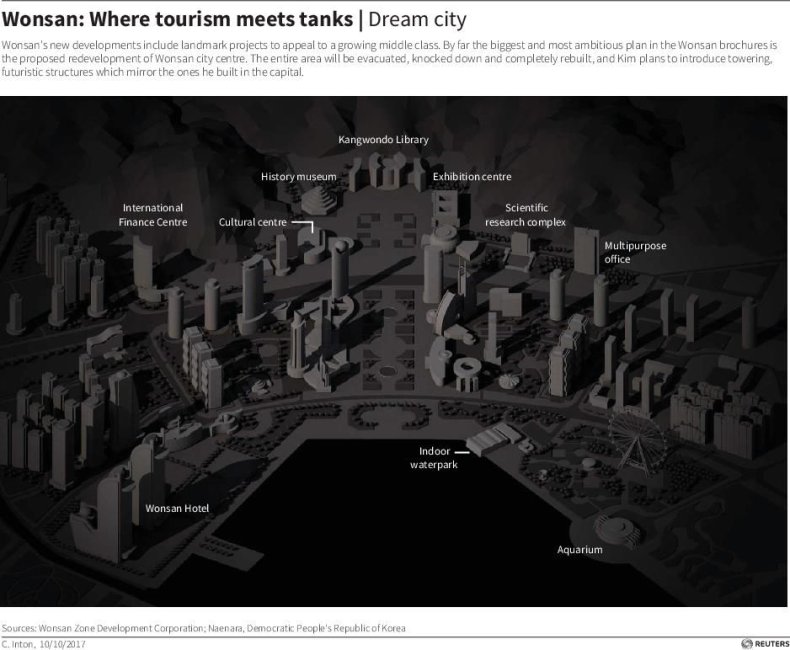 As of September 2017, the State Department banned U.S. travel to North Korea under Trump's direct orders. The move followed the death of U.S. student Otto Warmbier, who was detained while traveling to North Korea in January 2016 and released on humanitarian grounds with severe brain damage a year and a half later, only to pass away within days in June 2017. The event came at the height of a fiery war of words between the Trump administration and Pyongyang.
Nevertheless, U.S.-North Korea relations have vastly improved in the second year of Trump's presidency, with Pyongyang calling for a formal peace treaty that would formally end a decades-long war between North Korea and South Korea, along with its U.S. ally. The two have yet to decide on a comprehensive framework to end their Cold War-era feud and many remain skeptical of the prospects for peace, but South Korean President Moon Jae-in announced Wednesday that he would pursue a united Korean economy, establish peace and construct an inter-Korean railway to promote free travel between the neighboring states.
Could I Travel to North Korea? Kim Jong Un Shows Off His New Vacation Spot | World