When Will Koreas Unite? South Promises 'True Liberation' Starting with One Economy, Peace and Railway
South Korean President Moon Jae-in has vowed to pursue the reunification of his country with longtime foe North Korea with a set of unprecedented peace initiatives that would forge the first economic and infrastructural ties of their kind between the neighbors in decades.
Moon revealed his plan in a televised address Wednesday, marking the 73rd "Liberation Day" anniversary of the end of Japanese occupation of the Korean Peninsula, which was then split in two by rival powers the U.S. and the Soviet Union in 1945. The two factions fought a war from 1950 to 1953 and have remained locked in a tense standoff ever since, but recent diplomatic efforts on both sides have led to an ambitious push for a lasting peace.
"We must overcome this division for our survival and prosperity. While political unification may still be far away, building a single economic community and establishing peace as well as free travel back and forth between the two Koreas is true liberation for us," Moon said on a day that also marked the 70th anniversary of the founding of South Korea's first independent government.
"Now I am walking together boldly with the people down a path made possible entirely thanks to their support," he added.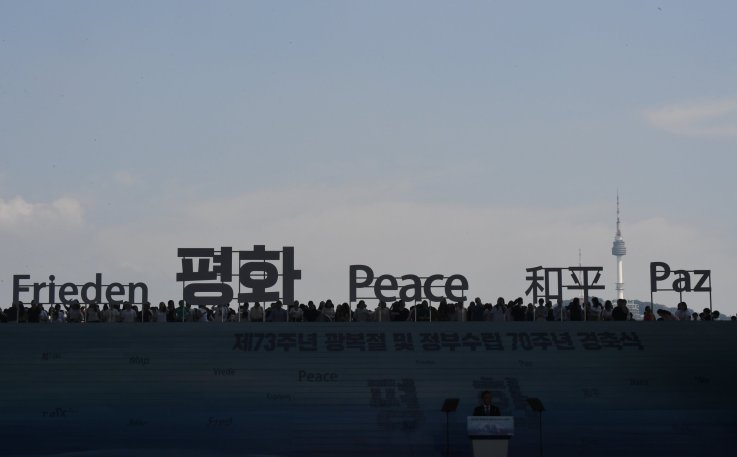 Since their war, U.S.-backed South Korea has been separated from its socialist neighbor by a heavily fortified demilitarized zone. After successive rounds of talks that began earlier this year, Moon met North Korean supreme leader Kim Jong Un for the first time in April at the Panmunjom truce village, located on the South Korean side of the border. The meeting produced a joint declaration in support of officially ending their war, as well as a second meeting in May and a third planned for next month.
It also produced a landmark meeting in June between Kim and President Donald Trump, who has attempted to negotiate North Korea's total denuclearization. Pyongyang has developed nuclear weapons and advanced ballistic missiles in order to deter a potential invasion, but the U.S. and other international powers have enacted increasingly strict sanctions against the nation in response. While the U.S. has yet to lift sanctions, Trump has said that Kim would abandon weapons of mass destruction in exchange for peace, and North Korea has dismantled sites associated with nuclear and missile testing.
During his speech Wednesday, Moon said he was building an "even greater alliance" with the U.S., while also building strategic ties with China, Russia and Japan. He announced plans to go through with a planned inter-Korean railway connection before the end of the year as well as "special unification economic zones" on the border. In what the South Korean leader called "an audacious step," he said he would declare an official end to the Korean War, a move North Korea has been beckoning South Korea and its U.S. ally to make in recent weeks.
"When peace is established on the Korean Peninsula, along with complete denuclearization, economic cooperation can be carried out in earnest. When the dreams of a peace-based economy and economic community are realized, our economy can take a new leap forward. The day when all Korean people are prosperous together will also be accelerated," Moon added.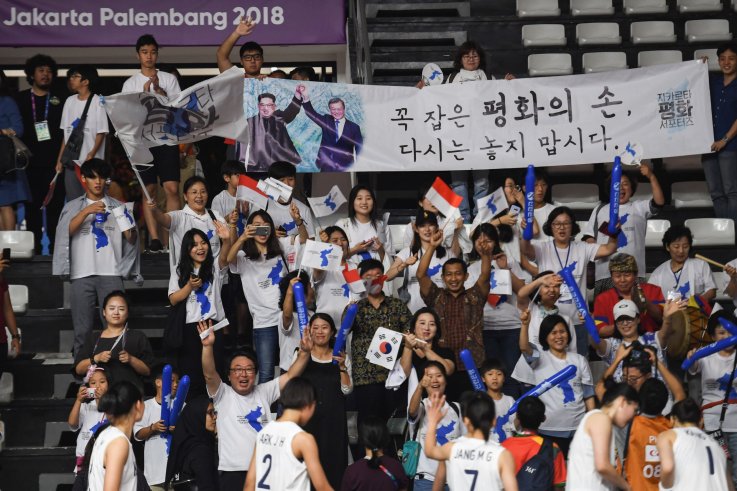 While hailing international support for the talks, Moon emphasized the inter-Korean nature of the peace process. Reclusive North Korea has warned against foreign influence on the ongoing dialogue and the official Korean Central News Agency published Wednesday what it said was a joint resolution adopted by the Meeting for Promoting National Reunification for Independence and Great Unity of the Nation. The resolution, which was reportedly agreed upon by "the north, south and overseas sides" reiterated support for the Panmunjom Declaration and other calls for reunification as well as "national independence."
"We will certainly ensure the great national gathering for reunification and open up a broad avenue to independent reunification under the banner of the historic Panmunjom declaration," the statement said. "The significant improvement of the north-south ties is guaranteed by the thorough-going implementation of the Panmunjom declaration and this must lead to the successful holding of the grand national gathering for reunification."
"The resolution said that the meeting for promoting national reunification for independence and great unity of the nation will further spur all the Koreans' movement for independent reunification against the U.S. to remove the sanctions and confrontation moves of anti-reunification forces at home and abroad and to open up the new era of independent reunification and peace and prosperity on this land," it added.
When Will Koreas Unite? South Promises 'True Liberation' Starting with One Economy, Peace and Railway | World