North Korea Goes 'Beyond' Keeping Promise to Donald Trump, Photos Show Launch Site Being Torn Down
North Korea appears to have begun dismantling a key satellite launch pad, exceeding its vow to tear down missile engine testing facilities in exchange for better relations with the U.S.
The Stimson Center's 38 North monitoring group published a report Tuesday, based on recent satellite imagery of the Sohae Satellite Launching Station in North Korea. Photos released last month suggested that North Korea had started to take apart a test stand used for testing ballistic missile engines, a move that was in line with an agreement reached between North Korea supreme leader Kim Jong Un and President Donald Trump following their June summit in Singapore. Additionally, new evidence suggested that the site's launch pad was also on its way out.
"While dismantlement of the vertical engine test stand represents a fulfillment of Chairman Kim's agreement with President Trump conveyed publicly during the post-Singapore Summit press conference, activity at the launch pad appears to go beyond that commitment," analyst Joseph Bermudez Jr. wrote in his report.
"These activities, however, must be viewed cautiously as 'first steps' since neither are presently permanent or irreversible," he added.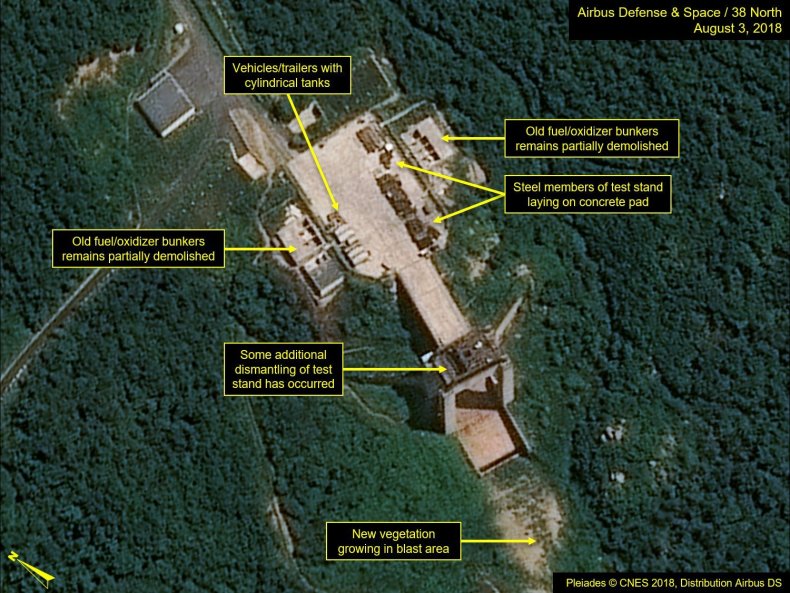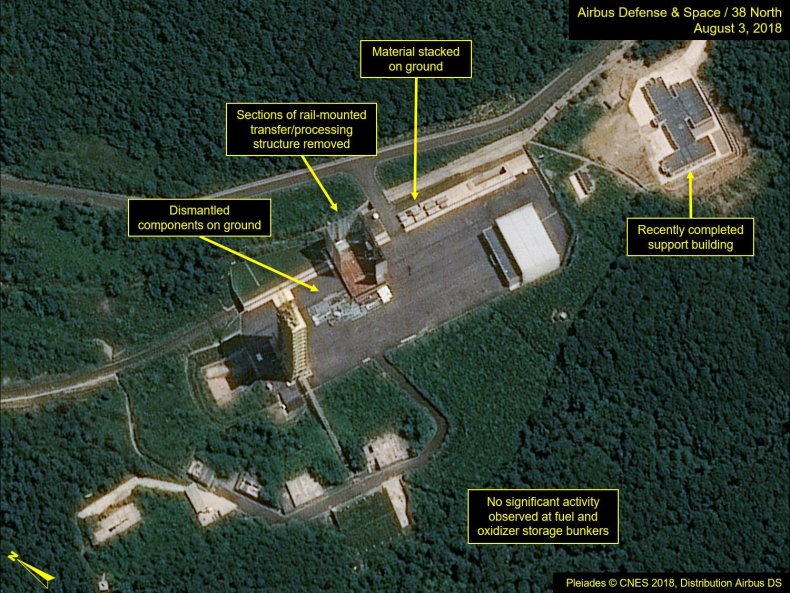 The Sohae Satellite Launching Station is located in Cholsan County of North Korea's North Pyongan Province and is believed to be the elusive, authoritarian country's top facility for sending vehicles into space. It has also been used to test the engines later employed for ballistic missiles. Using imagery dated from July 20 and 22, 38 North's prior report showed that the verticle engine testing stand's superstructure has been taken apart, the rail-mounted processing building had been partially disassembled and other structures were being dismantled.
In Tuesday's update, imagery from Friday showed progress at the engine testing site, including "minor additional dismantling of the steel base structure." At the launch pad, "minor additional work has been undertaken" in removing the rail-mounted processing/transfer structure. The number of vehicles at the administrative and security headquarters had doubled since the last report, signaling more work ahead.
Some key installations, like the fuel/oxidizer bunkers, main processing building, gantry tower and underground rail transfer point saw "no significant activity." With these structures and others—such as the test stand's concrete foundations, the launch pad's foundations and the exhaust deflector—remaining intact, the report warned that "while the launch pad activity seems to be related to dismantlement, as it stands right now, we cannot rule out the possibility that it could be the beginning of a project to modify the structure for other purposes."
North Korea has no known facilities that fulfill the role of the Sohae Satellite Launch Station, as the east coast Tonghae Satellite Launching Ground in North Hamgyong Province's Hwadae County has not demonstrated any operations since at least 2013. As of July 22 of this year, no change has been observed there, according to 38 North.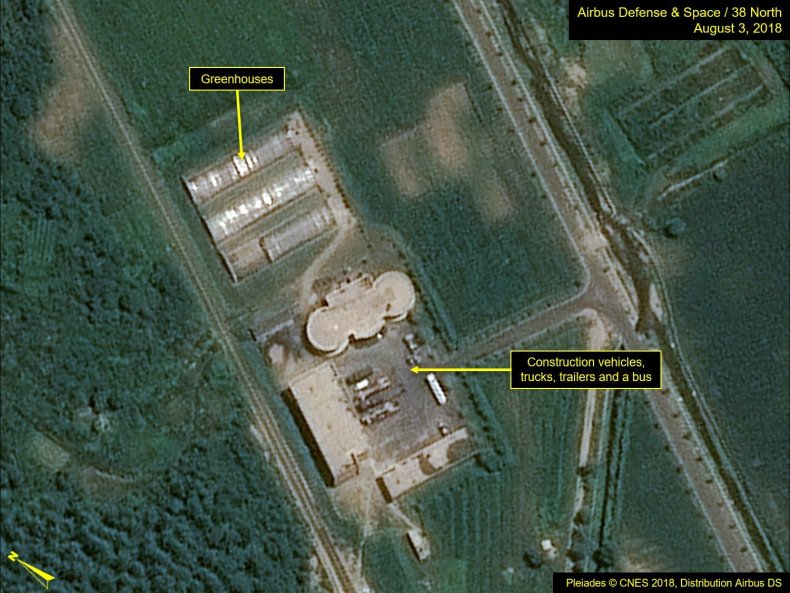 Following his meeting with Kim in June, Trump said North Korean officials were "destroying their engine site" and later that they had destroyed "four of their big test sites." While North Korea had razed the Punggye-ri Nuclear Test Site and the Iha-ri Driver Training and Test Facility in May, 38 North and others challenged Trump's claims as satellite imagery did not show "any activity associated with the dismantlement" at any of North Korea's six known launching and engine testing sites.
This changed when 38 North revealed for the first time last month the ongoing activity at the Sohae Satellite Launching Station. The report was welcomed by the Trump administration, and Secretary of State Mike Pompeo said it was "consistent" with what was agreed by the two leaders in Singapore. As the first North Korean ruler to ever meet a sitting U.S. president, Kim has undergone an unprecedented effort to normalize relations with his country's Cold War-era archfoe and has pledged to abandon nuclear weapons in exchange for an end to decades of hostility stemming from a 1950s war, in which the U.S. backed its South Korean ally and intense international sanctions.
Serious doubts exist, however, as to whether North Korea and the U.S. can truly find common ground. While North Korea has continued to meet with its South Korean counterparts and has exchanged pleasantries with Trump, reports from the United Nations and U.S. officials have emerged suggesting that Pyongyang may be continuing to build nuclear and ballistic weapons. Pompeo warned Friday that any ongoing work on these programs was inconsistent with the results of the Singapore summit and said that "we still have a ways to go to achieve the ultimate outcome we're looking for."