Despite Trump-Kim Summit, North Korea Is Developing Missiles Say U.S. Officials
With negotiations ongoing over its nuclear capabilities, North Korea appears to be continuing construction of a factory that produces intercontinental ballistic missiles, U.S. officials believe.
A White House source told Reuters that spy satellites and infrared imaging have detected a truck and covered trailer coming in and out of the facility at Sanumdong.
Meanwhile The Washington Post reported that the secretive state is building one or two liquid-fueled intercontinental missiles at the facility which is located on the outskirts of Pyongyang.
Jeffrey Lewis, a nuclear expert at the Middlebury Institute of International Studies (MIIS) told the Post that the facility is still active, saying: "We see shipping containers and vehicles coming and going. This is a facility where they build ICBMs and space-launch vehicles."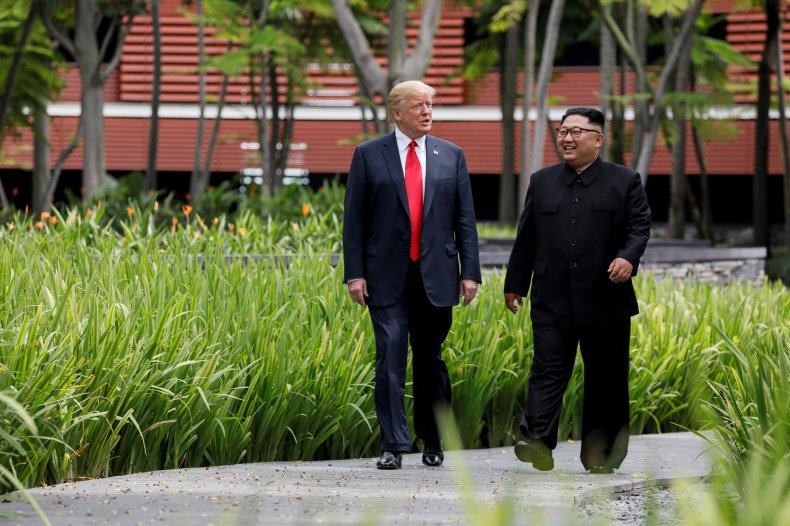 In the aftermath of the Singapore summit between U.S. President Donald Trump and North Korean dictator Kim Jong Un, there has been skepticism in some quarters over the commitment of the hermit nation to denuclearize.
After six nuclear tests, Trump said that Kim had agreed to move on a path to denuclearization although there has been no clarification on what weapons Pyongyang would give up and how this would be verified.
Last week, it was reported that North Korea had started dismantling part of a rocket site but this came amid reports that it was secretly continuing its weapons program.
Tom Collina, director of policy at the Washington-based security foundation Ploughshares Fund told Newsweek that the process of denuclearisation was in its early stages and that North Korea would be unlikely to stop its programs until there was a concrete agreement.
"We don't have a deal yet. Trump and Kim left Singapore with a broad statement of principles but it is not a deal that is enforceable and verifiable and until we get that, we are only going to have confidence-building measures.
"There is a long history of both sides of not honoring their agreements so there is a lot of distrust. Even if the north expands something, they haven't agreed not to. If information does come out that the north is expanding its facility, they have every right to do so.
On Tuesday, military leaders from North and South Korea held talks in the border village of Panmunjom in the demilitarized zone (DMZ). Kim Do-gyun, the South's chief negotiator said he would try to install "substantive" measures to ease tensions, Reuters reported.
Last week, Seoul said it wanted to withdraw its troops and equipment from the DMZ which is seen as a move to integrate the countries.
Collina said: "We need to stop thinking that denuclearizing is the only goal from our perspective because there are intermediate goals along the way that are valuable, such as capping the program and reducing the weapons, even if we never get to zero.
"I think zero is possible, but this is very far off because the only thing that gives the North Koreans confidence they can go to zero is their belief they won't be attacked."