Is Donald Trump Right About North Korea? Photos Show Kim Jong Un Really Is Destroying Key Launch Site
Recent satellite imagery has shown that North Korea appears to be going through with the destruction of a major launch and rocket engine testing site, fulfilling a vow made to President Donald Trump during last month's summit with Kim Jong Un.
North Korea monitoring project 38 North, an associate of the Stimson Institute, published Monday a series of photos that leading analyst Joseph Bermudez Jr. said suggested the ongoing dismantling of the Sohae Satellite Launching Station, a vital part of North Korea's ballistic missile program.
Kim has pledged to shutter his nuclear and ballistic missile programs in exchange for better relations with the West and a reprieve from mounting U.S. and international sanctions against his country. But many have remained skeptical of whether he will abandon the weapons he has often portrayed as crucial to his survival.
"In an important first step towards fulfilling a commitment made by Kim Jong Un at the June 12 Singapore Summit, new commercial satellite imagery of the Sohae Satellite Launching Station (North Korea's main satellite launch facility since 2012) indicates that the North has begun dismantling key facilities," Bermudez's report read. "Most notably, these include the rail-mounted processing building—where space launch vehicles are assembled before moving them to the launch pad—and the nearby rocket engine test stand used to develop liquid-fuel engines for ballistic missiles and space launch vehicles."
The report added, "Since these facilities are believed to have played an important role in the development of technologies for the North's intercontinental ballistic missile program, these efforts represent a significant confidence-building measure on the part of North Korea."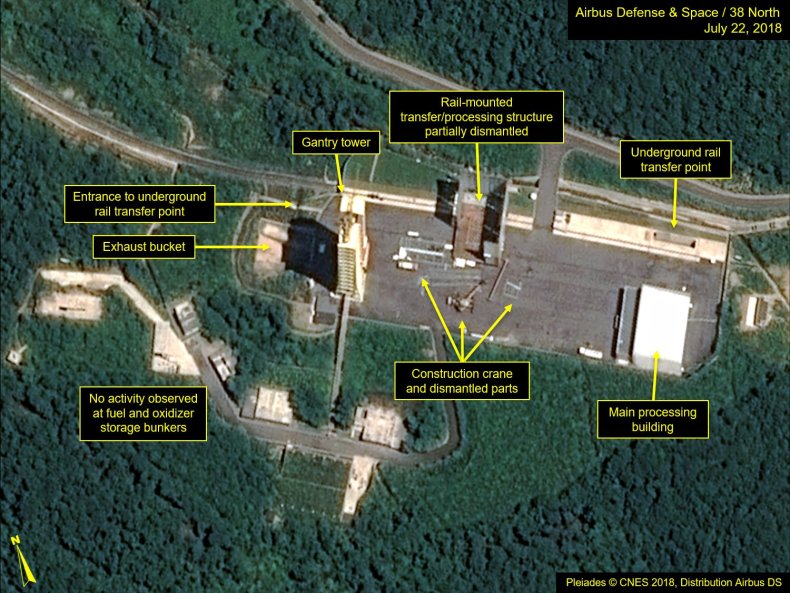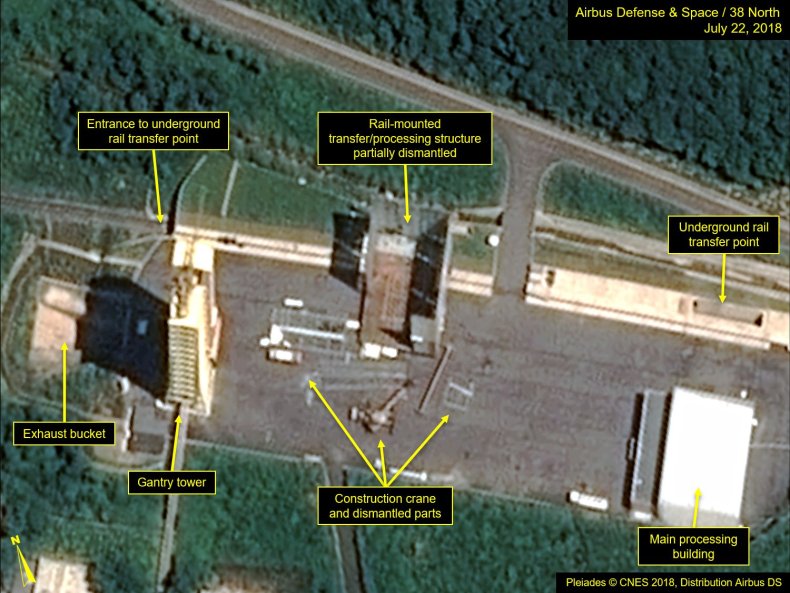 Commercial satellite images from July 20 appeared to show the facility's launch pad being taken apart, with a rail-mounted processing/transfer structure being moved to the center of the pad—a rare position—and the presence of a large construction crane and other vehicles around the site. Two days later, the crane and vehicles are still there, and "considerable progress has been made" in taking apart the rail-mounted processing/transfer structure, with one corner completely gone and various pieces lying around the pad.
Images from both days show a passage labeled as the underground rail transfer point that was exposed due to the movement of the rail-mounted processing and transfer structure above, while "the two fuel/oxidizer bunkers, main processing building and gantry tower remain untouched."
Related: North Korea will release prisoners 'convicted of crimes against the country and people'
At the nearby vertical engine test stand, last Friday's imagery also shows a crane and other vehicles, and a building labeled as the rail-mounted environmental shelter has been disassembled. The report noted that this shelter had not been moved since December. The older fuel/oxidizer bunkers were seemingly in the process of being taken down, and the upper steel framework of the test stand itself was also being dismantled.
By Sunday, there were fewer vehicles at the site, but the test stand's superstructure had been completely taken apart, and its base was being stripped down as well. The report noted that no work appears to have been done on two newer fuel/oxidizer bunkers, a vehicle garage and the test stand's concrete base, and that the project was likely begun within the past two weeks.
Two previous 38 North reports showed no progress being made at the site nor any of five others, despite Trump claiming North Korea was "destroying their engine site." Trump repeated this claim later that month, adding that North Korea had destroyed "four of their big test sites" overall, potentially including the destruction of the Punggye-ri Nuclear Test Site and the Iha-ri Driver Training and Test Facility north of the city of Kusong.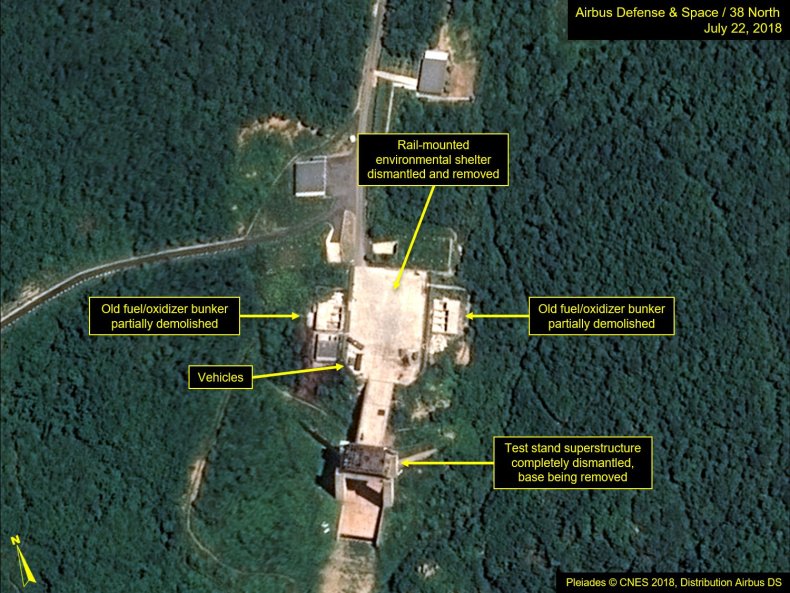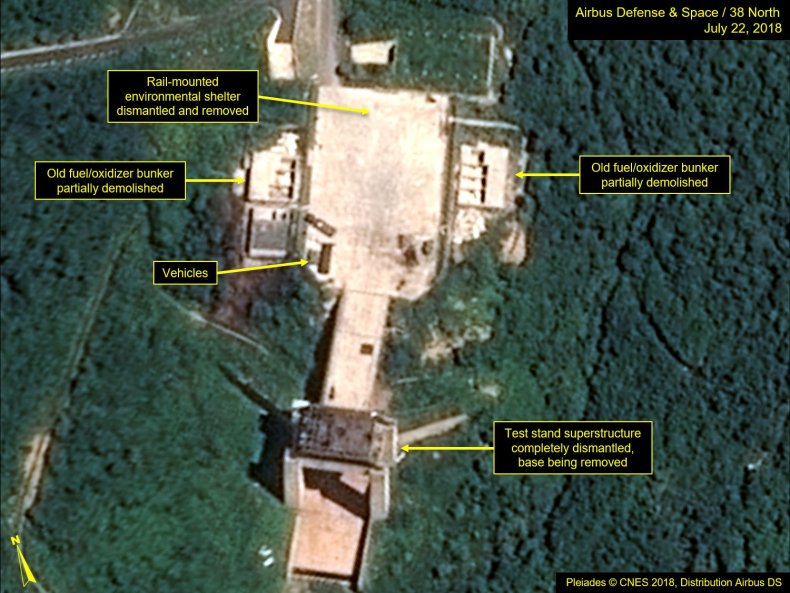 But suspicions were further raised as to North Korea's commitment when analyses showed potential improvements being made to the Yongbyon Nuclear Scientific Research Center in Nyongbyon County, North Pyongan province, as well as the Chemical Material Institute, which is involved in producing certain parts used for ballistic missile technology, in Hamhung in South Hamgyong.
Nevertheless, Trump has remained adamant that Kim would make good on his promise, tweeting earlier this month, "I have confidence that Kim Jong Un will honor the contract we signed &, even more importantly, our handshake. We agreed to the denuclearization of North Korea." Days later, Trump released a letter, sent to him by the North Korean ruler, praising their ongoing efforts to achieve peace.
The latest reports appeared to support the Trump administration's view that North Korea is, in fact, fulfilling its commitments, for which no concrete timetable has been established.
Two days after his meeting with Russian President Vladimir Putin in Helsinki, Finland, Trump tweeted Wednesday that "Russia has agreed to help with North Korea, where relationships with us are very good and the process is moving along. There is no rush, the sanctions remain! Big benefits and exciting future for North Korea at end of process!"