North Korea's Kim Jong Un Praises 'Your Excellency' Donald Trump in Letter, Does Not Mention Denuclearization
President Donald Trump has published a letter sent to him by North Korean supreme leader Kim Jong Un, in which the young ruler praises his U.S. counterpart but does not mention any commitments to abandon nuclear weapons.
Trump included the letter in a tweet Thursday, writing: "A very nice note from Chairman Kim of North Korea. Great progress being made!" The letter was dated July 6, 2018, and was addressed to "H.E. Donald J. Trump," in what appears to be the latest sign that the two men were getting along after making history at the first-ever meeting between a sitting U.S. president and North Korean supreme leader in Singapore last month.
Related: Trump tweets again, giving North Korea chance to take advantage of U.S.-China divide
The meeting served as the highest-level platform for ongoing, unprecedented peace talks between the Cold War–era foes. As part of their agreement, Kim pledged to abandon the nuclear weapons his country developed to deter a potential invasion, while Trump has said he would guarantee Kim's security, ultimately lift sanctions and potentially establish an official peace in a decades-long conflict on the Korean Peninsula.
The English translation of Kim's letter reads as follows:
"Your Excellency Mr. President,
"The significant first meeting with Your Excellency and the joint statement that we signed together in Singapore 24 days ago was indeed the start of a meaningful journey.
"I deeply appreciate the energetic and extraordinary efforts made by Your Excellency Mr. President for the improvement of relations between the two countries and the faithful implementation of the joint statement.
"I firmly believe that the strong will, sincere efforts and unique approach of myself and Your Excellency Mr. President aimed at opening up a new future between the DPRK and the U.S. will surely come to fruition.
"Wishing that the invariable trust and confidence in Your Excellency Mr. President will be further strengthened in the future process of taking practical actions, I extend my conviction that the epochal progress in promoting the DPRK-U.S. relations will bring our next meeting forward."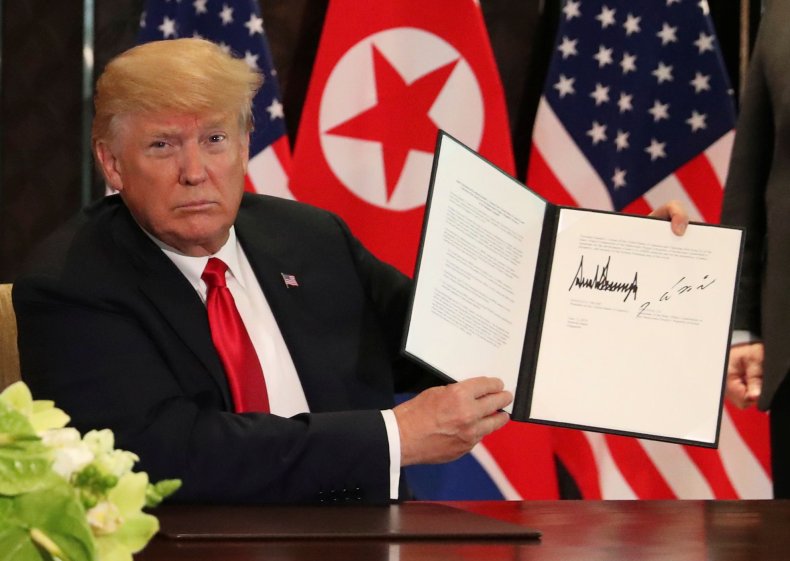 Trump and his officials have continued to praise Kim in the weeks following the landmark summit and just Monday the president tweeted "I have confidence that Kim Jong Un will honor the contract we signed &, even more importantly, our handshake. We agreed to the denuclearization of North Korea." He went on to criticize North Korea's top ally China over an ongoing trade dispute between the U.S. and other major world powers.
Despite the optimism in the White House, however, reports have suggested that North Korea has done little on the ground to dismantle nuclear and missile facilities and may even be improving on a nuclear facility. Kim has already demolished a key missile test site and the country's only known nuclear testing site. Other progress reported by Trump remains to be verified.
Kim announced in April a freeze to all nuclear and longer-range missile tests and has not launched a missile since November and has not detonated a nuclear weapon since September. Trump has also announced an indefinite suspension of some joint U.S-South Korea military exercises, a move he said would improve talks with North Korea and save money.