Trump Saves U.S. $14 Million By Canceling Korea War Games. That's How Much We Spend Every Day Fighting ISIS
President Donald Trump has saved about one day's worth of the U.S.-led coalition's battle against the Islamic State militant group (ISIS) by canceling an upcoming U.S.–South Korea military exercise he has criticized as being too costly.
In an estimate confirmed Monday by spokesperson Colonel Robert Manning III and relayed to Newsweek via phone call, the Pentagon has said that Trump's decision last month to suspend the Freedom Guardian war games would save about $14 million. Trump called the drills "provocative" after a historic meeting with North Korean supreme leader Kim Jong Un last month and argued the U.S. would "save a fortune by not doing war games" in a tweet.
As of February, the Pentagon estimated that same amount to be the daily cost of Operation Inherent Resolve, the U.S.-led battle against ISIS in Iraq and Syria, according to Reuter's reporter David Alexander. Overall, the U.S. has reportedly spent about $18.2 billion since beginning the anti-ISIS mission in 2014 and—alongside a rival campaign backed by Russia, Iran and Syria—has mostly defeated the jihadis for the high price.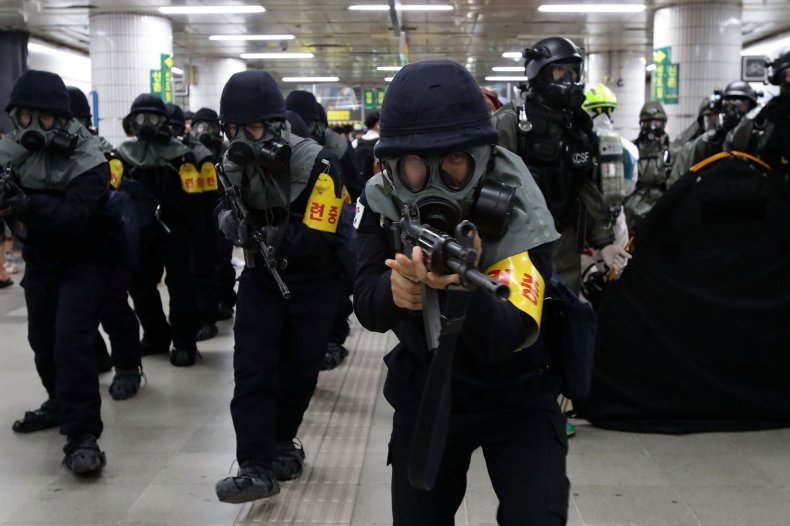 The $14 million figure is about .002 percent of the Pentagon's $700 billion budget and also about the same cost of a training center, or enhanced gymnasium, set to be built at Niagara Falls Air Reserve Station in New York, according to Democratic Senators Charles E. Schumer and Kirsten Gillibrand of New York, as reported by The Buffalo News.
Trump has often complained about frivolous government spending, proposing and enacting major cuts to nearly every government department. He has, however, sought to boost U.S. military spending in support of "an extremely aggressive defense policy." Among the country's targeted in Trump's "America First" National Defense Strategy in December were China, Russia, Iran and North Korea.
Related: North Korea journalists are a lot less angry at the U.S. than they used to be, report shows
Since the beginning of the new year, North Korea has cooled its anti-U.S. rhetoric and re-established rare diplomatic ties to Seoul. The dialogue led to Kim inviting Trump for the first-ever meeting between a sitting U.S. president and a North Korean leader. Both parties hailed the Singapore summit as a success and vowed to continue taking steps to end their Cold War–era rivalry, which stems from a 1950s war between communist-backed North Korea and U.S.-backed South Korea.
Pyongyang has said it would be willing to abandon the nuclear weapons it has developed to deter a potential invasion if the U.S. could end its "hostile policy" toward it. Kim has already demolished his only known nuclear testing site and a missile site, while some reports have suggested that the destruction of other key locations may not be going as quickly as anticipated.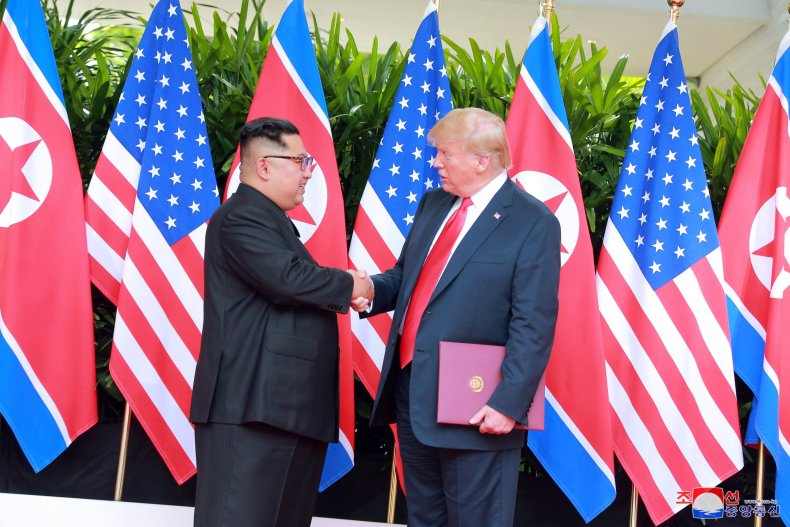 After visiting North Korea a third time, Secretary of State Mike Pompeo downplayed these reports and maintained that Kim was "equally committed" to denuclearization. He called the most recent round of talks "productive," while a North Korean Foreign Ministry spokesperson called them "regrettable" and blasted the U.S.'s "unilateral and gangster-like demand for denuclearization."
Pompeo dismissed this too on Sunday, again affirming North Korea's commitment and saying, "If those requests were gangster-like, then the world is a gangster because there was a unanimous decision at the U.N. Security Council." Pompeo was referring to the international sanctions against North Korea due to its nuclear weapons program.
Trump also defended Kim the following day, tweeting: "I have confidence that Kim Jong Un will honor the contract we signed &, even more importantly, our handshake. We agreed to the denuclearization of North Korea. China, on the other hand, may be exerting negative pressure on a deal because of our posture on Chinese Trade-Hope Not!"
This article has been updated to reflect that $14 million is .002 percent of the Pentagon's $700 billion budget.