Trump Tweets Again, Giving North Korea Chance to Take Advantage of U.S.-China Divide
President Donald Trump took to social media Monday to defend North Korean supreme leader Kim Jong Un over concerns that he was not living up to his end of a denuclearization deal struck by the two men last month. In doing so, he also criticized China and gave what experts called a potential advantage to Pyongyang, which has for decades played off the rivalries of major powers.
Despite the North Korean Foreign Ministry's attack on "gangster-like" demands— following Secretary of State Mike Pompeo's recent visit to Pyongyang and reports suggesting Kim may be continuing to improve a key nuclear research facility—Trump tweeted, "I have confidence that Kim Jong Un will honor the contract we signed &, even more importantly, our handshake. We agreed to the denuclearization of North Korea."
He then attacked China over a separate trade dispute, one in which Canada, the EU, Mexico, India and Russia have also sided against the U.S. Trump suggested, "China, on the other hand, may be exerting negative pressure on a deal because of our posture on Chinese Trade-Hope Not!"
Joel Wit, co-founder of North Korea monitoring project 38 North described Trump's social media strategy as "not good."
"President Trump is clearly telegraphing to the North Koreans that there is distance between China and the United States, that there's running room between the two of us. And the North Koreans are going to use that to their advantage. That's just predictable. They're going to constantly play off the U.S. against China, and so that doesn't strengthen our position; it weakens our position with the North Koreans," Wit said during a 38 North press call Monday.
Trump's nontraditional and unpredictable Twitter diplomacy led to some of the more tense moments of the U.S.-North Korea relationship last year. Trump has been chiding Kim on Twitter for years, but the real estate tycoon-turned-politician's words took on a whole new meaning after he secured the 2016 presidential election. Shortly after, he vowed to prevent North Korea from launching intercontinental ballistic missiles or conducting nuclear tests.
Related: Trump Saves U.S. $14 Million By Canceling Korea War Games. That's How Much We Spend Every Day Fighting ISIS
As the U.S.-North feud heated up throughout 2017, North Korea did both of those things. The rivalry appeared to come to a head, as Trump responded in January to Kim's New Year's threat about North Korea's "nuclear button" by tweeting that he also has "a Nuclear Button, but it is a much bigger & more powerful one than his, and my Button works!"
In the very same speech where Kim brought up the button, he also first discussed the possibility of peace talks with South Korea. The offer spurred a dialogue that eventually blossomed into a comprehensive, rare set of high-level talks during which Kim invited Trump to meet face to face. Since he accepted, Trump has mostly praised the young ruler, who then made another surprise move in the name of international diplomacy—he visited China.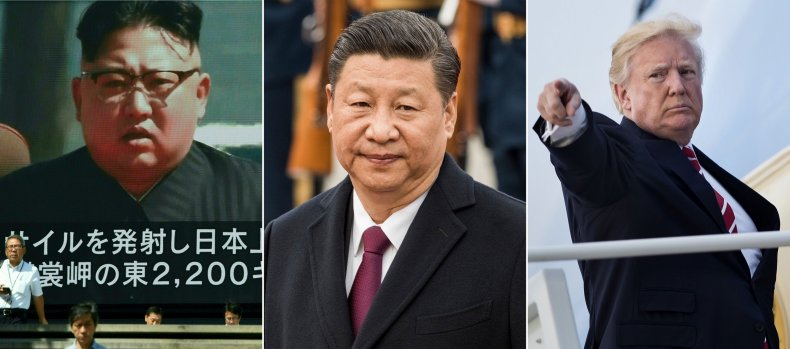 Unlike his father before him, Kim has been wary of Chinese influence in his country and went more than six years without visiting North Korea's neighbor and traditional ally. Experts have described Kim's visit, which came weeks after Trump said he would become the first sitting U.S. president to meet a North Korean supreme leader, as a sign to Chinese President Xi Jinping that Kim was capable of throwing his weight around—not only with nuclear weapons and missiles, but as a statesman.
The strategy dates back to his grandfather, who first led the country and played both sides of the Sino-Soviet split between the world's biggest communist powers that supported North Korea during a brutal 1950s war with U.S.-backed South Korea but later found themselves at odds. With the Cold War long over and the inter-Koren conflict still very much alive, the youngest Kim may now capitalize on an international dispute that for once has left the U.S., not North Korea, isolated.
Related: Trump Cites Iran Media Story About Obama That Fox News Commentator Calls 'Made-Up BS'
In a bid to protect U.S. jobs and "national security," Trump declared in March a 25 percent tariff on aluminum imports and 10 percent on steel. He denied exemptions for U.S. allies, who have retaliated with their own duties, and has doubled down on China in particular. Trump has accused Beijing of unfair trade practices and on Friday unleashed a 25 percent duty on $34 million worth of Chinese goods. The East Asian country responded, setting off what it called the "biggest trade war in economic history."
Despite this, China has so far supported the U.S.-North Korea talks, making it unclear why Trump accused China of trying to sabotage the denuclearization deal. Kim has met Xi two more times since his debut foreign visit in March. Unlike his U.S. counterpart, Xi has been reserved in his criticism of Trump, allowing himself to distance himself and embrace the Republican leader when necessary.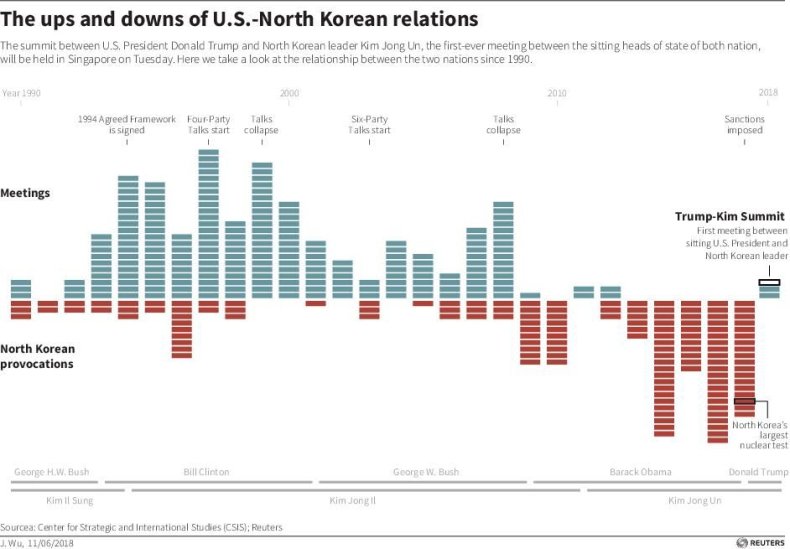 Robert L. Gallucci, a scholar and veteran U.S. diplomat, led Washington's direct talks with Pyongyang during a nuclear crisis in the 1990s. During Monday's call, he said the president's style may end up doing more harm than good, and the majority of Americans appear to agree. In a poll released Friday by YouGov, 53 percent of those surveyed described Trump's Twitter use as "inappropriate."
"I have an unusual and creative thought, and that is that it may be, it just may be, that the president's tweeting on the subject of war and peace with North Korea isn't the most useful thing in the world," Gallucci said during the 38 North call.
"I really don't think they're helpful. As this process proceeds, it's better left to a senior, experienced and professional [person] to lead these talks," he added.