Why Did Kim Jong Un Go to China? This Is North Korea's Plan to 'Divide and Conquer' U.S. and Its Top Rival in Asia
North Korean supreme leader Kim Jong Un secretly embarked Sunday on a trip to China with state media in both countries later confirming the four-day visit on Wednesday. Experts say Kim's debut foreign visit was not merely intended to improve chilly relations with his country's traditional ally, as flowery official media descriptions suggested, but a calculated move to pit the U.S. and China against one another.
In a country ruled by one of the world's most rigid systems, Kim Jong Un has already proven himself a man of firsts. Amid a lasting Cold War–era feud between the U.S. and North Korea, the young ruler inherited power after the death of his father, in 2011, and has since then managed to oversee the successful development of intercontinental ballistic missiles and a hydrogen bomb, claiming to have completed his country's nuclear deterrent against a potential U.S. invasion.
Related: What does North Korea's Kim Jong Un want from Trump? Three steps the U.S. can take to solve nuclear crisis
Meanwhile, Kim continued his father and grandfather's war of words against the U.S., resisting international sanctions and threats of military action. While his decision to de-escalate this competition to pursue a diplomatic overture to rival U.S.-backed South Korea was by no means North Korea's first, his direct appeal to President Donald Trump made history.
With a May deadline set for the first-ever meeting between sitting U.S. and North Korean leaders, Kim has been validated in a way none of his predecessors were, compelling China to invite the millennial leader as not to be sidelined from upcoming talks that could vastly affect the dynamics of the region.
"China felt excluded. China felt it had to do something to protect its national interests," Yun Sun, China program director at the Washington, D.C.–based Stimson Center, told Newsweek.
"North Korea has created a power status for itself by manipulating the U.S. and China against each other," she added.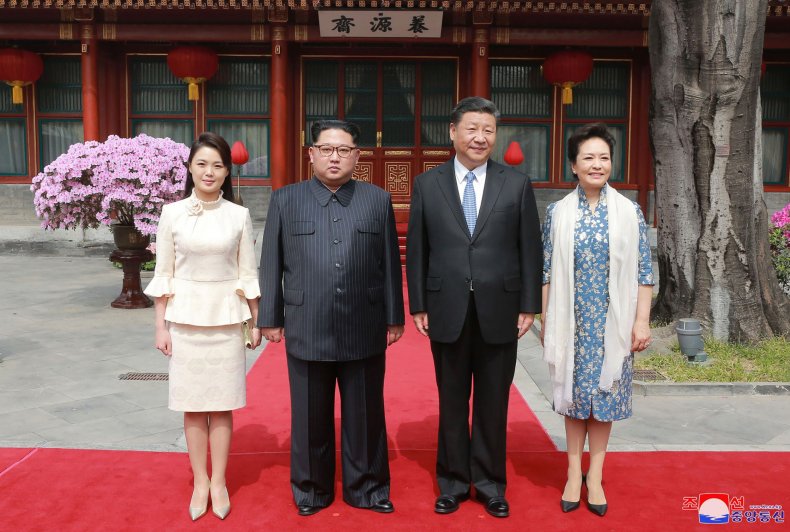 Chinese President Xi Jinping's decision to invite Kim Jong Un and Kim Jong Un's decision to accept was the culmination of a years-long deterioration in relations between two neighbors that have usually enjoyed strong ties. After the Soviet Union and the U.S. split the Korean Peninsula in the aftermath of World War II, the newly established People's Republic of China supported fellow communist North Korean forces in a war with U.S.-backed South Korea in the early 1950s.
The war spawned a deep North Korean resentment for the U.S. and, as the historic communist alliance of China and the Soviet Union dissolved in the 1960s, North Korean founder Kim Il Sung, grandfather of the current leader, made two important decisions to ensure his government's survival. First, he began to pursue his own nuclear program, independent of Beijing and Moscow and, secondly, he learned to play the two communist powers against one another in order to gain favor with both.
Following Kim Il Sung's death in 1994, his son Kim Jong Il took over and continued to develop North Korea's nuclear program. As six-party talks with the U.S., South Korea, China, Japan and Russia fell apart, North Korea conducted its first nuclear test in 2006. Five years later, Kim Jong Un took the helm in December 2011, less than a month shy of his 28th birthday, making him the world's youngest leader at the time.
Nearly two years to the day, North Korea's government-controlled media announced that Kim Jong Un's uncle, Jang Song Thaek, had been executed in December 2013. Jang was an elite military official close to Kim Jong Un's father as well as to China, as part of purges that served to eliminate reservations about young Kim Jong Un's suitability as supreme leader, and as a message to Beijing.
Yun, a contributor to the 38 North project of U.S.-Korea Institute at Johns Hopkins University's School of Advanced International Studies, explained that Kim and Xi, who officially became president in March 2013, bickered over who would visit who first. Xi, being the elder of the two, expected Kim Jong Un to come, but he resisted for six years as relations continued to fall out over North Korea's increasingly advanced ballistic missile and nuclear weapons program.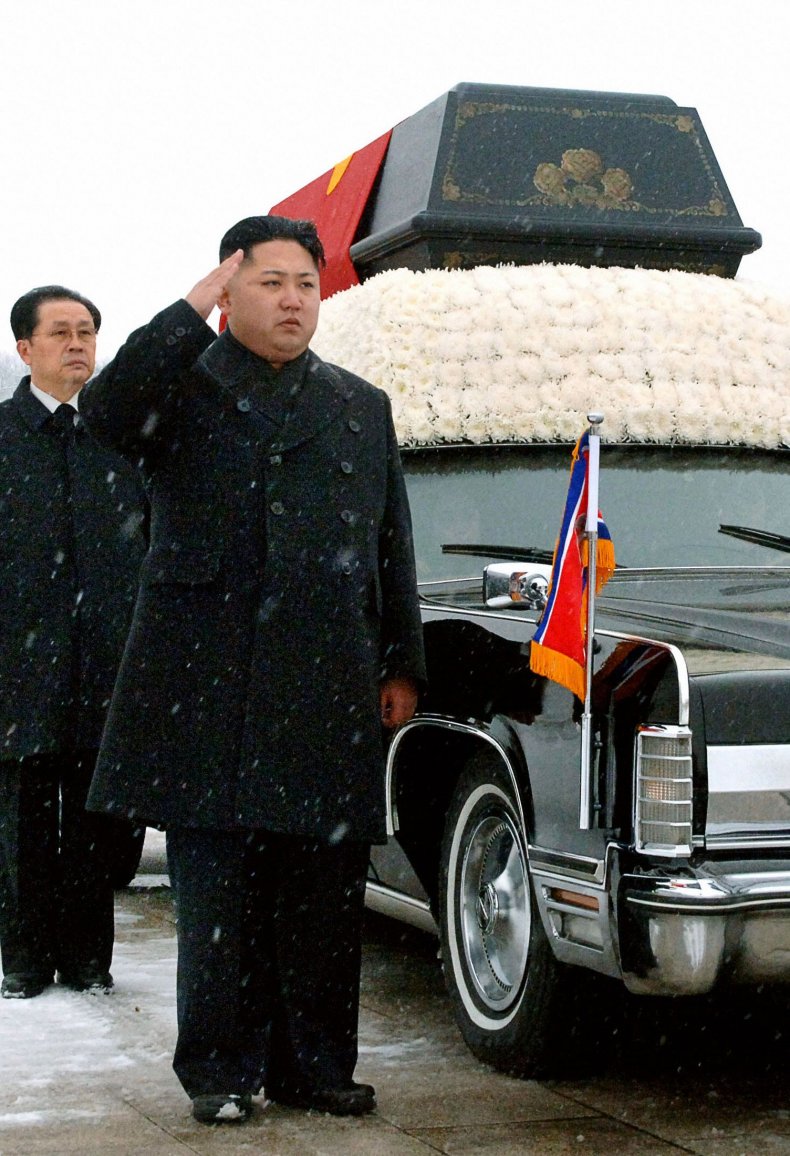 China criticized Trump's harsh rhetoric against North Korea, but joined his efforts to induce "maximum pressure" on Kim Jong Un. After South Korean officials announced that the Republican leader would meet Kim Jong Un on March 8, Yun said it also represented a win for Kim Jong Un's feud with China.
"Now, from Kim Jong Un's perspective, he is going to Beijing, but it is based on a strategic victory," Yun told Newsweek.
In following his military accomplishments of 2017 with diplomatic breakthroughs in 2018, Jean H. Lee, of the Hyundai Motor–Korea Foundation Center for Korean History and Public Policy at the Wilson Center, said Kim Jong Un "feels emboldened to force the region's leaders to treat him as an equal, not as the young son of a dictator who inherited power."
"We are watching the young North Korean leader Kim Jong Un step out onto the world stage in dramatic fashion. While we had long expected Kim to pay a courtesy call to Beijing early in his leadership, he held off for six years until he felt he was in a position of power to meet with the president of China as an equal and not as a young man who inherited power after just a few years of grooming," Lee said in a statement sent to Newsweek.
"We're seeing a carefully crafted North Korean strategy on diplomacy unfold on the world stage, starting with Beijing," Lee added. "North Korea is an adept player of the game of 'divide and conquer.' [Kim] has been very savvy at giving each of the key players in the region—South Korea, the United States and now China—something special as part of this diplomatic push."
Trump, for his part, took to social media Wednesday, tweeting that "there is a good chance that Kim Jong Un will do what is right for his people and for humanity. Looking forward to our meeting!" In a follow-up tweet, Trump said he received a "message last night from XI JINPING of China that his meeting with KIM JONG UN went very well and that KIM looks forward to his meeting with me. In the meantime, and unfortunately, maximum sanctions and pressure must be maintained at all cost!"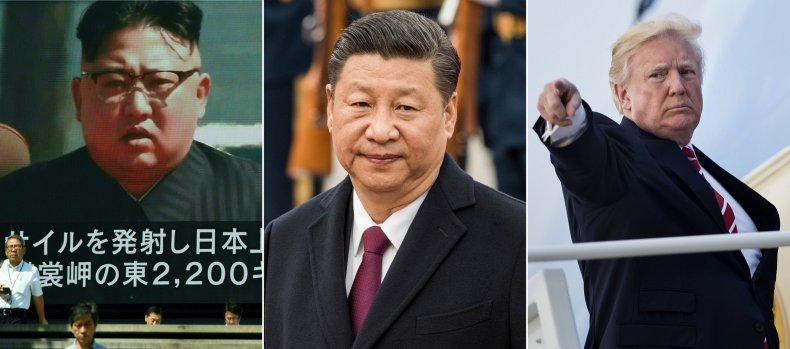 For those closely watching statements carried by North Korea's tightly regulated media, the country has long maintained that its weapons were explicitly for defense purposes and has even hinted at a willingness to give them up—at a cost. Other 38 North contributors have evaluated this price as including at least the normalization of U.S.–North Korea relations, a lifting of economic sanctions and a peace treaty for the mid-century Korean War that technically never ended.
Kim Jong Un's risky game of international chess, however, may see nuclear weapons take a back seat to a larger rivalry between the U.S. and China. The young leader charmed audiences at home and abroad by being the first North Korean head to introduce his wife to the public and sending his increasingly influential sister as the first member of the Kim dynasty to cross into South Korea. Now he would need to carefully balance his appeals to two of the world's most powerful men, whose own differences could play out in his favor.
"Will the U.S. and China see each other as a bigger problem? Will they see excluding each other as a bigger priority? That gives Washington and Beijing incentive to play nice with North Korea," Yun said.
"I sometimes feel that denuclearization is second to geopolitical competition as priority," she added.