North Korea Tells Trump That Kim Jong Un Will Keep His Nuclear Weapons and U.S. Can Blame Obama
North Korea blasted President Donald Trump's recent "America First" national security strategy, insisting supreme leader Kim Jong Un would keep his nuclear weapons and refuse to bow to U.S. pressure.
North Korea's Foreign Ministry issued Friday a scathing condemnation of Trump's debut strategy, saying it was only the latest of a number of U.S. failures to engage the reclusive, Communist state that has amassed a powerful nuclear and ballistic weapons arsenal in defiance of U.N. sanctions. The ministry said that despite engaging in multilateral talks with the U.S. and other countries for two decades, "the previous U.S. administrations threw all the agreements reached with us into a garbage can like waste paper," assuming the country would collapse. Despite Trump's vow to take a tougher stance than his predecessors, the ministry said "there is no change at all in the strategic goal of the U.S. to achieve hegemony over the world by means of force."
Related: North Korea Says American Politicians Want 'Racial Extinction' as It Denies Developing Chemical and Biological Weapons
"We chose the road of possessing the nuclear weapons to defend our sovereignty and rights to existence and development in the face of ever increased hostile moves and nuclear threats and blackmail of the U.S. We are convinced that the only way to ensuring a lasting peace on the Korean Peninsula is to have the deterrence that ensures a practical balance of force with the U.S.," the ministry wrote, according to the official Korean Central News Agency.
"The international society should keep vigilance against the maneuvers of the gang of Trump to invade and control the DPRK with force by igniting a nuclear war at any cost in the Korean peninsula and clearly see through the ulterior motive behind its repeated talk of dialogue, designed to cover up its evil intention and mock the world," it added, using the acronym for the country's official name, the Democratic People's Republic of Korea.
"The gang of Trump likes to pose itself as if its country is a world superpower. However, the U.S. is nothing but a corpse going to the grave."
The U.S. and North Korea's history began in the aftermath of World War II when the Korean Peninsula was seized from the Japanese Empire and divided between the Soviet Union and the U.S. Tensions grew between the two satellite states, and in 1950, a bloody, three-year war broke out between the Soviet-backed North, with heavy Chinese support, and the South, supported by the U.S. and the U.N. While an armistice was reached in 1953, with little territorial change, the two rivals technically remain at war today.
Since then, there have been no formal relations between Washington and Pyongyang, which found itself firmly on the Communist side of the Cold War. After the collapse of the Soviet Union in the early 1990s, however, then-President Bill Clinton demanded that North Korea allow entry to inspectors of the U.N.'s International Atomic Energy Agency, who were refused in 1994, a violation of the deal that halted the Korean War. While carefully balancing escalation and diplomacy, Clinton managed to form the Agreed Framework between the pair, giving heavy oil and light-water reactors to North Korea in exchange for a nuclear freeze, and the Four-Party Talks involving China and South Korea in 1996.
Diplomacy persisted under the administration of former President George W. Bush, despite him placing North Korea, along with Iraq and Iran, on his "Axis of Evil." Allegations that North Korea had secretly continued enriching uranium led nations supporting the Clinton-era initiative to supply heavy oil to North Korea to cease shipments in October 2002. In response, North Korea withdrew from the Non-Proliferation Treaty, expelling international monitors and kick-starting nuclear production in early 2003. Later that year, Bush brought North Korea to the table again, along with China, Russia, Japan and South Korea, for the Six-Party Talks.
Those talks were the last major dialogue between the U.S. and North Korea to date, and although North Korea committed in 2005 to "abandoning all nuclear weapons and existing nuclear programs," negotiations began to unravel with dueling accusations of violations to the agreement. North Korea then tested its first nuclear weapon in 2006. In an effort to re-start talks, the U.S. agreed to remove North Korea from the State Sponsors of Terrorism list later that year (Trump returned North Korea to the list last month), and in 2008, North Korea destroyed one of its cooling towers, used for nuclear production.
North Korea pulled out of the Six-Party Talks months into the administration of former President Barack Obama in April 2009, responding to the U.N.'s condemnation of a failed satellite launch. Obama took a hard-line stance, increasing sanctions and ordering cyberattacks against North Korea. When the youngest Kim inherited control of the country from his father in 2011, the millennial leader accelerated military and scientific accomplishments, with 2017 being his most successful year to date.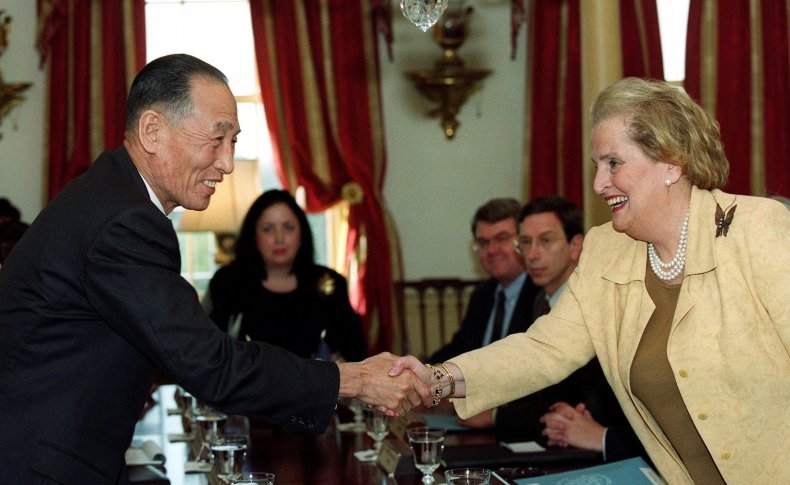 Despite Trump promising to prevent any North Korea intercontinental ballistic missile (ICBM) launches or nuclear weapon tests, Kim has overseen both within the past few months. Trump slapped the reclusive, militarized state with even more intense sanctions, but North Korea still accomplished its goal of testing a hydrogen bomb more powerful than all five of its previous nuclear tests combined and firing its Hwasong-15 ICBM, which experts say could strike any target in the U.S.
Trump's recent National Security Strategy branded North Korea a "rogue regime" and accused it of developing chemical and biological weapons, something North Korea has denied. Not only has Trump's strategy irked North Korea, however, it also has fueled tensions with China and Russia. Both China and Russia have censured neighboring North Korea for its nuclear bomb and ballistic missile tests, but also have warned Trump not to escalate the situation further with heightened U.S. military presence and activity in Asia-Pacific, where all three world powers maintain overlapping interests.