Trump Creating a New Cold War? North Korea, Russia, Syria and Cuba Now Working Together Against the U.S.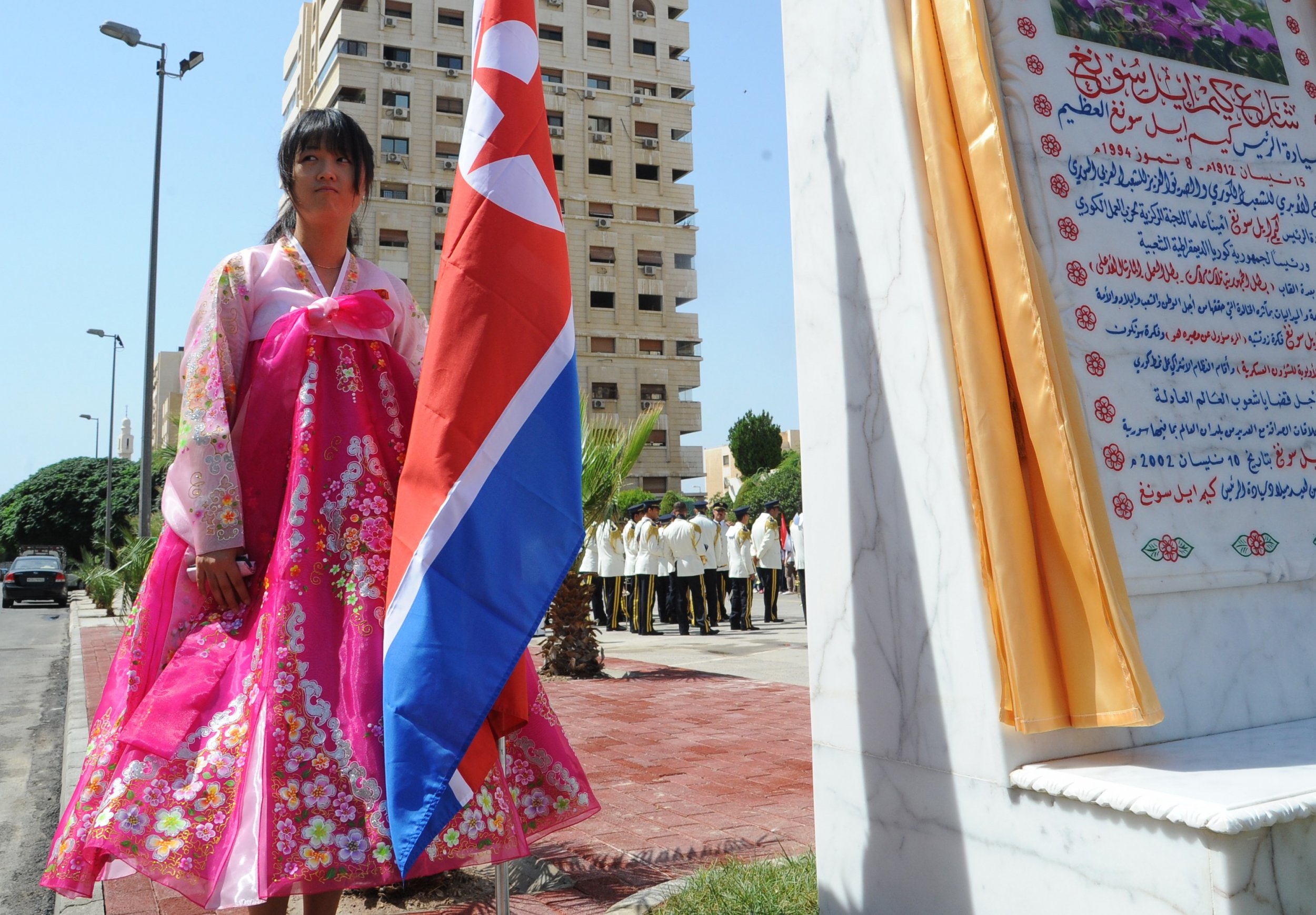 Syria and North Korea, two leading opponents of U.S. foreign policy that are also considered sponsors of terrorism by the State Department, have gotten increasingly close as an international axis opposed to Washington and its allies grows more influential across the globe.
Syrian President Bashar al-Assad and North Korean leader Kim Jong Un, both of whom assumed power after their fathers' deaths, have found themselves targets of President Donald Trump's foreign policy in two crucial arenas—the Asia-Pacific and the Middle East. Since the U.S. leader made the unprecedented step to strike Syria's military over chemical weapons accusations in April, and hours later threatened to attack North Korea amid reports of an upcoming nuclear weapons test, the two nations have relied on their historic Cold War ties.
Related: War in Syria: Assad thanks Iran and North Korea for help in letters to two supreme leaders opposed to U.S.
A recent meeting between North Korea's Syrian ambassador, Jang Myong Ho, and Syrian Minister of Labor and Social Affairs Rima al-Qadiri showcased a rare instance of Pyongyang making public its involvement in the Middle East.
"Minister al-Qadiri said that the Syrian people highly appreciate the stances of DPRK's people in supporting Syria, mainly during the reconstruction stage, highlighting the importance of benefiting from the highly specialized expertise of the Korean side," the official Syrian Arab News Agency reported Wednesday, using an acronym for North Korea's official title, the Democratic People's Republic of Korea.
"In turn, the Ambassador expressed his country's readiness to contribute to the reconstruction of Syria with its expertise and companies specialized in decor and construction," the state-run outlet added.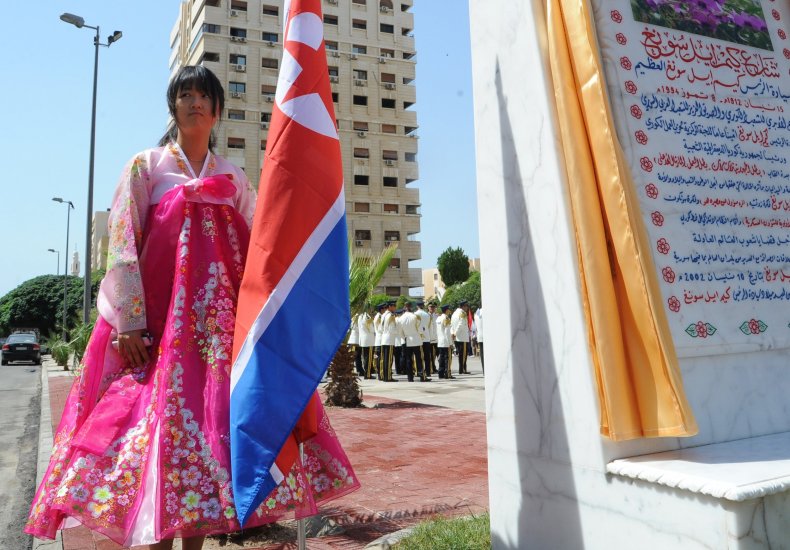 The meeting came days after North Korea's government-controlled Korean Central News Agency reported that Assad sent Kim a response letter after the latter congratulated his Syrian counterpart on the 47th anniversary of the Corrective Movement that placed his father, Hafez al-Assad, in power in 1970. After wishing the best for Kim, Assad said he reiterated his "will to consolidate the ties of friendship and cooperation between the two countries in line with the interests and well-being of their friendly peoples."
Shortly after Hafez al-Assad's military coup, North Korea sent fighters to assist in the Syria and Egypt-led Arab battles with Israel during the 1972 Yom Kippur War and positioned itself against Israel, which it viewed as a U.S.-backed "imperial state." When the younger Assad assumed the Syrian leadership in 2000, North Korea allegedly helped him build a nuclear reactor, which was later destroyed by an Israeli airstrike in 2007.
In addition, the U.N. has accused North Korea of helping Syria to develop chemical weapons. Both Syria and North Korea have denied such collaborations.
Since 2011, the year that Kim took power in his country and Assad began to lose control of his amid a nationwide uprising, the fortunes of both leaders have improved. North Korea quickly backed Assad, joining Russia and Iran in condemning what they considered a plot sponsored by the West and its Gulf Arab allies. While Syria's pro-Saudi Arabia opposition accused North Korea of sending troops to back Assad last year, it was Russia's 2015 intervention that helped turn the tide against the rebels and jihadis. Earlier this month, Syria and its allies declared victory over one of their leading opponents, the Islamic State militant group (ISIS), and Assad emerged as the most powerful faction in the lengthy conflict.
This same year, North Korea successfully launched its first intercontinental ballistic missiles and conducted its sixth nuclear weapons test, a hydrogen bomb by far more powerful than all of its previously tested weapons combined. Experts have said that nuclear-armed North Korea's military advancements and a resurgent Syrian military backed by Russia and Iran present serious threats to Trump's plans for the Middle East.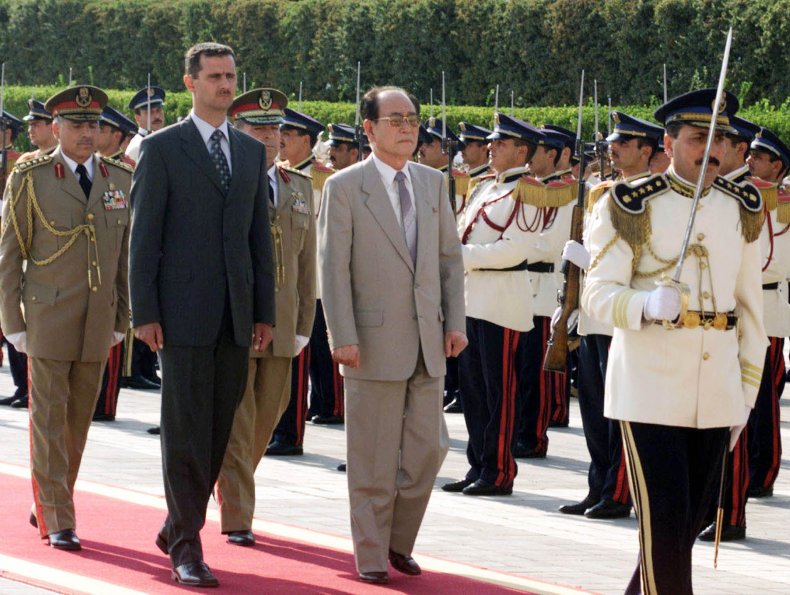 "North Korea's decades-old military alliance with the Assad regime is stoking fears inside the Trump administration that Kim Jong Un is not only profiting from Syria's six-year war, but also learning from it," ex-reporter Jay Solomon wrote earlier this month for the Washington Institute for Near East Policy, in a report cited Monday by CNBC. The institute is a pro-Israel think tank where Solomon has served as a visiting fellow since June.
Russia's and Iran's victories in Syria have not only helped bolster a multinational "Axis of Resistance" that has shifted alliances in the strategic region. They have also intervened in the nuclear crisis between North Korea and the U.S. While Russia does not recognize North Korea's self-proclaimed right to develop nuclear weapons to deter a U.S. invasion, Moscow has used its enhanced diplomatic clout to assert that U.S. military action "is not an option," despite Trump's threats to use it against Kim's regime. Trump has also alleged that North Korea is working with a fellow U.S.-designated state sponsor of terrorism, Iran, to develop ballistic missile technology.
Meanwhile, another major Cold War player is seeking to rekindle ties with forces aligned against the U.S. Like Iran, Cuba was approached by the administration of President Barack Obama for historical talks that claimed several successes that have since been overturned by Trump. With little room for negotiation with the U.S., the communist island in Florida's backyard has sought to rekindle relations with Russia, according to German broadcaster Deutsche Welle, and has stood firmly behind Syria and North Korea.
North Korean and Cuban officials met last week to strengthen ties. Both countries suffer from harsh U.S. economic sanctions intended to destabilize their respective governments.