North Korea Starting a War? U.S. Ally South Korea Blasts Targets After Kim Jong Un's Latest Missile Test
South Korea staged a missile exercise Tuesday aimed at potentially taking out North Korea's most valuable military assets. It was in response to North Korea's launch of an intercontinental ballistic missile (ICBM) over the Sea of Japan.
South Korea's Joint Chief of Staff said its military conducted what it called a "precision strike" missile exercise in immediate response to North Korea's latest "provocation" in more than two months, according to South Korea's official Yonhap News Agency. The neighboring nations have technically remained at war since the 1950s, and fears of renewed conflict have been stoked by rising tensions between President Donald Trump and North Korean supreme leader Kim Jong Un, both of whom have access to nuclear weapons.
Related: North Korea's Kim Jong Un launches ballistic missile, defying Trump and international community
"North Korea launched an unidentified ballistic missile into the East Sea from the vicinity of Pyongsong, South Pyongan Province, at around 3:17 a.m. today," South Korea's Joint Chiefs of Staff said, according to Yonhap.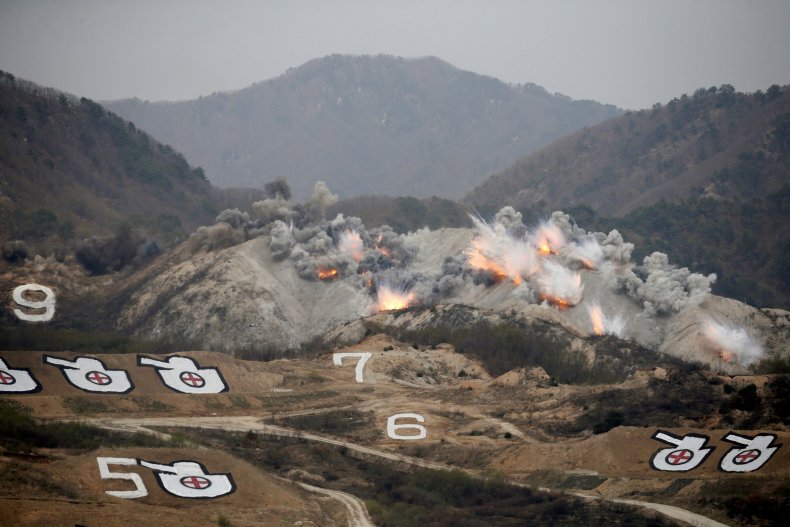 South Korea's Joint Chiefs of Staff described the missile as an ICBM that flew some 2,800 miles into space, making it the highest so far out of North Korea's three ICBM tests, and landed nearly 600 miles away, also making it the longest test. Such a missile had the potential to strike New York City or Washington. Japan, another U.S. ally wary of North Korea's rapid military buildup, said the missile flew for about 50 minutes and landed within the waters of its exclusive economic zone, Reuters reported.
"Diplomatic options remain viable and open, for now. The United States remains committed to finding a peaceful path to denuclearization and to ending belligerent actions by North Korea," The State Department said in a statement.
North Korea has launched about 77 missiles since 2014, according to the Nuclear Threat Initiative, double the number of launches in all years prior. Despite the unprecedented rate and success of testing under the youngest Kim, who took office in 2011, Tuesday's launch was the first since North Korea fired a Hwasong-12 intermediate-range missile over northern Japan on September 15.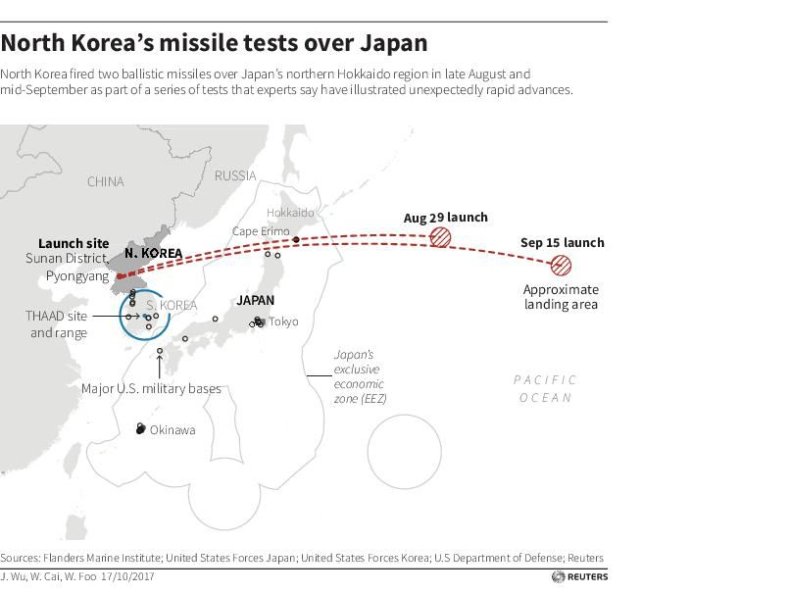 Less than two weeks before the September launch, North Korea conducted its sixth nuclear weapons test, unleashing a hydrogen bomb explosion more powerful than all prior tests since 2006 combined. In July, it successfully tested its first two ICBMs, making good on Kim's promise earlier this year to put the U.S. mainland in his trajectory.
The U.S., South Korea, Japan and many other world powers have routinely condemned North Korea's ballistic and nuclear weapons program. But the reclusive, communist state has argued its increasingly advanced arsenal was necessary to prevent a U.S. invasion.