Trump Thanks North Korea's Kim Jong Un for His 'Nice Letter' and Hopes to See Him Soon
In a late-night tweet, U.S. President Donald Trump thanked Kim Jong Un for returning what are believed to be the remains of American soldiers killed in the Korean War.
It followed a pledge made at their summit in Singapore that also included an apparent agreement struck with the North Korean dictator for Pyongyang, North Korea, to denuclearize.
On Thursday, the U.S. president also said he was looking forward to seeing Kim again, tweeting: "Thank you to Chairman Kim Jong Un for keeping your word & starting the process of sending home the remains of our great and beloved missing fallen! I am not at all surprised that you took this kind action. Also, thank you for your nice letter - l look forward to seeing you soon!"
Kim sent a letter to Trump in July expressing hope there would be another meeting between the two, but it was unclear if that was the letter Trump was referring to.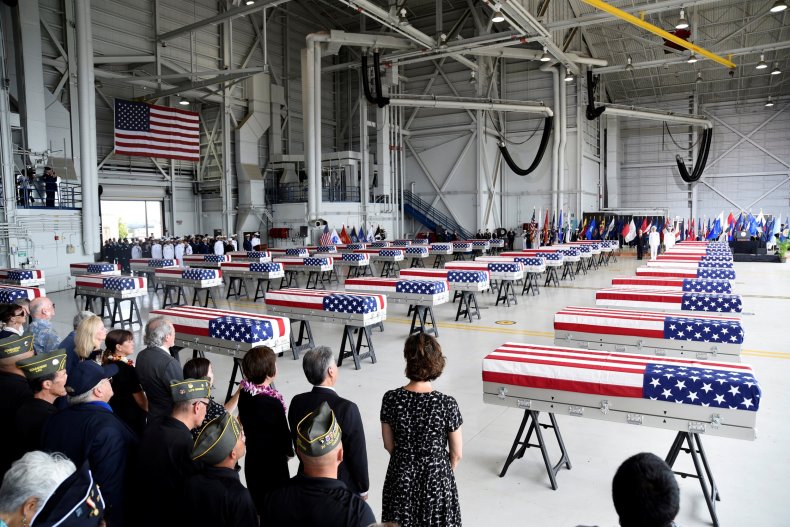 Last week, North Korea gave the U.S. 55 boxes of what are thought to be the remains of American troops, although fully identifying the remains could take years. There was only one military identification tag. There are thought to be the remains of 5,300 troops in North Korea.
In 2011, Pyongyang claimed that the remains of a British pilot were sent, but it actually delivered the remains of a dead animal.
Satellite images analyzed by the North Korean monitoring project 38 North appeared to show the dismantling of Sohae Satellite Launching Station. However there is skepticism in some quarters over Kim's pledge to denuclearize, and no formal agreement was struck.
The Washington Post reported this week that the secretive state is building up to two liquid-fueled intercontinental missiles at a factory in Sanumdong.
Duyeon Kim, adjunct senior fellow at the Washington think tank the Center for a New American Security told Newsweek: "It just shows that while Pyongyang is violating U.N. Security Council resolutions it's still conducting nuclear business as usual because there is no nuclear deal in place with Washington that holds them accountable or prohibits these activities. The Singapore statement was not a nuclear deal."
Last week, Kim appointed a new military chief as part of a shakeup of his top brass, with Reuters reporting that he is replacing his old guard linked to his nuclear ambitions with loyalists who may follow his new line.