Secretary of State Pompeo Says Kim Jong Un's Continued Weapons Development Is Inconsistent With Trump Summit Pledge
U.S. Secretary of State Mike Pompeo has warned that North Korea's continued work on its weapons programs is inconsistent with its leader's landmark agreement at the June U.S.–North Korea summit in Singapore to commit to denuclearize.
The warning comes less than two months after North Korean leader Kim Jong Un met with President Donald Trump in Singapore, where the former agreed to work toward denuclearization.
"Chairman Kim made a commitment to denuclearize," Pompeo told reporters, after being asked about his statement in the U.S. Senate last month that North Korea was still making bomb fuel and reports that the country was also continuing to build missiles, according to Reuters.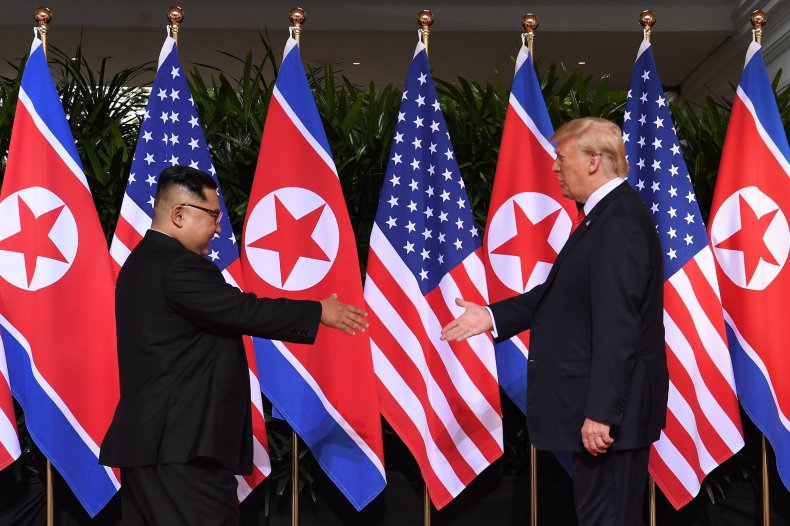 "The world demanded that they (North Korea) do so in the U.N. Security Council resolutions. To the extent they are behaving in a manner inconsistent with that, they are a) in violation of one or both the U.N. Security Council resolutions and b) we can see we still have a ways to go to achieve the ultimate outcome we're looking for."
It comes after the Trump administration downplayed reports on Tuesday that North Korea has been engaging in intercontinental ballistic missile activity, despite the agreement made at the country's summit with the U.S.
"Things don't change overnight," senior White House adviser Kellyanne Conway told Fox News. She said that reports of U.S. intelligence on the continued missiles work suggested that negotiations with North Korea were "a process."
"You are talking about 68 years of sustained war and conflict in Korea," Conway said.
State Department spokesperson Heather Nauert said on Tuesday that the government still anticipates that Kim would "hold up his end of the bargain," according to Reuters.
"What we're going on is the commitment that Chairman Kim made to our president," she said.
Related: Despite Trump-Kim summit, North Korea is developing missiles say U.S. officials
Speaking to reporters en route to Kuala Lumpur on Thursday, a senior state department official said the Pompeo would be reminding countries of their "obligations" when it comes to continuing to implement sanctions against North Korea until it has fulfilled its commitments.
"When it comes to North Korea and sanctions, it's more than an ask; it's a reminder of obligations," the department official said, according to a transcript provided by the State Department.
"We do have concerns about North Korea bypassing some of those sanctions, not adhering to its own obligations, so the Secretary will use these opportunities to remind all of that obligation to stick to the sanctions as a means to get to the ultimate objective, the fully verified, finally fully verified, denuclearization of North Korea," the official added.
The official said that the State Department believes "sanctions and the adherence to sanctions by countries around the world [are] a primary reason that North Korea has entered into dialogue."
"Those sanctions need to stay in place until the goals and objectives of the sanctions are achieved," the official said.