North and South Korea Militaries Meet on Border to 'Build Trust' as New Challenges Arise
The rival armed forces of the Korean Peninsula have met on the world's most heavily fortified border in hopes of finding the peace that has alluded the region for seven decades.
Led by Lieutenant General An Ik San, the North Korean defense delegation met South Korean Major General Kim Do-gyun and four other military officials at the Panmunjom truce village on the Demilitarized Zone that separates the two countries. The meeting is the latest since last month's round of talks at the South Korea-controlled Peace House, also located on the border, and came amid a historic warming in relations between the Cold War-era foes.
"We will make our best efforts to ensure that we can craft practical measures to reduce military tensions and build trust between the two Koreas through this meeting," Kim Do-gyun told reporters before departing for Panmunjom, according to South Korea's official Yonhap News Agency.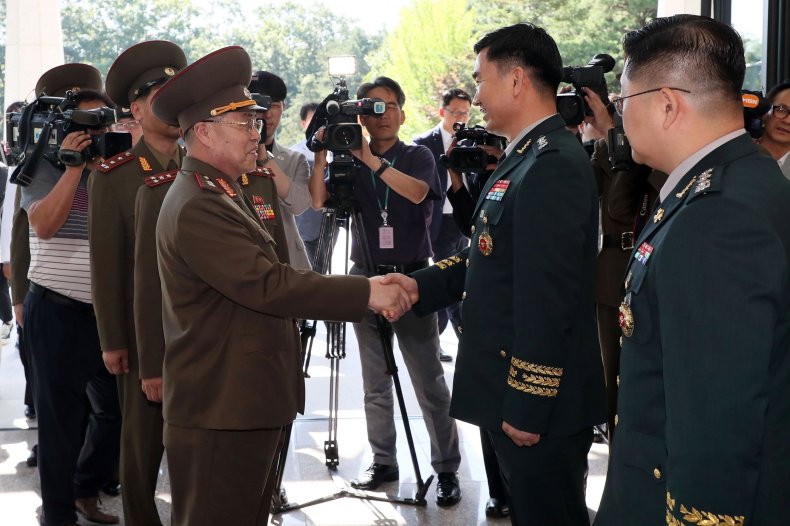 The border was built after a three-year war between communist-backed North Korea and U.S.-backed South Korea in the 1950s. Since then, leaders from either side have only crossed the boundary on four occasions, most recently in May. A month earlier, North Korean supreme leader Kim Jong Un became the first in his position to cross the border into South Korea for a debut summit with South Korean President Moon Jae-in. Last month, Kim made history again by meeting President Donald Trump in Singapore.
Days later, the North and South Korean militaries met at the Peace House and, in follow-up talks, agreed to restore two military hotlines located in the Yellow Sea and East Sea, also known as the Sea of Japan. Earlier this month, both North and South Korea announced the restoration of military communications. The South Korean Defense Ministry has even suggested it may withdraw its troops and equipment from the border in what would be an unprecedented step toward reunification, a policy officially held by both governments.
The detente, which followed a fiery year for North Korea's troubled relationship with the U.S. and South Korea, has been largely hailed by all sides, but North Korea has called on its neighbor to do more after Kim Jong Un showcased the destruction of key nuclear and missile sites. In a commentary published Tuesday, the official Korean Central News Agency criticized South Korea for being too heavily dependent on the U.S., claiming South Korea's leadership "trembled for fear" any time "the United States across the ocean gets angry."
"When the South Korean authorities handle the delicate issue of inter-Korean relations without any consideration and calculation, the ensuing consequences will be irretrievable," the commentary read. "If they attach greater importance to the outsiders than the nation, they had better stop trumpeting about improvement of relations and do as they like putting efforts for 'boosting alliance.'
"Now is the time for them to flee from the old order and doggedness and approach the inter-Korean relations with new mode of thinking and viewpoint," it added. "We hope that the South Korean authorities will come to their senses, though belatedly, and roll up their sleeves to improve inter-Korean relations."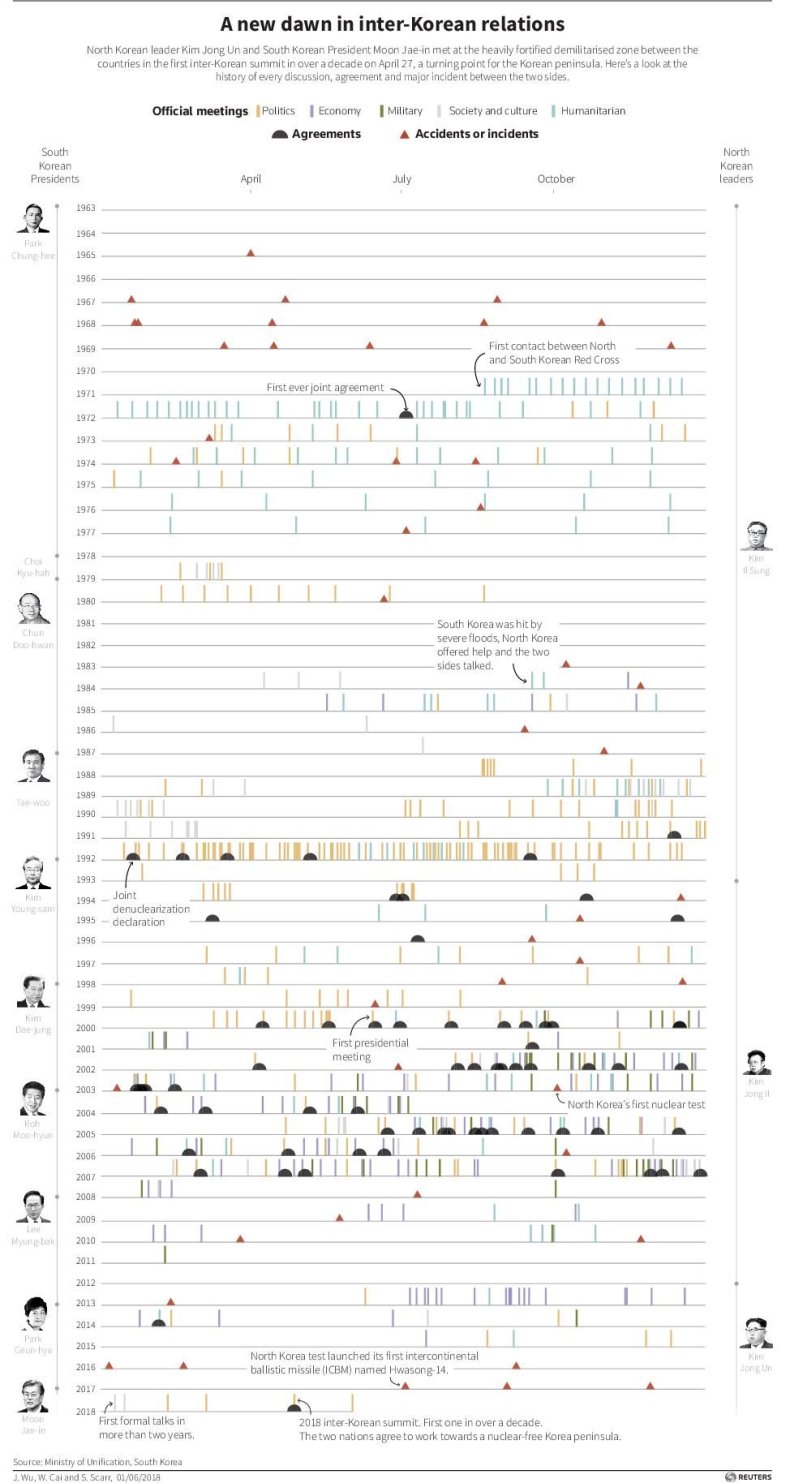 U.S. media reports have also suggested a new obstacle to the emerging dialogue. Citing an unnamed White House official, Reuters reported ongoing vehicle activity at the Sanumdong Research and Development Facility, where North Korea has developed missiles, and The Washington Post reported Monday that North Korea appeared to be building two liquid-fueled intercontinental ballistic missiles (ICBMs) at the site.
As experts have noted, however, the reports were difficult to verify and no comprehensive agreement has been reached to preclude North Korea from developing such weapons. Kim Jong Un has vowed to end his nuclear and missile programs in exchange for better relations with the U.S. Although both sides have made major conciliatory efforts, no concrete framework has been established. North Korea has called for a lifting of U.S. sanctions and an official peace agreement to replace the armistice that ended the Korean War.
Last week, commercial satellite imagery and expert analysis showed that North Korea was, in fact, dismantling a major satellite launch and missile engine testing site. The Trump administration has remained confident that Kim and his government was acting on their agreements in good faith.