North, South Korea Militaries 'Fully' Restore Communication Line Across World's Most Heavily Fortified Border
Longtime rivals North Korea and U.S.-backed South Korea have restored a cross-border military communication line amid a historic diplomatic initiative to establish peace on their shared peninsula.
The South Korean Defense Ministry announced Tuesday that an inter-Korean military communication line on the Yellow Sea—locally referred to as the West Sea—was again operational after being suspended during heightened tensions in 2016. The move is the latest sign that the two neighbors, who went to war in the 1950s, were committed to the ongoing dialogue, which produced a joint call for peace from North Korean leader Kim Jong Un and South Korean President Moon Jae-in during their first-ever meeting in April at the truce village of Panmunjom.
"As part of the implementation of the Panmunjom Declaration agreed upon by the North and South leaders, the communication line of the West Sea district will be fully restored and normalized, which will contribute substantially to the alleviation of military tensions and the building of trust between the two Koreas," the ministry said in a statement.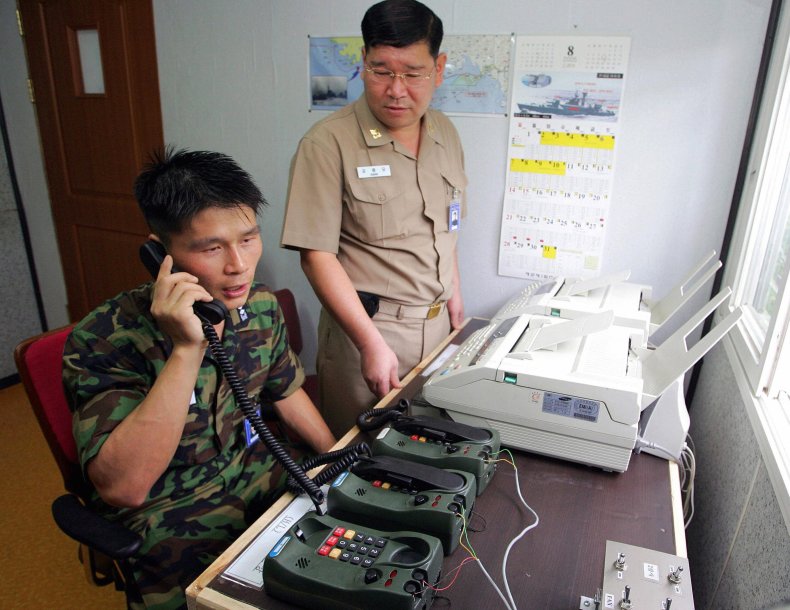 North Korea severed the military communication line, and another hotline located in Panmunjom, in response to South Korea's abandoning of the inter-Korea Kaesong Industrial Complex in February 2016. Seoul pulled out of the site in response to a satellite launched that month by its rival and a fourth nuclear test conducted just one month before. Pyongyang said at the time the move amounted to a "declaration of war" and accelerated its nuclear development, conducting another test later that year.
The line was established as part of the July 4 South-North Joint Communiqué in 1972, an event that was recently celebrated with a message of peace and mixed Korean basketball games hosted in North Korea. Last year, July 4 was commemorated with North Korea's debut launch of an intercontinental ballistic missile, and previous years also saw missile launches on that date.
Related: North Korea will release prisoners 'convicted of crimes against the country and people'
The sharp downturn in escalations between North and South Korea occurred shortly after Kim's New Year's address, in which he called for inter-Korean talks after a year of showing off new, advanced weapons and feuding with President Donald Trump. Days after Kim spoke, North Korea announced it would reopen the Panmunjom hotline and made a 20-minute call across the border, the first in two years. It was followed by several others.
Officials on both sides also sought to reopen military communications and reiterated this during the inter-Korean summit on April 27. Last month, North and South Korea sent delegations to working-level talks in which it was agreed that both the Yellow Sea and East Sea military lines would be reopened, according to South Korea's KBS Radio. Talks were also held in pursuit of opening a joint railroad that would carry passengers across the world's most heavily fortified border, the Demilitarized Zone.
The meetings took place just days after Kim became the first North Korean leader to meet a sitting U.S. president after his summit with Trump in Singapore. Capitalizing on the rare momentum for diplomacy, Trump responded to Kim's recent destruction of nuclear and missile sites by suspending some joint U.S.-South Korea military exercises considered provocative by Pyongyang.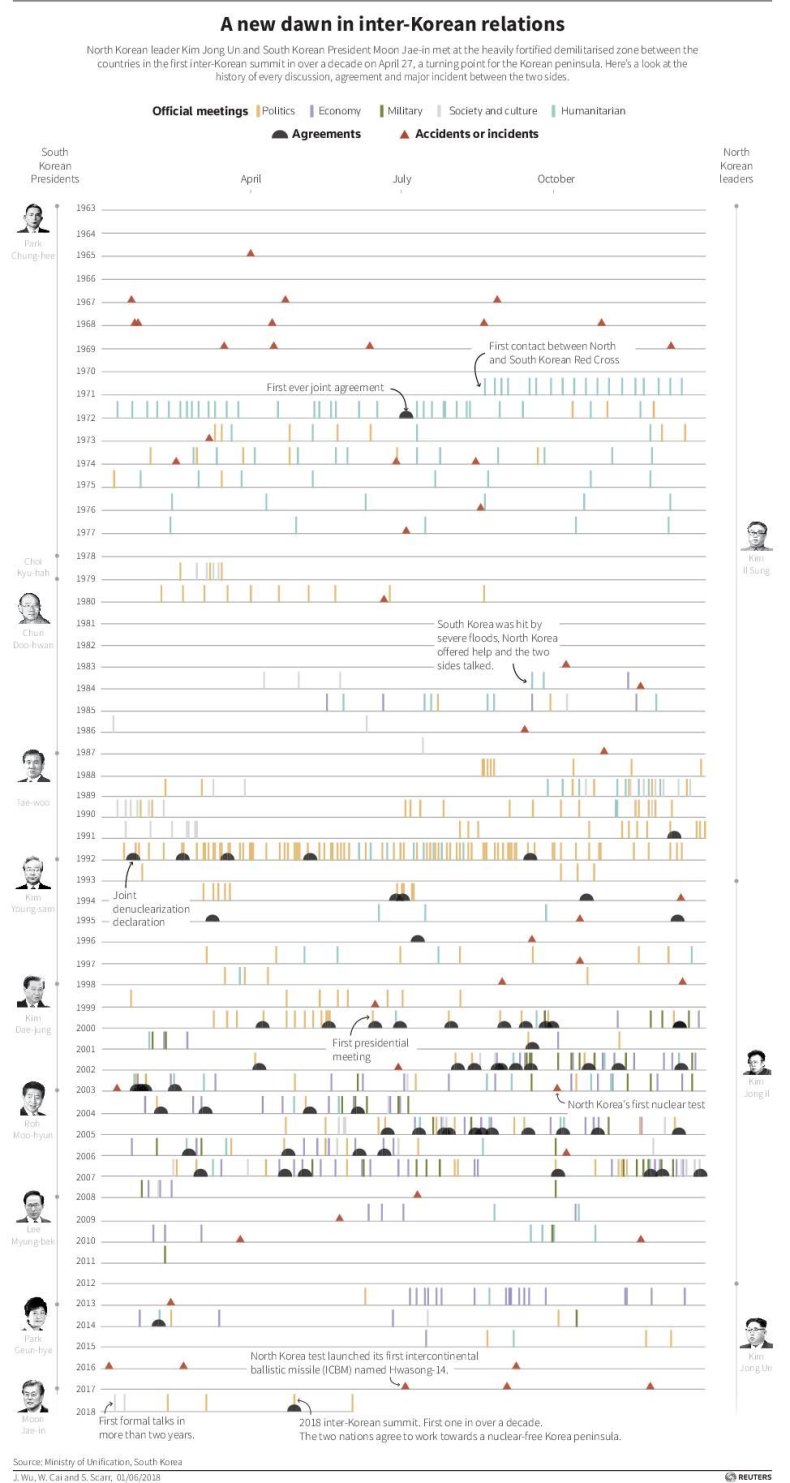 The U.S. and the U.N Security Council have yet to lift sanctions against North Korea over its nuclear weapons program, reportedly developed to deter an invasion from foreign powers. But the South Korea Defense Ministry said Tuesday that it received an exemption from U.N. sanctions in order to supply North Korea with supplies required to re-establish wired communications at the Yellow Sea line. Since January, only telecommunications were possible at the site.
North Korea, officially known as the Democratic People's Republic of Korea (DPRK), also hailed recent efforts to reduce tensions on the Korean Peninsula. The official Korean Central News Agency noted Tuesday that "there is a strong trend for the improvement of the north-south ties and peace on the Korean peninsula," attributing the achievements specifically to Kim's "noble mission" set out in his New Year's speech.
"At present, thanks to the proactive measures taken by the DPRK, north-south liaison channels that had been shut down for a long time have been reopened, and important agreements have been reached at a series of working talks held in the wake of high-level talks," the agency wrote.
"These valuable results instill joy and hope into the fellow countryman and arouse support and sympathy of the international community desirous of peace on the Korean peninsula and stability in the region," it added.